Alumna Devotes Her Life to Education for Empathy
7 October 2017
Catherine McKinley graduated from UWC South East Asia in 1989. In 2012 she set up Green Shoots International School in Hoi An, central Vietnam, with $50,000, a couple of dedicated team members, and a lot of hard work. Green Shoots has grown from a kindergarten of 12 children to a full international school of around 150 students with plans for a purpose-built sustainable campus able to serve 700. Here, Catherine shares a story of learning, creativity and perseverance with the UWC movement at its heart.
"I remember moving to Singapore with my family from rural Oxfordshire aged 13, not knowing what to expect but having vague dreams of living in a kampong surrounded by chickens! Urban Singapore could not have been more different (although there were still a few kampongs on the island which we'd visit when missing the peace and quiet of rural life). For four years, UWCSEA became my world, as school is to a teenager. But it was only two decades later that I began to truly understand the impact it had had on my world view.
In 1990, desperate to maintain ties with Asia and with the global world UWC had introduced me to, I embarked on a degree in Mandarin at the School of Oriental and African Studies in London. My second year was spent in Beijing, just after Tiananmen... it was my first taste of life in which the freedom to think, to act, and to speak in accordance with your own values was not an assumed right.
I moved into journalism, first at the BBC World Service in Bush House, where the voices of correspondents from around the world were carried into every room via a speaker system. Each time a story came in I felt connected to the larger world that UWC had introduced me to and I longed to get back out into it! When the chance came to return to China as a reporter myself I leapt at it. Love and marriage took me to Vietnam two years later, and it has been my home since 1999. I worked, I played, I learned, but I rarely thought of those formative years at UWC.
It was only when my son was born in 2001, then my daughter soon afterwards, that the UWC spirit was awakened in me. Looking back, it had always been there, quietly guiding my choices, but I'd never consciously felt its presence. Then came the time to educate my own children and I discovered an overwhelming need to give them the breadth of experience and opportunities I'd enjoyed at UWC. I wanted them to discover the confidence, empathy, independence, global and cultural connectedness, and personal responsibility that I'd gained from my years in Singapore. I wanted them to experience the holistic challenge of reaching their highest academic goals while still being involved in sports, the arts, and the community around them. It was important that they develop the understanding that personal achievement and a spirit of giving can be woven together to create something fulfilling for all involved. I couldn't find what I wanted in Hanoi.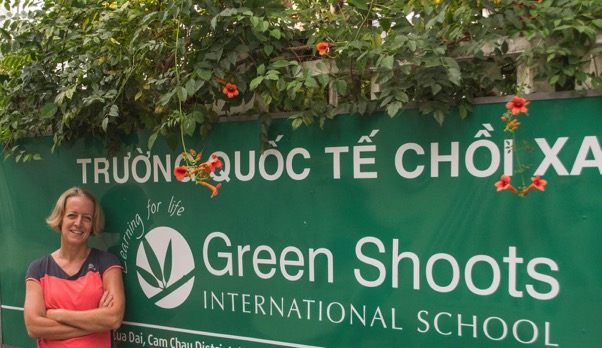 I'm not a trained educator but, with a bachelor's degree in Mandarin, an MSc in Public Policy, and a post-grad diploma in Media and Governance, I am a passionate learner. I embarked on the creation of Green Shoots because my passion for my children and my passion for learning converged. As Green Shoots unfolded I drew more and more on the legacy of my UWC years to guide my vision and inform the school's mission. UWCSEA has been a constant source not only of inspiration but also of very practical help and advice.
Building a school from scratch with no prior knowledge of either education or business has been one of the toughest learning curves of my life, but it has also become my defining legacy. Green Shoots has pushed me to my limits, emotionally, financially, and intellectually. Attempting to meet often conflicting but always heartfelt desires expressed by our parents has forced me to reach into my soul in search of solutions for families whose children are as cherished as my own. Trying to balance my own children's needs against those of the families who have put their trust in me has created moral and emotional dilemmas that I am not sure I always met effectively.
The fear that I might have got it wrong has led to many a sleepless night, but when morning comes I awake knowing that the path I've embarked upon is spreading the messages and opportunities I was so lucky to receive 30 years ago to a new generation of children.
These past few years I believed I had reached my limit often, only to discover a new reserve of strength I didn't know I had. I learned this perseverance, that I have drawn on again and again, at UWC.
My time at UWC also left the door open for me to keep learning. After all, that's what life is all about. Creating Green Shoots has shown me that when times are tough, people will come out of the woodwork to support you. I've been reminded, too, that so much of our education happens outside the classroom. My children have grown up just a little too fast to fully benefit from the classroom experiences developing at Green Shoots. Our small community and subsequently the school's centres of excellence have developed primarily where the bulk of our students are – always a grade or two younger than my own children. As a result, they've lacked peers and extra-curricular opportunities and have had to fend for themselves as they grow from children to young adults with aspirations beyond school. I have been wracked with guilt as I've seen my decision to create Green Shoots mean opportunities missed and experiences lost for the very people I created it for.
Yet my greatest joy has been seeing them mature despite – or perhaps because of – these limitations. Watching their mum struggle to create something from scratch, observing my highs and my lows, and living both at home and at school with every decision I've made, they have become astute observers of human nature and generous givers of empathy. They have learned first-hand what can be achieved if enough commitment and energy is directed toward a purposeful goal. While my own 'little UWC' is still growing, its birth and early years have given my children the very attributes I was taught myself decades ago at a much more established school. When my son outgrew our programme and was looking for a school in which to complete his education he chose Atlantic College, where he has just begun as a pre-IB Diploma student and he hopes to remain for the next three years. The cycle begins again!"