Environmental Engineer With a Can-Do Mindset
22 April 2022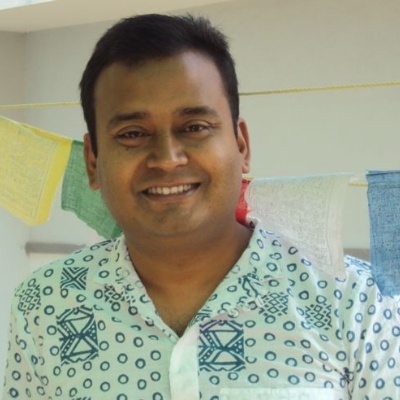 Working as an environmental engineer in Nepal for last 25 years, Bhushan says it was his time at UWC-USA which spurred him on to commit to a cause he believes deeply in. Working at both the local and governmental level, Bhushan's career is proof of what can be achieved with a positive mindset.
He recalls his time at UWC-USA as being incredibly inspirational, helping him to develop an even greater sense of awe and respect for the natural world, "I was able to enjoy and appreciate the outdoors in Montezuma and the surrounding areas with various activities such as rock climbing in New Mexico, cross country skiing in Colorado, hiking the Grand Canyon in Arizona and climbing the volcanoes in Mexico."
Feeling he had the responsibility to 'give something back', Bhushan decided to return home to Nepal after studying at UWC-USA and Cornell University and has worked as an environmental engineer for over two decades. He began his career by working for an international organisation, helping the government of Nepal to develop a system for environmental impact assessments, and to prepare pollution control plans. But after being approached by the newly elected Mayor of Kathmandu, Bhushan decided to join the Kathmandu city government, initially as the Mayor's advisor and then the Head of the Environment Department and a Member of the City Planning Commission. He relished the chance to work on important urban environmental plans at the local level, as these issues had a direct impact on people's everyday lives.
Moving into the non-government sector, Bhushan then led Clean Energy Nepal, and joined the Environment and Public Health Organisation, a research-based non-profit, as he was keen to uphold the strong presence of local civil society organisations. He later joined the UN as the Chief Technical Advisor for South Asia at UN-Habitat, and is now leading a USAID supported initiative on Clean Air. Demonstrating his unwavering commitment to supporting environmental sustainability in Nepal, Bhushan has worked as a CEO and board member of a public transport cooperative; he has helped establish a private company providing environmental services; and has taught Environmental Systems and Societies as part of Nepal's first International Baccalaureate programme.
Bhushan says the friendships he made at UWC-USA with people from countries across the world, have stayed with him to this day. The UWC educational model encouraged him to believe he could make a difference, and his positive 'can-do' attitude reflects this:
"We must remember that change is possible, and it's up to each of us to take the lead wherever that may be."
He believes the challenge for the next generation of changemakers will be to "establish the urgency of change and the need for immediate action from all." And says it is good to see countries and companies committing to carbon neutrality by 2050, "but we need people who understand that this is not enough; we need urgent action, and we need it now."