From Mpaka Refugee Camp, to WK UWCSA Alum and Luther College Davis-UWC Scholar
26 November 2021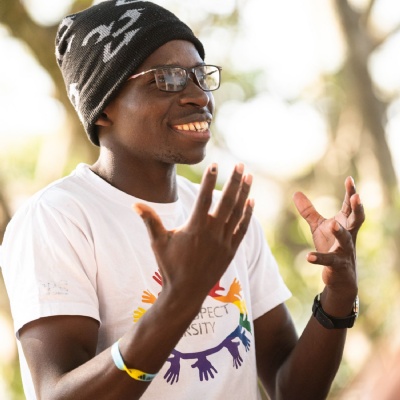 An Interview with Francisco Nsabimana
Where are you from and how would you describe yourself in one or two sentences?
My name is Francisco and I'm from Rwanda. I grew up in refugee camps in Malawi, Tanzania and eSwatini, after my family and I were forced to flee my birth country. I love soccer and I also love listening to country music.
How did you find out about UWC?
I first heard about Waterford through one of their CAS activities, Mpaka Peers, which came to Mpaka Refugee Camp and built up a connection between youth at our camp and at Waterford through academics, activities and shared passions. I first applied to UWC in 2018 but didn't get in. Then I took part in the UWC Short Course, 'Together For Development' which is held on the Waterford campus. After that I applied again and managed to get a fully-funded place in 2019. It was such a crazy thing to happen to me - I couldn't believe it at the time. The fact that strangers were paying all that money for me to go to UWC - money that my father and mother had never seen before - it made me cry. There are just no words to describe how it made me feel.
In what ways would you say that UWC has helped you to 'Reimagine' your future - and the future of the world at large?
Honestly, there was nothing to imagine in the first place before I joined UWC. The best thing that UWC offers that is different from any other organisation, is their practical experience and HOPE. I had unrealistic hopes and ambitions before joining UWC, and when finally doors were opened for me, those dreams were clear and for once in my life I felt certain that all my dreams were within reach. UWC does not only bring you in and then drop you off after graduation, but it also ensures you get access to tertiary opportunities. It is irrefutably the case that it compelled me to re-imagine my future, where to live, how to treat those that I saw as different and how I saw my importance in the world.
In short, look at UWC as an integral part of a formula that really can change the future of people with a similar background to mine.
How was it, adjusting to life at UWC? Is there anything UWC could do differently to help you and other students to better adjust to life at UWC?
Well, in some ways there are some similarities between life in refugee camps and at UWC. When you wake up in the camp, your parents might wake you in Kinyarwanda and then you walk a few metres and meet a congolese person, so you start speaking Swahili and then you meet someone from Malawi so start speaking in Chichewa, next you might meet someone from Burundi and start speaking Kirundi. So it's sort of like UWC with all the different nationalities, cultures and backgrounds that you find there.
But when it comes to the socio-economic aspect of UWC's diversity, that's where it was harder for me to adjust from a refugee's life to a UWC student's life. I had never even eaten pizza before. And then I was at Waterford, where some students were ordering pizza everyday and some people even had an iPhone. That hit me hard in some ways. That realisation that even after you leave the refugee camp, you are still different. But then the UWC experience is luckily structured in a way that makes everyone feel at home even when you can see those materialistic differences. Everyone is so nice and understanding.
So to be honest, I don't think there is anything much that UWC can do differently or better. UWC already does so much. The only thing I would say is to make sure that more students can attend UWC. It's a wonderful place to be but there are not enough scholarships out there to enable every potential UWCer to go. So if as a movement we could find more funds for more scholarships, that would be a good improvement.
While you were at Waterford you wrote a book of poems, Songs of the Tongue-Tied, about the Refugee Experience that has now been published, can you tell us a bit about the inspiration behind these poems?
Writing poetry started for me as a way of expressing my emotions privately. Putting pen to paper felt like the safest place where I could share my memories, my past, my emotions, my hopes and my plans. And then this book of poems specifically started from my observations that a lot of things that were happening in the refugee camps were not being talked about - both the bad things but also the inspiring things that showed people's strength, courage and determination. I wanted to give a voice to these stories. I wanted to contribute to the global discourse on the refugee experience and hopefully change people's perspectives, to show that being a refugee doesn't mean you can't still achieve things with commitment and determination.
If you could go back and speak to your younger self now, what would you say?
This is hard to imagine - look at how far I have come since then. When I was 5 or 7, it would be a dream come true to see where I am now, having studied at UWC and now studying in the US on a Davis scholarship. The life I'm leading now was an impossibility for me then. If I could go back to that boy I would say to keep working hard and not to worry so much - everything will be fine, everything will be alright.