​​​​​​​​​​​​​​Democratising Access to Education in Sierra Leone
30 October 2020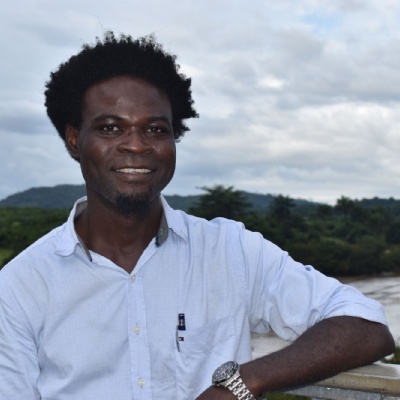 Since graduating from UWC, Joseph Kaifala (UWC Red Cross Nordic, 2002-2004) has dedicated his life to democratising access to education in his home country, Sierra Leone. Today, he is the founder of the Jeneba Project, a non-profit organization that aims to transform the educational experience for girls in Sierra Leone, foster intellectual growth and leadership skills which will, in turn, create ripples of social impact across communities.
Having faced the Liberian and Sierra Leonean wars, Joseph had sought refuge in Guinea when he was offered a place to study at UWC Red Cross Nordic. He reflects: "It is no exaggeration that my UWC experience remains the best thing that ever happened to me, what UWC did for me was to recalibrate my mind and help me embrace humanist values centered on the idea that we can become whatever change we want to see in our communities."
He remembers vividly his arrival at UWC Red Cross Nordic: "When I got to Flekke in 2002, orientation for new students was over, but it was obvious that my classmates had been eagerly awaiting my arrival. It was past midnight when the van that took me and another latecomer (Kipsy, Eswatini) to Flekke, but dozens of students had stayed up to welcome us. My roommates had baked a cake and my second year from Sierra Leone, Leonard, had decorated the corner that would be my space. We stayed up for at least two more hours, discussing my journey and the lives of my roommates: Talha (Pakistan), Horacio (Uruguay), Tormod (Norway), and Erik (Sweden). From the information material I had received, I had envisioned UWC RCN as a wonderful institution, but sitting in my room that first night, exchanging stories with students who spoke as though they had known me forever, made me realize that the school was even greater than I had imagined." This positive energy has animated him since he has graduated from UWC: "At UWC Red Cross Nordic we used to say there are no problems, only challenges. See, viewing the issues of the world as challenges helps remove the sense of defeatism that often cripples individuals from taking action."
Joseph went for less traditional subjects than those he was used to studying back home. He is now mindful of the way his classes, such as Philosophy and Theatre Arts, have shaped him. He also underlines the amazing teacher support he had, not least when he lacked confidence. He recalls, for instance, Maria Theresa, his English teacher, who upon graduation told him: "I look forward to seeing you in the newspapers, Joseph".
The knowledge acquired at UWC acted as a bedrock for Joseph's studies of International Relations and International Law. This journey led him to write about the History of Sierra Leone and its intricacies with slavery in Free Slaves, Freetown, and the Sierra Leonean Civil War (2017). At UWC, he embarked on his journey for Human rights and access to education improvement. He was heavily involved in the Human Rights club, not least for Prisoners of Conscience. It has been a meaningful involvement: "This service was personal because I had been a child prisoner during the Liberian war. It often made me wonder whether my time in jail would have been shorter had citizens around the world written to their leaders on my behalf". Moreover, he initiated Save the Future Generation (SaFuGe) at RCNUWC to help children victims of the war in Sierra Leone. This project continued, expanded and became central to the school.
Joseph returned to Sierra Leone after college. He became involved in the Truth and Reconciliation Commission. There, he galvanized the project to go further, especially in symbolic reparations. He has also founded the Jeneba Project to provide education in all its forms to children, focusing on girls, in his country. Inspired by UWC's ideals, he and his colleagues founded Sengbe Pieh Academy. The latter provides education to adolescent girls in Robis village. He shares the values that guided him: "I am always guarded by the UWC values of compassion, sense of idealism, leading by example, and remaining cognizant of our individual and collective responsibility to protect the environment."
"My heartfelt gratitude goes to my first year roommates. Nothing illustrates our love better than the unanimous pact to wake up, every morning throughout our year in the same room, to Boris Gardiner's track, I wanna wake up with you. I play this song from time to time, to remind me of you, and to take me back to that small village in Norway where human diversity and world peace are a reality."- Joseph Kaifala