Making Ideals Reality: Creating Better Futures For Children In My Home Community
23 February 2021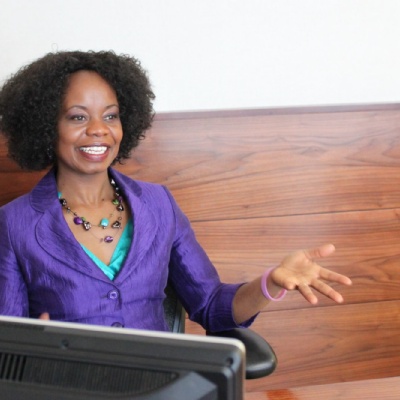 Dorothy Dix (UWC Red Cross Nordic, 1996-1998) was born into poverty in Zimbabwe. She relied on handouts throughout her childhood but after showing potential at a local school in Zimbabwe, she was given the opportunity to study at UWC Red Cross Nordic at age 16.
Speaking of her experience at UWC, Dorothy says "UWC helped me to escape the challenges and poverty of my upbringing in Zimbabwe while simultaneously instilling the values of empathy, responsibility, and lifelong action." After graduating from the University of Reading, she founded Creating Better Futures, a charity helping orphans and vulnerable children in her home communities in Zimbabwe. Dorothy's leadership has lifted 5,000 children and their communities out of poverty by providing education, health, feeding and development programmes. In 2020, the charity also jumped in to protect children from COVID-19 by installing sanitation infrastructure and helping communities pushed into poverty by the lockdown. Dorothy wrote to us to share her story of how UWC got her to where she is today and what keeps her drawn to the work she does helping communities like the one she came from in Zimbabwe:
As a child I could never have expected to end up anywhere like UWC. I was born into poverty in rural Zimbabwe. I was raised by a single Mum who, despite making huge sacrifices and working extremely long hours, struggled to pay my school fees. It was only a combination of her hard work and an international sponsor that enabled me to attend school, even before UWC came along.
This wasn't the only thing I received from Mum. I shared her work ethic and the value she placed on education. This allowed me to work hard for a scholarship to attend UWC. At the age of 16, I received a life-changing opportunity to attend UWC Red Cross Nordic in Norway.
When I arrived - it was a total culture shock. Growing up in Zimbabwe I had never seen snow.
But the atmosphere at UWC, and the brilliant friends I made, helped me to settle into this entirely different climate, country, and culture. And it was UWC's emphasis on individual action and social change that inspired me to think about my place in the world, and how I could make a difference back home.
I wanted to make things better for people in my community. Growing up in Zimbabwe I always knew that things could be better. I had personally experienced that through a stranger's kindness. They unleashed my potential when contributing to my education. Why couldn't others do the same for young people in my community?
My UWC education played a key role in making this vision a reality. Two values stood out: a sense of idealism and personal challenge. I adopted these values to set out my idealistic vision for my charity - one where every child in rural Zimbabwe would grow up to achieve their potential and every community would be free from poverty. And thus, Creating Better Futures was born.
I found a real purpose in the sense of personal
challenge required to deliver this change. I believed if I could just change one child's life, my life would be complete. I looked back on my experiences at UWC - moving thousands of miles from home to study, having the opportunity to speak at the United Nations - as proof that this change was possible. I knew ideals could become reality.
My mission to give back to my home country of Zimbabwe was grounded in the core UWC values: compassion and service. By attending UWC I was fortunate to receive one of the most rounded education's on the planet. Unfortunately, many of my close friends back home didn't have this opportunity. Our paths quickly diverted. Some continued with school, whilst others couldn't afford their fees for college. I wanted everyone to have the same opportunity I had.
But of course it has not all been easy, the conditions in the communities we work alongside are a significant challenge. Last year it was estimated that 70% of Zimbabwean children were living in poverty. These conditions don't just impact their daily lives, they also limit what they can hope to achieve over a lifetime. Our mission is to deliver programmes that enable people to overcome these conditions.
So what keeps me going through these challenges? Belief. Belief that things can be better. Belief in myself, and my dedicated team, to play a role in making a difference.
We also know the costs of inaction. People misunderstand poverty. Living in poverty doesn't just mean you don't have much money, or limited access to resources. Poverty conditions everything you do. There have been children who have dropped out of school, not because they wanted to - but because it was the best thing they could do to save money. I am driven to give these people the best opportunities.
And then of course there is the inspiration I gain from the enthusiasm and kindness of the young people we help. During the pandemic I received several reports of sponsored children in ZImbabwe who, with schools closed, had taken on extra care responsibilities for housebound elderley relatives. To think that these children, who often have very little themselves, still make huge sacrifices for others, is hugely inspiring.
Finally, I was asked to comment on why, amidst the many causes in need of our help, we should continue to support education and empowering youth. My answer is simple: empowering young people gives them their lives back. Everything is possible for a healthy, happy and financially secure young person. I was so fortunate to receive the support I did as a girl. Every child deserves the same opportunities I was fortunate enough to have been given by supporters of UWC.