Climate Warrior From a Small Island with a Big Voice
22 April 2022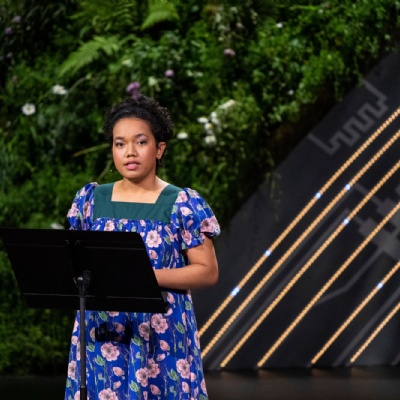 When she left her small island to study at UWC Robert Bosch in Germany it was a huge step, but little did Selina Leem know that six years later she'd be speaking on some of the world's biggest stages about the impacts of climate change. Selina's determined to raise awareness, and galvanise people into taking action to address the effects of climate change to ensure a brighter future for us all.
Self-proclaimed 'climate warrior', Selina advocates for global justice to preserve the culture and ways of life of her home, Aelōn̄ Kein Ad, now known as the Republic of the Marshall Islands. Situated half-way between Hawaii and Australia, the Marshall Islands is at the front line of the climate crisis, and Selina has spoken movingly at high-profile events such as the Skoll World Forum, COP21 and the G20 protests in Germany calling for 'global justice':
"We all cohabit and share the same planet. What happens in my home affects others in the Pacific, places you have never even heard of or knew existed. There is frustration and fear among island nations, but there's also a fierce determination to make it through. We want global justice. And that means, my home, our home stays. We are trying and doing our part. We expect the rest of the world to do its part too."
Coming from a small ocean nation to study at UWC Robert Bosch was a life-changing experience for Selina, giving her the leverage to reach out and connect, "Going to an international school like UWC Robert Bosch College, with students from 88 countries, makes you feel connected to the whole world."
Selina knew the College had a focus on sustainability, and by becoming an active part of student life she was exposed to the other effects of climate change being experienced outside her home country. She recalls the myriad opportunities which helped to grow her confidence as a public speaker: "I remember being encouraged by my teachers to speak about my homeland at the 4th International Convention of Environmental Laureates in 2015; I remember the impact of the Global Affairs classes we got to participate in every Tuesday; I remember the service programme I was part of; and I remember the way social issues were discussed at every meal, and in every class. Being surrounded by staff and students who believed in change, who wanted to make a difference, made me feel that yes, something can be done. That was the start of my journey as a climate warrior."
Selina's power as a public speaker comes from her lived experience, as she talks about the reality of rising sea levels, drought and flooding on communities who have often been underrepresented on the global stage: "It is said that by 2030 my islands and other island nations will disappear under the water. But we refuse to accept this prediction." After first starting to speak up about the effects that climate change was having on her homeland she was struck by the audience's reaction. It made her realise how important it was to raise awareness, and helped her to understand that people really do care. Selina believes that adaptation and indigenous knowledge will provide the solutions, which is why the world must be bold in its vision for the future. This, she asserts, must become the decade for action.