Innovative New App Designed Specifically for Refugees Shows UWC Entrepreneurial Spirit
24 March 2022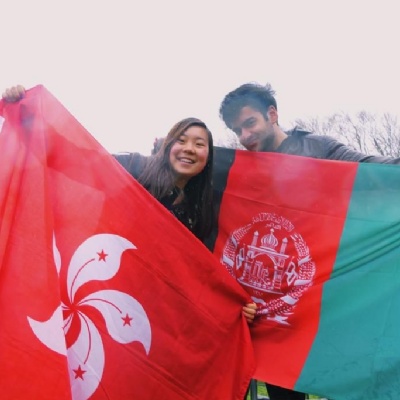 Xinyao Liu (UWC Atlantic, 2019-2021) and Abobakar Sediq Miakhel (UWC Atlantic, 2020-2022) explain how they discovered a mutual desire to find practical solutions to the language barriers faced by refugees and asylum seekers. Their app, developed in collaboration with other UWC Atlantic students and alums, is the first of its kind designed specifically with refugees and asylum seekers in mind.
A Fish Out of Water
Volunteering as a swimming pool supervisor in her second year at UWC Atlantic, Xinny Liu (UWC Atlantic, 2019-2021), was immediately struck by one student's determination to learn how to swim. Originally from Afghanistan, Abobakar Sediq Miakhel (UWC Atlantic , 2020-2022), had been visiting the pool every day with a friend and was set on becoming more comfortable in the water. As they got chatting, Xinny started to realise the many challenges Abobakar had faced already in his young life, not least because of his family being forced to seek asylum in Belgium after the outbreak of war in Afghanistan.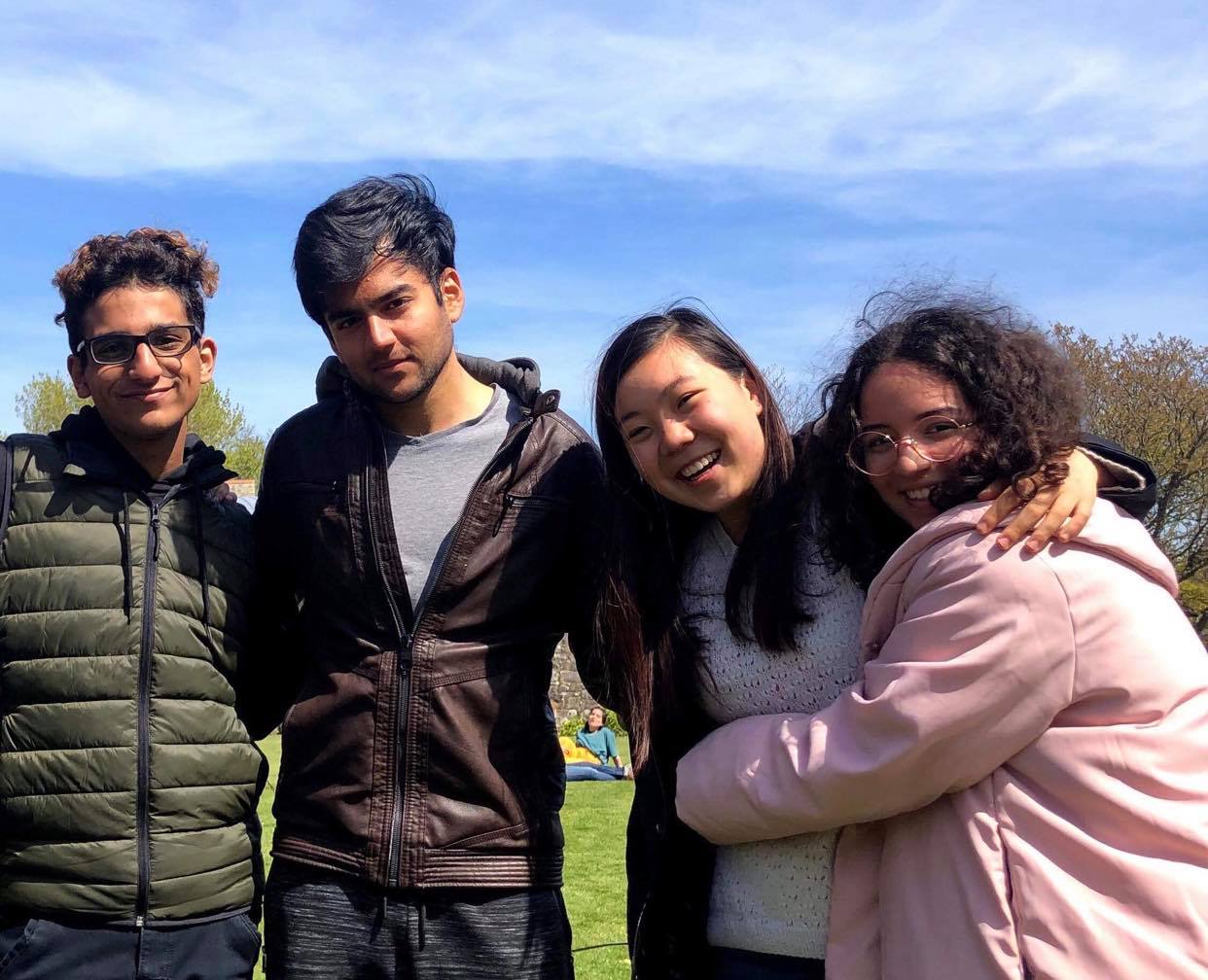 Having spent time teaching English to refugees during her Creativity, Activity, Service (CAS) activity as part of the International Baccalaureate programme, Xinny already had some understanding of how difficult it can be for people to integrate into a new home when they have lost so much. Xinny helped Abobakar learn to swim, and over the next year they chatted and reflected on what their experiences had taught them about the power of language to connect people. As Xinny approached her final year she remembers thinking about how all her best memories of her time at UWC Atlantic had been linked to the projects she'd been involved in and felt determined to "carry a piece of the UWC spirit with me in my future journey". Realising she and Abobakar had the perfect combination of skills and experience, they decided to design an app to help refugees with their language skills, since they knew this to be a primary factor in refugees' ability to successfully integrate into their new communities.
The Power of Language
Of course, for Abobakar, the decision to create an app designed to help refugees learn the language of their adopted country held particular resonance, "I knew that there were many more people in need in the refugee community; it's very comforting to know that there is support tailored to your own situation, and that's what we set out to achieve with the app." Xinny echoes this sentiment, and says that it is not only about giving refugees the language skills to access basic services such as food and transport, it also enables them to voice their own opinions, deal with the challenges they encounter and gives them the ability to express their own culture, "language really is the catalyst of social inclusion and multicultural understanding - it builds a bridge between different cultures and enables social equality." External tutors, however, can be expensive, and many refugees and asylum seekers do not have the means or time to travel into the city to attend classes. Being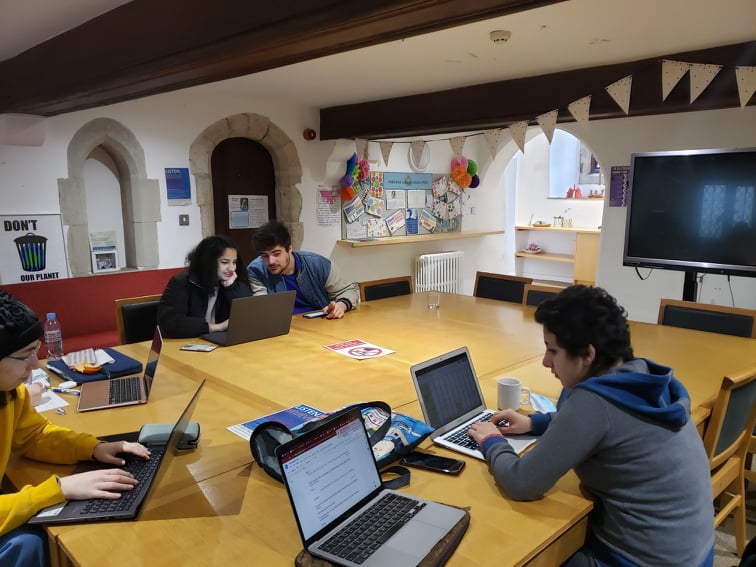 able to use an app, any time, anywhere, makes it an even more accessible option.
Trial and Error
With Abobakar's coding skills and Xinny's teaching experience, the pair brought on board other UWC students and alums to help kick start the project. They describe the many rounds of trial and error they went through, even revamping the entire app three times over, "we started the project in 2021," explains Abobakar, "and after hours and hours of meetings with curriculum developers, app programmers, teachers and refugees, we gradually started to see it improve step-by-step." Learning to navigate grant applications was a big part of the process, and the pair were honoured to receive the UWC Lighthouse Prize, which really helped to boost their morale and conviction in being able to get the project off the ground. They relished the opportunity to pitch their idea to investors and industry CEOs when competing for the Solve[ED] youth innovation challenge launched by the Massachusetts Institute of Technology, and were delighted to be part of the 20 finalists teams chosen from 810 proposals.
Drawing Upon Diversity
Abobakar was the sole programmer for the app, which they decided to name AILEM meaning 'knowledge' in Arabic and 'family' in Turkish, creating the entire interface and code using Android Studio. Meanwhile, Xinny focused her efforts on building a curriculum for each of the languages being offered through the app. Both are keen to stress it was a team effort and so far more than 40 UWC students have been involved in the marketing, curriculum, artwork and translation needed for the app. Abobakar points out that the uniquely diverse environment fostered within UWC schools was a great training ground for the development of their project, "the UWC experience gives students a lot of agency and freedom to pursue projects. We were inspired by stories of student involvement in the invention of the Rigid Inflatable Boat (RIB) at UWC Atlantic, and since our project necessitated different skill sets we were in a great position to draw on the diversity of the community we were in to turn our ideas into a reality." Xinny agrees, and says that becoming immersed in the UWC culture made her start to ask herself the question, "but what can I do?"
Feeling Empowered to Make a Change
Abobakar is keen to stress that this sense of agency was pivotal for his own development, "UWC gave me a world of new possibilities - in my hometown in Jalalabad, Afghanistan, I often felt so powerless. I could only sit by and watch the violence and distress that plagued my country. For the first time, when I started to develop the app project with Xinny, I felt like I could actually make a difference. I realised I could help not just my community, but so many more people worldwide too." Xinny reflects that each cohort of UWC students is so unique in its diversity, with young people from different backgrounds, cultures and nationalities, all with different passions, talents and skills. But, what unites them all, is a sense of open mindedness and a willingness to make an impact, "wherever you choose to put your energy there is going to be someone in your UWC community who wants to help out, and to me, this is such an exciting and refreshing feeling."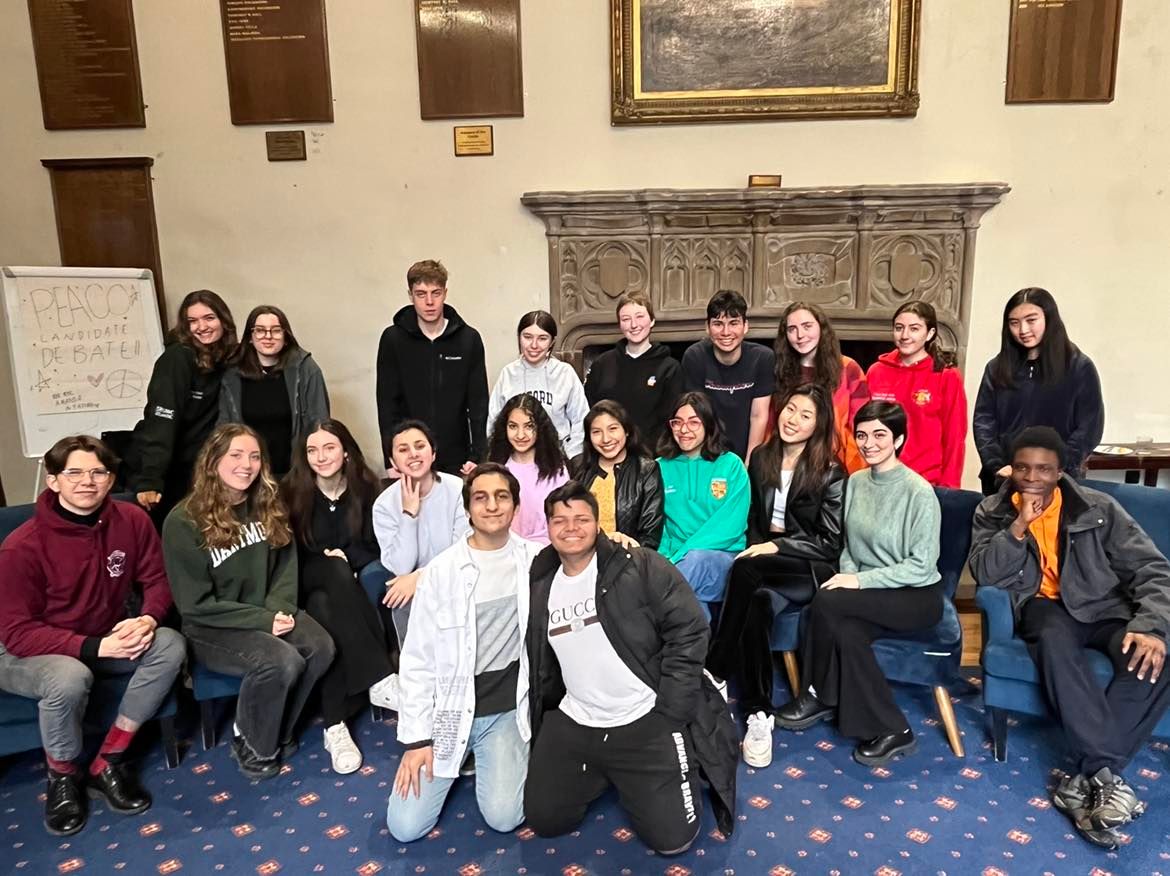 To find out more about the AILEM app developed by Xinny and Abobakar visit UWC Atlantic's Instagram page.