UWC Day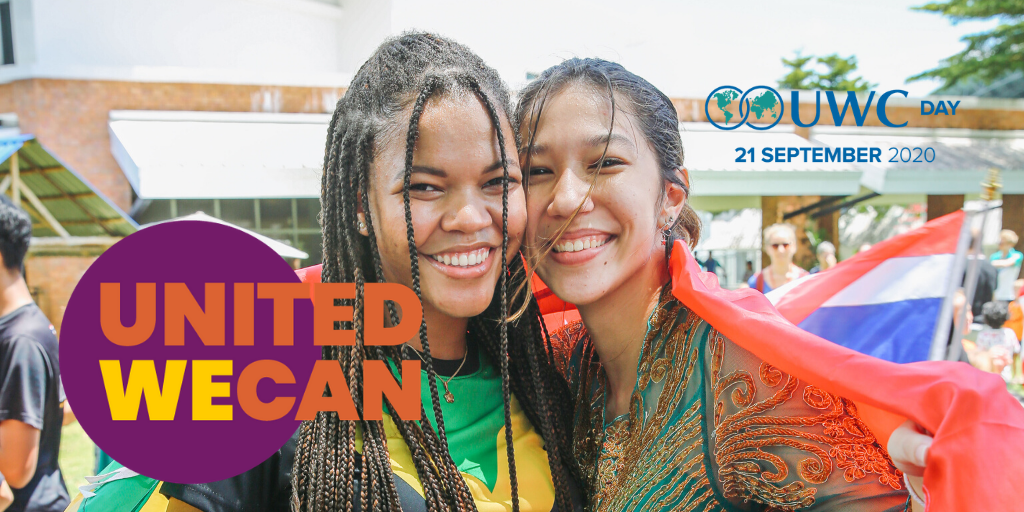 UWC Day is the annual global celebration of the UWC mission and values, which takes place on 21 September every year, to coincide with the UN International Day of Peace. Each year, UWC Day is celebrated by thousands of people worldwide, including students and staff at UWC schools and colleges, national committees, UWC alumni and friends.
UWC Day is a moment to celebrate the strength and diversity of the UWC movement and our mission for a more peaceful and sustainable future through connecting and mobilising UWCers globally. It serves as a chance to spread the word about UWC, our work and values. But it is also an opportunity to reflect on what we do as a movement, to determine how to be more effective changemakers, and to continue to challenge ourselves.
Previous events and activities have included community service initiatives, film screenings, panel debates, TEDx events, fundraising events for the UWC Refugee Initiative or for UWC national committees, outreach events held in partnership with other initiatives and a range of volunteering opportunities.
There are many ways to get involved in UWC Day. You can join an event or activity locally, or set one up yourself. You can also mark the day by taking action in support of the UWC values in whichever way feels right to you.
Each year, UWC Day has a different theme which helps to provide a central focus for the day's actions and initiatives, for example: 'Climate of Change' in 2019, 'Inspire Change' in 2018, 'The Power of Diversity' in 2017, 'Connect-Challenge-Celebrate' in 2016 and 'Live the Mission' in 2015.
For UWC Day 2020 the theme will be: 'United We Can'
Divisiveness, tension and walls have been building around the world over the last few years. In some respects, it feels as if UWC's goal of uniting people, nations and cultures through education is moving further away. Yet the global crises we face - whether the current health crisis or the longer-term climate crisis - make that same mission more urgent than ever.
Our community of bridge-builders know that the scale of these challenges can only be surmounted when we turn towards rather than against each other. Because united we can overcome the isolation many currently feel. United we can solve climate issues, inequalities and conflict. It's the only way.
UWC Day 2020 is all about celebrating, reflecting and acting upon this message. Will you join in?
You can plan and register your UWC Day 2020 event using the following resources: