Leading with Trust
21 October 2022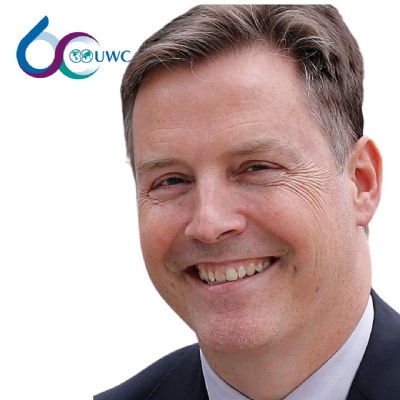 Peter Howe (Head of UWC Adriatic, 2008-2011; Head of UWC Maastricht 2012-2017; Head of UWC Atlantic 2017-2021)
In UWC's 60 years, only two people - Peter Howe and Pelham Lindfield Roberts - have led three UWC schools and colleges. Peter has also been a member of the UWC International Board and founded the UWC Kosovo National Committee. He has a comprehensive understanding of UWC, and in this impact story he discusses the importance of student leadership, deliberate diversity and the evolution of the UWC over the last six decades.
Throughout our Zoom chat with Peter his deep affection for UWC is abundantly clear, "when at its best," Peter says "there's nothing more magical because it (UWC) comes from a place of hope. It comes from a deep caring about the planet and the world and each other; there are very few places where one can experience that. That love that UWC delivers is hard to step away from."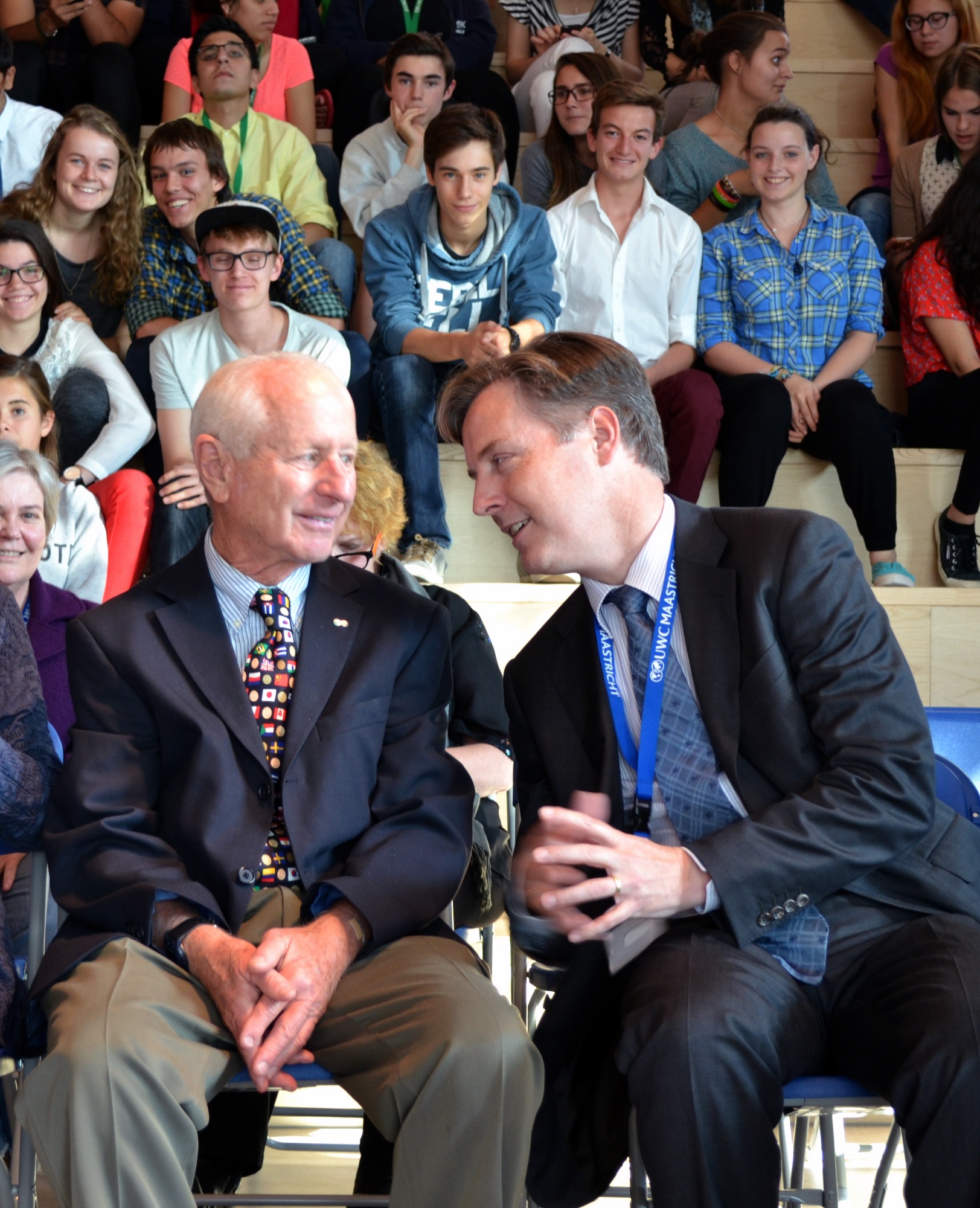 But Peter also points out that evolving a global movement has brought about many complexities and challenges. In 2008, three years after starting at UWC Adriatic as IB Coordinator and Head of Economics, Peter was approached by the governors in late August to lead the school when the previous Rettore was forced to step down. With the future of the College he loved at stake, Peter willingly, although with some trepidation, accepted the position. In fact, he calls himself "the accidental educationalist, and definitely the accidental leader." Inadvertently, the chaos of his last-minute appointment and sudden leap in the headship helped Peter discover his leadership model. Headship was not a role he had taken before, and he knew he needed the support of the students to make it work.
"I remember meeting with the second-year students to tell them what had happened, and I told them that I couldn't do it alone," Peter explains. "I used the words of Kurt Hahn and told them, 'you are needed'. I finished that meeting by asking them if they could keep their annual party that weekend under control. Traditionally, the students hosted it in the local piazza at a bar called Mickey's to celebrate the end of the induction. In the past, it migrated into the square and caused the locals to complain. I explained it did not do justice to all their hard work in welcoming their "primi." At 11 o'clock on the night of the party, my wife Sally and I walked to the village to lock the buildings. When we came around the corner, Mickey's was closed. I was shocked because Mickey's only opened if the students had an event. And at that moment, I realised, 'Wow, they're with me.' So I learned to really lean on the students, and that became my leadership model: give students trust and authentic responsibility, hold them accountable, and they will respond."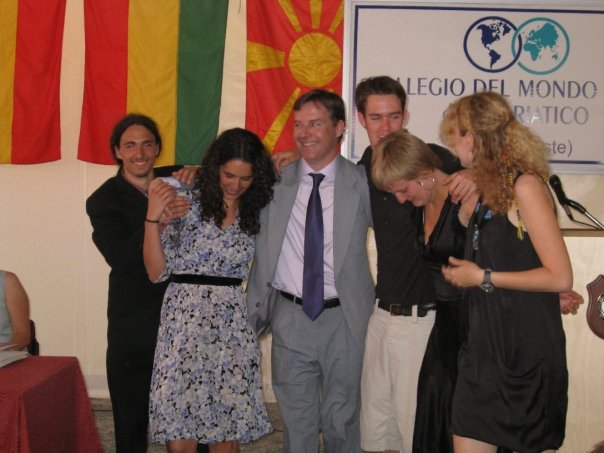 It's an approach that Peter took with him when he left UWC Adriatic to lead UWC Maastricht in 2012 and again at UWC Atlantic in 2017. "When I arrived at UWC Maastricht," he says, 'I worked with the residential students who weren't even living on campus then and said, 'I need you guys to lead this school,' and so they did. Then at UWC Atlantic, I did the same thing. I said, 'I'm going to take away the six things that signal distrust between you and the school, but you need to give me something in return; you need to show up and lead by example.' Once again, the students responded."
Peter is one of the few within UWC to lead a two-year college and a whole-school model. In doing so, he brings meaningful insight to the oft-debated topic of which model offers the "real" UWC experience. Proponents of the whole-school model argue that the UWC mission can come alive as much in a Kindergarten classroom as in a DP class, and that day students and borders alike embrace the mission. In opposition are those who say national selection, remote boarding, and the intensity of the two-year model are critical to the UWC experience and that the whole-school model risks "diluting" what is so special about UWC.
Peter's perspective on this is a balance of passion and pragmatism: "I think it's important to define further what we can do. We can't be all things to all people. I think separating into smaller groups so that schools with a similar context can work together makes sense. It could also be more regional. We know the issues in Asia are not the same as the issues in Europe, which are not the same as the issues in the Americas. If I were designing UWC, I'd have different categories for the different school models. I would even go so far, especially from a funding point of view, to say we could introduce UWC associate schools. That said, the distinctions in the models remain: the two-year model differs from the whole school model, which differs from the high school model."
Peter puts it simply and elegantly: "They are all equal but different. The whole school model should help students find and cultivate their sense of purpose. Shelby Davis' scholarship model proves that a small percentage of UWC students can transform a community. I believe that's what the whole school model demonstrates. You don't need everybody on a full scholarship or to be a national-committee-selected student to have that impact." Peter goes on to talk about how much he enjoyed working with the students during his time at UWC Maastricht, "the UWC Maastricht students were among the greatest students I had the privilege of working with. Partly because they recognised it wasn't just about them; they had a role to play as mentors to the day students and to younger students. I loved how the young students looked up to the older students and how it helped drive their sense of purpose."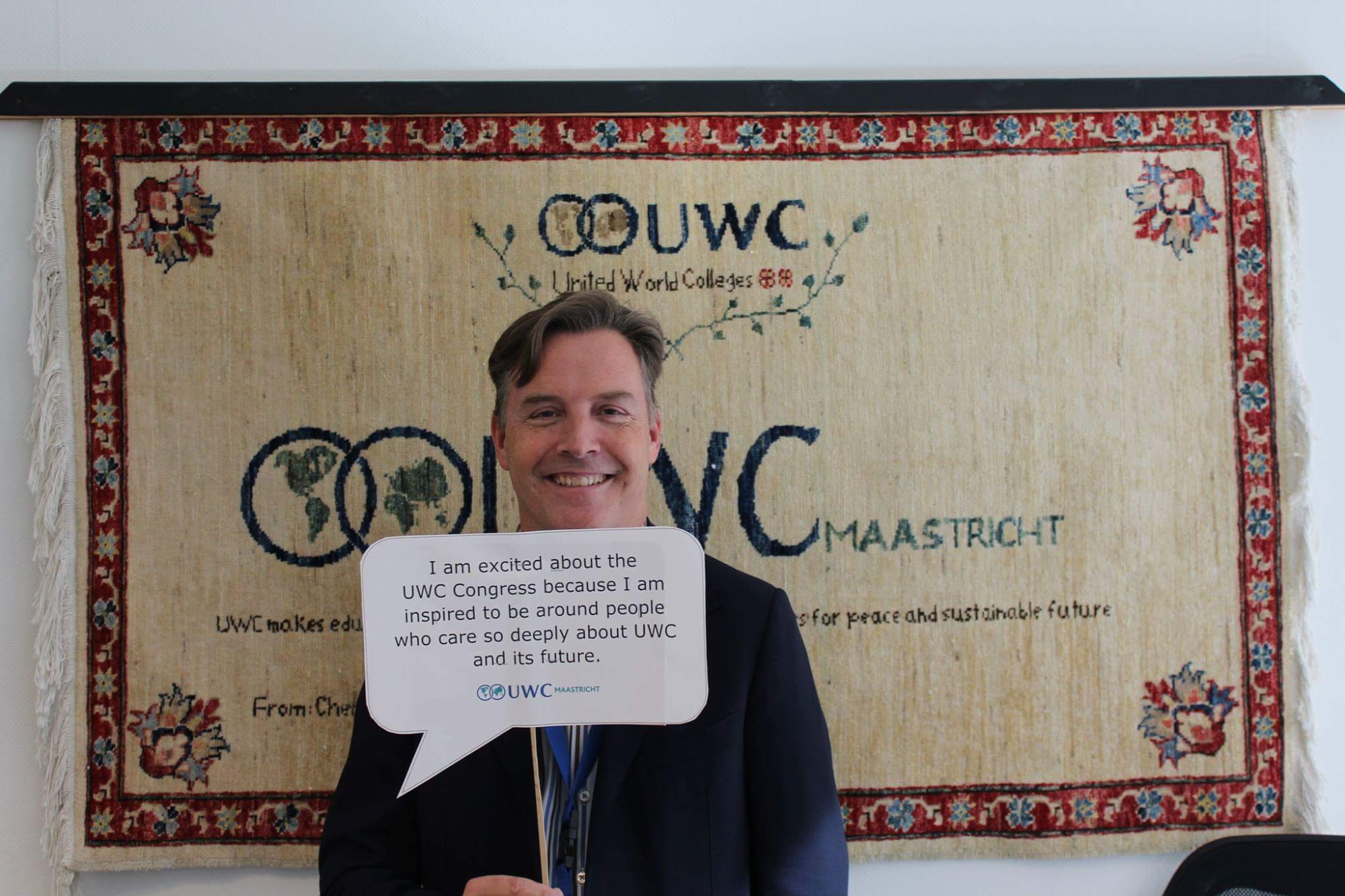 On the other hand, asserts Peter, the two-year college experience can be much more intense, but that doesn't mean it doesn't also present unique opportunities to help develop purpose-driven young people who care about the communities they find themselves in, "We know that teenagehood is both the most idealistic time in your life and the most cynical time. Research is demonstrating that the teenage brain is the maximum capacity brain, and it's our job as educators to stimulate that brain and hopefully build positive synaptic connections versus cynical ones. Again, it goes back to trust and authentic responsibility and celebrating the promise of the teenage brain."
Peter believes it this sense of purpose which is really key, and asserts that this is where the UWC national committee selections can prove very powerful, "UWC identifies students with purpose through national committee selection and empowers them when they arrive at campus. Then, while they're at UWC, they can work on their purpose. One of my proudest accomplishments in Wales was supporting the conception and launch of a social incubator called Lighthouse, where students get mentorship and seed money to develop their passion projects while at UWC."
Peter also asserts that the national committee selection process provides a very important validation for students, "students need adults in their lives, other than their parents, who believe in them. That happens at national committee selections; an adult, other than your parents, says, 'There's something in you that's special, and we want to allow you to develop that.' That's UWC to me: I believe in you. I will give you trust and authentic responsibility and hold you accountable."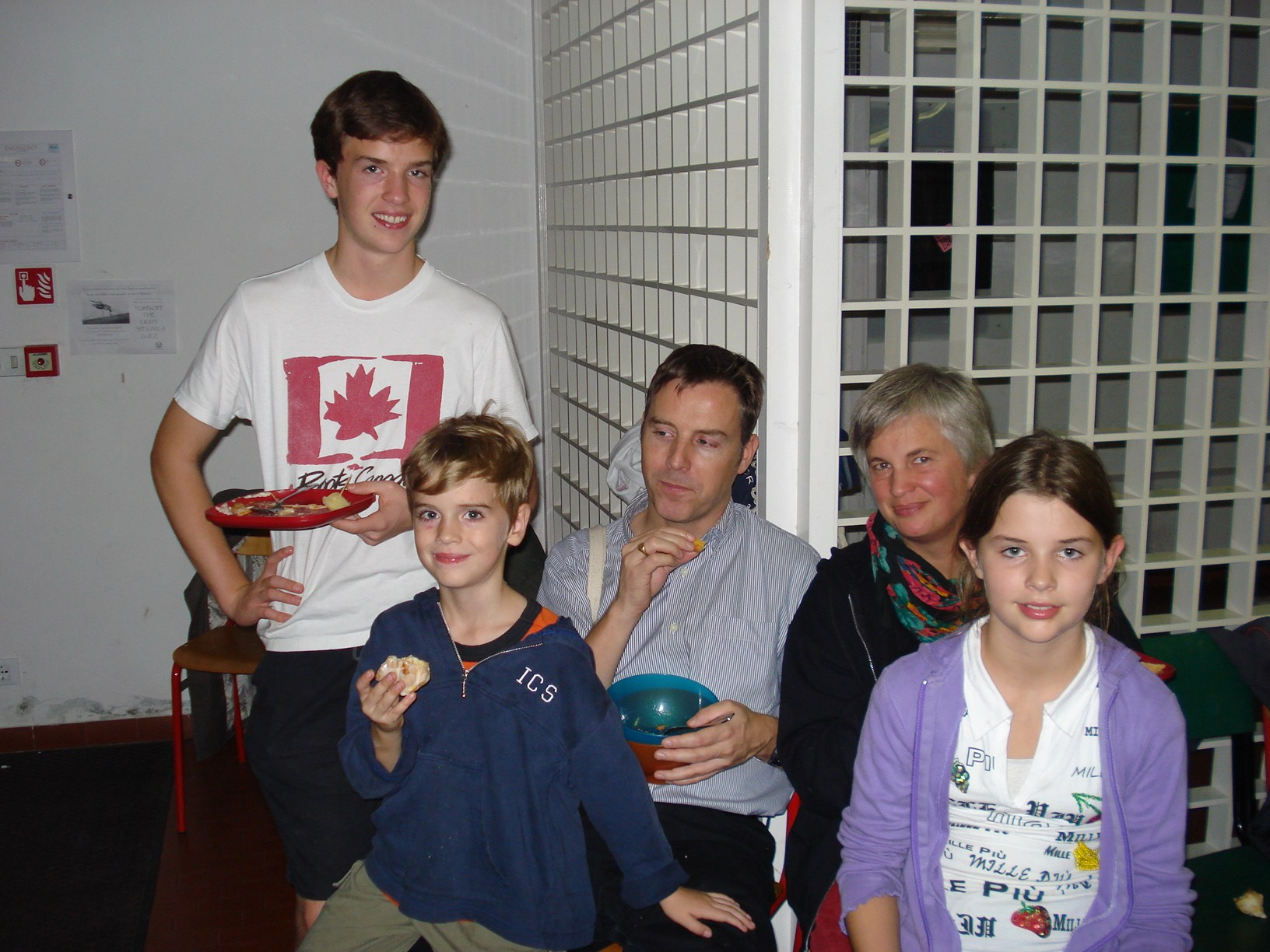 Another key aspect of the UWC model is its deliberate diversity. Peter points out that whereas many international schools talk about their ever-increasing diversity rates, they are often made up of third-culture kids already living abroad, whereas many UWC students have never left their home country before. "I often tell people UWC isn't an international school; it's a school of nations. There's a powerful difference," Peter explains. 'It's something no international school can replicate at the scale that UWC can. When I first got to UWC, I was intimidated by my classroom's diversity. With my DP2s, there were 16 students from 14 nations…. For our first day, I had put together reading packages for the students and told them to come back ready to talk about it. My first packet was on Kenya. The students came to the next class, and I asked them what they had learned. In response, a student put up her hand, and as it turned out, she was Kenyan, and she said, 'You know, it's not really like this in Kenya.' I was reminded that all my sources were Western and, therefore, biassed. At the time, northern Kenya was experiencing a famine. She explained the impact of Kenya's tribal politics and the subsequent impact on the food shortage in the region. At this point, I had the good sense to throw my readings aside and let her educate us about Kenya. And that's when I realised the power of the knowledge in the room and to never make assumptions.'"
It's stories like these which help to explain why the UWC experience is so powerful. For Peter, UWC provides peace education by being a platform to talk about social justice, and this is why 'knowledge in the room' is so important:
"It's not just the UWC mission; it's also its purpose, and our purpose is peace. The movement was born at the height of the Cold War, with the hope that getting to know others through deliberate diversity would give students a more complete and nuanced view of the world. And that view will cause you to question, rather than just accept, the rhetoric of your government, etc. One of the wonderful but heartbreaking aspects of UWC is that whenever anything happens in the world, you can think about kids you know from those regions; it makes the abstract very real. And when things are real, you can't pretend they're not happening…. We must continue to plant the seeds of peace; it's imperative. UWC does that."