The Gap Year That Ended in Silicon Valley
17 February 2020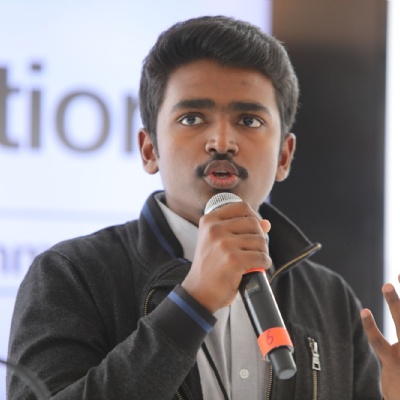 When Kesava (UWC Mahindra College, 2016-2018) arrived at MUWCI, his plan had been to finish high school, excel academically and get into one of the big-name Universities. However it was while he was at UWC that he discovered that structured learning environments were not what allowed him to truly thrive:
"I excelled at UWC because of the extracurricular projects and the community programmes I ran, not because I did the IB. Therefore I took a hit in terms of traditional colleges. Even though I have now been offered places in some great business schools, the past 18 months have confirmed for me that traditional academic institutions are not where I reach maximum growth. Instead it is in an unstructured learning environment, by creating my own path, that I am able to reach my full potential. This is a realisation that I could not have had without MUWCI."
This realisation has led Kesava onto a path that started off in Istanbul, where he and two UWC friends began their 4,033km cycle trip across the Silk Road, and has now brought him to Silicon Valley. There, Kesava is in the process of setting up his second business, Digital Brain, with the support of an array of influential figures in the tech start-up world behind him. In between, Kesava was awarded the first prize in the Infosys Science Foundation Nutrition Challenge, by Amartya Sen himself, for designing and revamping the current model for tackling malnutrition in India. He was also named one of the 30 most influential social entrepreneurs between 13 and 19. Just 18 months after graduating from UWC, how did Kesava make all of this happen?
"A lot of the things I am doing today are very uncertain and very scary. And I don't think I would have had the same courage or bravery to do that if I didn't go to a UWC. MUWCI brought me to a place where I was truly vulnerable, really open and could meet people who were open to anything. People that show you how a fixed path or a certain way of doing things isn't the only way to go about it. Whatever you choose to do, they were always willing and open to listen to what you were thinking of and what you want to do and provide the best way to achieve your own specific path. That's what separates UWC from any other institution and that's what it gave me."
This path has, of course, not been without challenges:
"We come across multiple challenges and problems every single day in this line of work. And I have learnt so much already, like how to make sure that what you are building is not just a cool thing, but that it's a cool thing that people truly want. Or the importance of approaching networks which are not really in your traditional realm of thinking in order to access new opportunities. These are lessons that have revolutionised the way in which we operate."
So, what is it that motivates Kesava to keep going through all of this?
"There are two main factors that keep me going. The first is my community back home in India, I want to make them proud but I also want to set a good example. What I'm doing - graduating from high school and then launching straight into setting up my own business without a university education - is not really the done thing where I'm from and most Indian or South Asian families would not approve of such a path. So I want to set an example that might bring about change, to show that even if the path I chose is not the done thing, it is do-able. The second factor that keeps me going is the community I have found here in Silicon Valley. I feel very, very, very passionate about what I'm building and it gives me so much inspiration to be surrounded by people like me here, who are willing to take such great risks to make the world a better place."