Celebrating UWC Host Parents: An Interview with a Pearson Host Mom
13 April 2021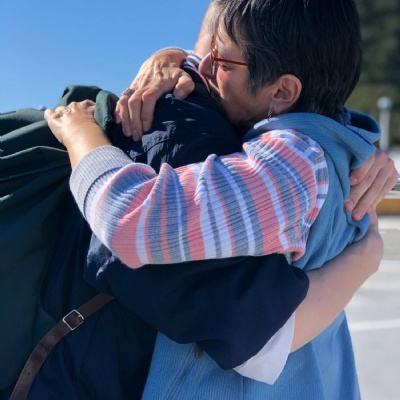 Over the past 5 years (before COVID-19), Margaret Bluck has hosted 49 Pearson College UWC students from 37 different countries in her capacity as host parent, alongside alumni when they come back to visit and even the parents of one of "her" host children (thereby making Margaret a UWC host "grand-parent" too!). Any students, alumni or staff members reading this will know what a vital role host parents play in the UWC community ecosystem - offering students a home environment in the vicinity of their UWC school where they can more closely experience the local culture and customs of their host country while also providing a taste of home comforts while they are far away from their own homes. We spoke to Margaret about her experience of hosting different generations of UWC students over the years and how it is not only the students themselves who are enriched by the experience:
Starting at the beginning, how did you first come across Pearson College UWC and why is being a host parent important to you?
I first came across Pearson after joining my local Zonta club, which has actively supported Pearson for many years. My reasons for becoming a house parent and why it's important to me root back to my own experiences of being a young person. As a young child, I was moved to a country where my accent was different to everyone else's - that experience of being different, of being other for reasons outside my control was painful and has stayed with me my whole life. Its legacy is that I rail against prejudice and injustice wherever I see it, and being a host parent allows me to play a small part in changing the world through the students that I host. Or, to quote from the UWC motto, to play a part in making education "a force to unite people, nations and cultures for peace and a sustainable future".
How would you describe the role of host parent and its place within the wider UWC ecosystem?
It's a blend of being part-parent, and part advisor, guide, mentor and confidant. And sometimes a bit of boundary setting and tough love thrown in. I think it also plays an important part in the wider UWC experience. Having travelled to 60 different countries myself - I've seen firsthand how the experience of travel is interesting, but if you never enter the homes and connect with local people you merely scratch the surface of the local culture. So when the students stay in the homes of host parents they interact with and come to understand the local culture in a way that is more difficult to do when just living on a campus; it offers a different type of enrichment, for both the student and for the host parent. The host parents are also able to offer individualised attention to students in a way that is simply not possible for house parents or student advisers - this helps to ease the burden on the UWC staff and effectively broadens the reach of the community through the host parents and their communities.
What are some of the stand out moments you recall when looking back on your time as a host parent?
There are so many, it's difficult to do justice to them all. The stand out moments are generally the hugs, the deep conversations around the dinner table and the laughter. And some very deep bonds have been forged. Friends are the family we choose, and I truly know there are some members of this UWC family who are as close as my biological family and we care about each other deeply, and will do so for life.
And the challenges?
One of the greatest challenges is not to make assumptions - it's a challenge when the person in your home has come from a home with a very different culture, physical environment and customs. Sometimes the differences are so radical it's impossible to not fall over assumptions until you've made them and are flat on your face! But then hopefully we can laugh, pick ourselves up and learn for next time. Smiles and laughter cross all boundaries and cultures!
How would you sum up what you have taken away from the experience of being a UWC host parent so far?
In some ways, hosting students is like travelling to their countries without leaving your living room, so I've travelled virtually to quite a few new countries! I love the diversity of people and enjoy learning about the world through conversations with people from different countries, different backgrounds and differing viewpoints. Pearson students are curious about the world, and I am too, and sharing viewpoints and deep conversations helps to slake that thirst for knowledge. I think it's also left me knowing that, as much as I had a pretty tough start in life, there are others who had it much tougher and will go on to achieve even greater things. And I think that the love and respect of several students that I have become close to has deepened my own understanding of myself and my own self-respect. Different cultural lenses have highlighted different aspects of myself and I think I am now better at seeing myself as others see me; that's a huge takeaway.