Education Gives Hopes to Refugees
6 July 2017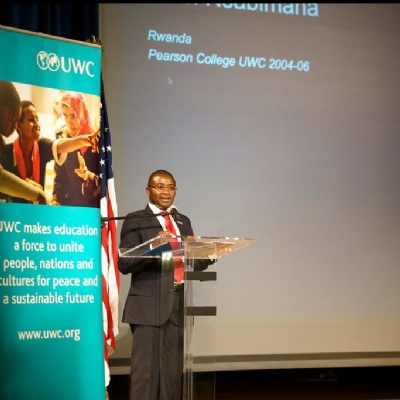 The UWC Refugee Initiative gala event held in New York City last month saw many inspiring speakers come together to talk about their experience as or with refugees, the role of education in tackling the refugee crisis and how we can collectively contribute to find sustainable solutions to it. One of the speakers was John Nsabimana, a Pearson College UWC alumnus from Rwanda (2004-2006). In his speech, he shares his journey as a refugee and how the opportunity of gaining an education gave him hope and changed his life.
"Good evening everyone.
It is my honour to be taking part in the United World Colleges Fundraising Gala. The work of UWC is very close to my heart, and I will tell you why. I come from Rwanda, so you may already know a part of my story. Twenty-three years ago, I became a refugee. Forcibly displaced from the only home I knew in Rwanda, I fled the Genocide in 1994. I was just seven years old. With no belongings and no one to look after us, my five-year-old brother and I walked 500km to Uganda to escape the violence.
For the next 11 years, the Oruchinga Refugee Camp in southern Uganda would be my home. Everywhere, there was sadness. People were safe, but like us, they had lost their homes and their families. All around me, people cried. People I saw one day were gone the next, dead. I didn't know why.
Thanks to UNICEF I was able to receive an early start in my learning. They offered education programs that I was able to benefit from. I remember sitting on the red soil under a large tree with hundreds of children singing the Alphabet Song.
Everything I learned, I taught my brothers. I tried to make them understand that this was a situation we didn't create for ourselves. It just happened. We had to try be good people and hopefully one day things would get better and we would be able go back home. Our dream was to one day go back home, and getting an education helped us all believe we could make that dream come true.
In 2004, I was one of the 23 students in Uganda who interviewed for a UWC scholarship and among the 3 students awarded with the honour, eventually attending Lester B. Pearson United World College of the Pacific in British Columbia. It was a fantastic experience that allowed me to progress in my academic aspirations.
This past summer, I had the opportunity to visit the Oruchinga Refugee Camp for the first time in 12 years since having come to Canada. It was an emotional experience to return to my old home.
I had the chance to go back and see the primary and high school I attended while living in the camps. I had a chance to speak with current students and hear first-hand about the challenges and difficulties they faced in their situation. These issues made me reflect on my experiences and what would have happened if it weren't for United World Colleges' scholarship program.
As a victim of the Rwandan genocide 23 years ago, I am where I am today in part because of the generosity of the refugee initiative that United World Colleges provided. I often thought that my life was hopeless, and wondered whether our conditions would improve. Growing up in a refugee camp more than half of my life, I never thought that I would be able to build my life in a better way or find myself in a country like Canada, attending university and eventually achieving my Masters in Public Administration, becoming an Ambassador for UNICEF in Canada, and working towards my dreams of working for UNICEF to pay it forward and help vulnerable children just like me.
By being here today, and by taking part in this event, you are helping United World Colleges provide scholarships to young people in the world who otherwise would not be able to achieve their academic and career dreams – young people like I was, who struggled to see life beyond the refugee camps. You are improving their lives. More importantly than that, you are giving them hope. Thank you."
Photo credit: Carlos Andres Varela