UWC Thailand's Head of Mindfulness on Holistic Education
31 January 2019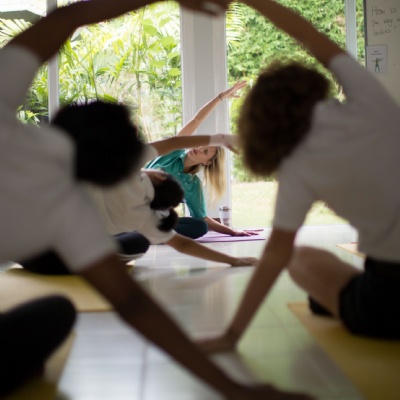 At UWC Thailand, learning how to pay close attention to one's physical and emotional state of being is integrated into the curriculum with the same purpose as academic subjects such as science, math or language. Lucy Keller, the School's Head of Mindfulness, is the teacher that made this a reality.
With more than 17 years of experience in education and nearly as many in the field of mindfulness, Lucy highlights the importance of this unique approach to learning and why it is key to a UWC education: "Mindfulness is such a transformative tool because it teaches students to consciously attend to the lens through which they see the world. It allows them to acknowledge their emotions and pause in their judgements, so that they may develop a deeper awareness of their perceptions. Through this clarity, they can make more intentional choices for themselves and their communities - which is exactly what UWC is all about."
With its newly-opened Mindfulness Centre, UWC Thailand has begun to use mindfulness principles and practices to stretch beyond the framework of its normal pedagogy. Lucy's work seeks to create a space for stillness in a day filled with endless learning opportunities, for example embedding mindfulness in the way teachers and students work together, and how community members interact. This occurs through a multitude of ways: a twenty-minute time-in each morning, community yoga sessions, training for teachers and workshops on the science behind mindfulness, to name a few.
"Creating positive experiences first thing in the morning enables everyone to approach the day ahead with self-awareness and kindness. We seek to be intentional in our learning - not just academically, but also socially and emotionally", Lucy says, adding quickly that "although UWCT has decided to dedicate time and resources to making mindful awareness a core value in our pursuit to unite people for peace and a better future, practising mindfulness is not to be forced. We extend gentle invitations to students and provide exposure to different ways of practising - if someone is not connecting to meditation, they might connect to yoga - but in the end, it is all about shaping an environment where students feel supported enough to examine their minds and acknowledge their emotions."
Mindfulness isn't for everyone, and for many students arriving at UWC Thailand, it is a completely new experience. This is why Lucy actively seeks to connect with those who have trouble accessing mindfulness:
"I make a conscious effort to relate to students on another level, unpack their experiences and attend to their doubts or fears. Through more informal chats, we reflect on how mindfulness may relate to their own traditions, religions or hobbies and sometimes, it is those students that form the strongest bond to mindfulness."
Lucy proudly recalls the story of a first-year IBDP student who decided that the only way to explore her initial scepticism would be to attend the mindfulness session every morning. She has now been practising for more than three months and explains the significance it has had on her life: managing emotions, retaining focus, learning and productive social interaction have all become much easier. The student's own experiences with mindfulness have inspired her to become a role model to the rest of the community, taking responsibility for initiating mindfulness sessions in lower grades and motivating peers to follow suit.
Lucy describes mindfulness as bringing the community together: "It's a way of connecting and sharing the commonality of being in the present moment. During one of our weekly mindfulness themes, we highlighted all the wonderful things that contribute to our deliberate diversity, but we also made sure to accentuate the things that make us the same. Through a label-stripping meditation, we encouraged students to explore the essence of what it means to be human, despite differences in culture, religion or gender. If we are aware of what unites us and that we all have the capacity for suffering, it becomes easier to act compassionately. We see each other as ourselves."
She continues to explain that "discussions are great, but I don't think discussions alone impact change. At UWCT, we are not only talking about making a difference, but we are also learning about the emotional components of acting responsibly in relation to the communities around us."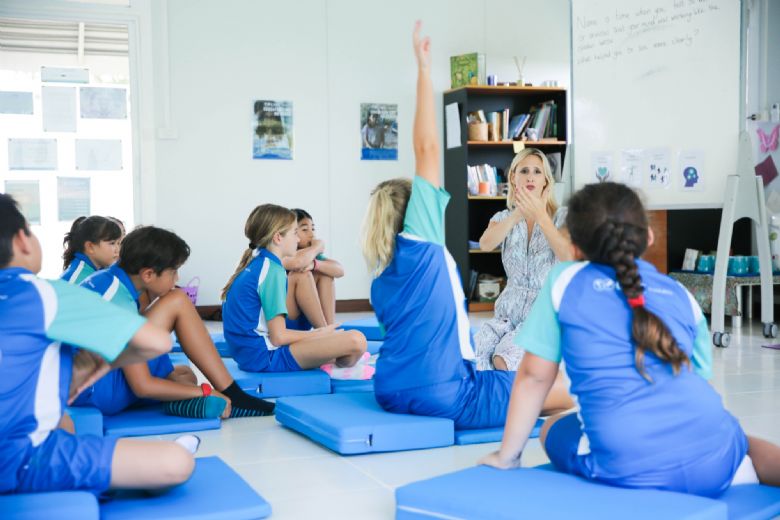 This philosophy is what ultimately drew Lucy to UWC Thailand. After experiences in other schools, she could see people meant well with regard to personal, social and emotional learning but that there was no real internal change. Lucy knew education needed something deeper but wasn't sure if this experience was offered anywhere. She was ready to give an educational role one "last chance" by teaching mindfulness and quickly realised that mindfulness at UWCT was not only tolerated but celebrated.
When Lucy began her own personal and professional journey with yoga and mindfulness twelve years ago, she slowly saw it transforming her life. As a passionate educator, she realised the potential in using it to foster the innate curiosity of children and to support her students in becoming self-aware changemakers. Starting out as a teaching assistant, she was keen to learn more about the dynamics of Early Years Education: "Working as a specialist with young learners, you are told to observe the children in their interactions without judgement, but with clear intentions of figuring out what they are trying to tell you about their behaviour. I loved this aspect of noticing human relationships, how we relate to one another and to ourselves."
It was then, in her role as an Early Years Specialist, that Lucy noticed that an increasing emphasis on academic achievements came to the detriment of social development: "There was very little emotional learning, but when there was, it always occurred in an artificial context. In my current role, I can work with students authentically and account for the internal context of the school. I get to know my students, the teachers, the parents and everything in between - and I can work with our community based on these factors", Lucy explains.
Whilst the role of a Head of Mindfulness is not always straightforward and can sometimes feel intangible, the impact Lucy has on her students is substantial:
"In this day and age, our minds are constantly scattered everywhere and attending to our minds becomes necessary. Mindfulness gives students the necessary breathing space to cope with the challenges of high-pressure environments and helps them develop tools to use their emotions constructively for their own benefit, and for that of their communities."