Creating Opportunities for Education in a Village in Tajikstan
2 February 2021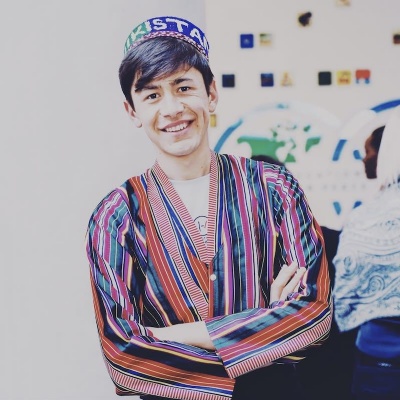 Shohruz (UWC Dilijan, 2019-2021) is from Tajikistan, and attends UWC Dilijan on a scholarship supported by UWC patron Shelby Davis. Over the end of year break in 2020, Shohruz and a group of his friends created a school back home in Tajikstan with the aim of providing local students with better conditions for education and passing on all that he learned and experienced at UWC to more young people in rural communities like the one he came from. The group managed to find a venue, to gather support and ended up teaching underprivileged children from the village. Here is what Shohruz had to say about the project:
"Growing up in a rural area of Tajikistan, where the majority of men emigrate to Russia to engage in construction work, leaving behind their families to pursue the happiness of their lives, I used to ask my parents and teachers why those people do not work in Tajikistan. Their answer to my question was the lack of plants and factories and hence work opportunities in my country. However, after going to school and learning about the natural resources of my country in my geography class, I learned that my country is rich in natural resources. Furthermore, we were taught that young individuals comprise the majority of the population, but there is a lack of qualified specialists in many areas.
In my opinion, education is one of the most important tools that can bring success to our society. Education lessens the challenges we face in life. Coming to UWC Dilijan has meant that more opportunities have opened up to allow me to achieve better possibilities in my career and personal growth. I have obtained a high-quality education, made international friends and shared my culture with them. I would like to see other students from rural areas having this experience. Therefore, considering all the challenges we faced as rural area students in our studies, such as a lack of technology, internet connection, good teachers and access to information about available opportunities to study abroad, my friends who are also studying abroad and I decided to open up the first educational centre in our village. We aim to provide the rural area students with better conditions for education and allow them to become qualified and have the opportunity to study abroad. Once they return as qualified specialists to Tajikistan they will be able to contribute to the development of the country. In our educational centre we teach English, Russian and Math to students. Also, we conduct informative sessions about programmes for studying abroad. Two years ago, there were only two of us who applied to UWC from my village and contentedly this year around 10 students are applying to UWC and other programmes."