The Road from Pearson College UWC Student to Assistant Deputy Minister of the Ontario Anti-Racism Directorate
21 June 2021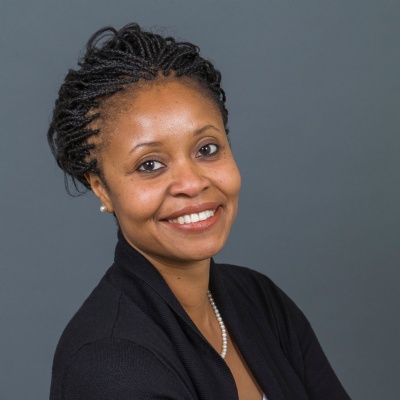 Nosa Ero-Brown (Pearson College UWC, 1992-1994) shares her story, beginning in 1980s Ibadan, Nigeria, before travelling to Pearson College UWC in the 1990s, and ending in Ontario, Canada at the Anti-Racism Directorate as of today. She reflects on the experiences that shaped her and the passion, idealism and hope that continues to fuel her today.
First, let me acknowledge that as a Nigerian-Canadian, living in Toronto, Canada, I am writing from the traditional territory of many nations including the Mississaugas of the Credit, the Anishnabeg, the Chippewa, the Haudenosaunee and the Wendat peoples, which is now home to many diverse First Nations, Inuit and Métis peoples. I want to acknowledge their direct descendants as the rightful caretakers and titleholders of this land, upon which I live and work, a beautiful land that has given myself and others refuge.
I was born in Ibadan, a beautiful, sprawling City in western Nigeria - described in J.P. Clark's poem as "a running splash of rust and gold, flung and scattered amongst seven hills, like broken China in the sun". I am the second of six children. My father was a civil servant until he retired, he worked in Forestry research for the Federal Government and instilled in us a love of nature. My mother was a teacher and an artist whose love for the arts rubbed off on some of us. She taught us self-expression through dance and drama.
From the outside looking in, we were the ideal middle-class family with consistent access to food, clothing, and shelter. This notwithstanding, we lived under military rule and the corruption and fear that surrounds that kind of a regime.
I found out about UWC from my mother. I was in boarding school - an Army Command Secondary School (Yes, I attended a military boarding School throughout high school, and I need a separate session just to unpack that experience :)). My mother had read about UWC in the papers and thought it was really interesting and an experience that I should try out. I put in my application and got selected for an interview. I travelled to Lagos and joined several other students - we had debates, physical tests, written tests and generally enjoyed learning from each other over the course of three days.
The afternoon in 1992 when I got a letter from Pearson College UWC with an offer of a full scholarship was one of those life-changing moments where time stood still.
Although the road was rocky between getting the letter and arriving at Pearson College because my parents had to borrow funds to buy my plane ticket as they could not afford it, I was so eager to be part of this movement that it did not matter that I arrived a month late and missed the whole orientation. It didn't matter that when I landed at Pearson International airport, I thought Pearson College UWC must be nearby (not knowing I had to take another flight from Toronto to British Columbia). It did not matter that all I had were a couple of summer clothes and $10USD. All that mattered was that I was there - ready to learn, ready to make my family proud.
I would characterise my years spent at Pearson as challenging, inspiring and very rewarding.
They were challenging because of the culture shock. I had just come from a place where I would not dare look my "elders", "seniors" or "teachers'' in the eye in some cases, to a place where my teachers wanted me to call them by their first names. I had always introduced myself as just Nosa - without any attachments of race or ethnicity. At Pearson - for the first little while everyone called me Lilian (my middle name) until I corrected it. It was at Pearson College that I first learned that I was Black - and all that comes with being racialised. It was there that I discovered that it was not enough to identify with my particular tribe in Nigeria. I was Black - and put in a certain box. I had to automatically know how to dance, or like a certain type of music, or food… it was all very different.
There were also challenges fuelled by the inequities based on our different backgrounds and socio-economic statuses. Although we were all on scholarships, I recalled the shame I felt lining up in front of our financial advisor's office for the $10 weekly stipend that I relied on for basic necessities. The quiet hush and averted glances, because after all - we were all "happy" in a utopian experiment, and I was "lucky" to have been there.
The years at Pearson were also very inspiring because we were all going through similar experiences and I got to learn what Lester B. Pearson meant when he said "how can there be peace without people understanding each other… and how can this be if they do not know each other?". We lived this value - of really knowing others, seeing the world through their eyes, really understanding other people and truly caring for them. I learned about traditions from Japan to Nunavut. I fell in love with the South African Gumboot dance and have used it as a way to teach my children about the South African anti-apartheid movement.
I was inspired to give myself and my time to others - to volunteer in the neighboring communities, learning the value of conversation over an afternoon tea with seniors with no agendas. This experience changed my life and has been very rewarding because it is the foundation on which I have built my personal and professional relationships.
Those two years were two of my best years overall. In spite of the challenges, they filled me with hope and such idealism that I could change the world. All I had to do was put my mind to it, with help from my friends who were just as passionate as I was. I wanted to make sure no child ever went hungry. I participated for the first time in rallies against racism and hate, and to save the environment. Almost 30 years have passed since then and I am still fueled by the passion I felt at Pearson College UWC.
In terms of the next steps I took after Pearson, I wish I could say that I had mapped out my exact path up to this point and my current role as the Assistant Deputy Minister of the Ontario Anti-Racism Directorate, but we all know about how the best laid-out plans work out...
I think my parents had a lot to do with instilling the value of public service in me. That, and the fact that as 'immigrant parents' they just wanted us to get good, stable jobs and 'take care of others'. So I graduated with distinction and a double major in Economics and Political Science and a 'co-op' option. The co-op allowed me to have four terms of work experience which ranged from work with the federal and provincial governments to a semester abroad in Malawi where I worked on an International Development Project focused on opportunities for Malawian Youth.
These opportunities drove my interest in government policy, social justice and governance. I went on to a Masters with a specialist program in the Political Economy of Development.
In a nutshell, with my educational backgrounds and interests, all roads led to government for me. I literally applied to the federal and provincial government until I finally got in after the birth of my first child. I was thrilled to be working on research and outcome measurement for children and youth for my first job with the government of Ontario. I moved on to other roles within the government, focusing on everything from social policy, to regulation, to leading the release of the first Open Data and Open Government policy in Ontario. Within each of those roles, I naturally sought out opportunities to enhance diversity of thought and opinion, as well as equity. I sought out mentors that shared similar values and have been very fortunate to have great teachers in the Ontario Public Service.
In 2020, before the murder of George Floyd and the racial reckoning around the globe, the opportunity arose for me to join the Anti-Racism Directorate. I saw the chance to join those who had been on the forefront of the fight for equity in the Ontario Public Service. The mandate of the Directorate is to lead the provincial government's anti-racism initiatives, to build a more inclusive society, and to identify, address and prevent systemic racism in government policy, legislation, programs and services. It was time for me to embrace that challenge head on. I have been with the Anti-Racism Directorate for almost a year.
Of course, it has not all been easy, but there are so many strong leaders, role models, fighters and ancestors that have come before me and have faced so many challenges in the fight for racial equity. Some have even lost their lives in the process. So within that context, anything I have done and the challenges that I am facing in my current role pale in comparison.
Having said this, within my own current context of working within public sector organisations, these are the current core challenges I face:
1. Agreement over and acknowledgement of what the problem is. We have seen how charged the conversations around systemic racism can be. Although there is ample data and evidence of the consequences of systemic racism and racial discrimination in opportunity, structures, health, education, justice etc. - it is very challenging that many still believe 'there is nothing to see here'. It is hard to face up to something when we do not agree that it exists.
2. Organisational and Culture Change is difficult, especially when racist ideas are considered normal throughout our media, culture, and institutions. We often hear and see that it takes time to dismantle the structures that yield inequities and to unlearn what we have all considered normal. Some are also very comfortable with these structures, so it becomes easier to dabble around the edges rather than doing the real work that is required.
3. Addressing racism at all levels - individual, institutional and at systemic levels. This is a challenge, but it is what we must do. I find that people are often looking for quick, simple and sometimes personal things like reading and training. Taking a deliberate and multi-pronged approach requires leadership, dedication and deep commitment to making the change we want to see.
What keeps me going despite these challenges? Well, who am I not to keep going?
So many that have come before us have fought, struggled and died for the right "to keep going".
Sometimes, thinking about the opportunities I have had throughout my life from Nigeria to Canada keeps me going. I want the same and more for my children, and for all of our youth. Other times, just getting out of bed and listening to a friend who is worried about her teenager driving without fear of being stopped is enough to keep me going. Sometimes, working on a strategy to reduce over-representation of indigenous and black youth in custody keeps me going. No matter what, I have a desire to leave things a bit better than I found them.
The work I am doing is important and aligns with my own values of equity, fairness, justice. It is important that racial or any identity for that matter isn't a barrier to advancement or opportunities. It is also important to me that people have what they need to thrive, be resilient and succeed even as we fight to remove those barriers.
My UWC experience also had a big impact on shaping what I do now and how I do it. For starters, it helped me to understand that, fundamentally, human connections and relationships remain at the core of peace and understanding. I know at my core, that a child without food or hope - no matter where in the world they are - deserves justice and deserves opportunity, because they are human and they have rights, and I care. Just as my colleague who feels unseen and has been passed over for opportunities deserves equitable treatment. These are not 'other people' with 'other problems'. These are my family, and friends.
In hindsight, Pearson also taught me that simply bringing 'diverse' people together is not enough. We must go beyond the limitations of our existing structures to ensure that systemic issues are addressed - so that some of us, and our children, never have to be vulnerable in the first place. It was not enough for me to show up - a sixteen-year-old from Nigeria - to tick a box. From an equity perspective, I needed an equitable opportunity to thrive and to succeed and to achieve my potential, and not to worry about being stopped because I was in a car filled with my Black friends.
When I think about the UWC movement today, now more than ever it has such an opportunity to be a catalyst for change.
When I was at Pearson College UWC, we talked about environmental issues, politics, and had healthy debates about a fair world. However, discussions about systemic racism and the inequities and challenges faced by racialised students was something that I personally felt more comfortable discussing with my fellow Africans. Now, we are all having these conversations and challenging our assumptions like never before. These conversations must be encouraged - and we must continue moving toward action and change.
The UWC describes itself as a global education movement that makes education a force to unite people, nations and cultures for peace and a sustainable future. What other advice is there to give except to insert "anti-racist" before the word future?