UWC Alumni Spotlight Asian Film in Hollywood
20 July 2018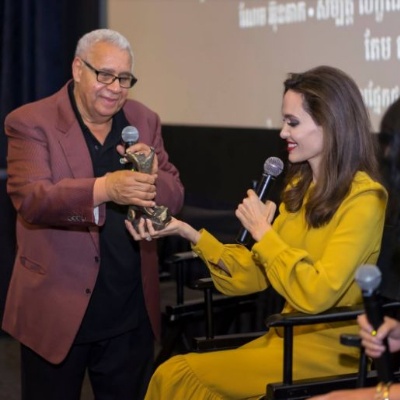 Image: Georges Chamchoum (UWC Atlantic College 1964-66) awards Director Angelina Jolie for her film First They Killed My Father, based on Loung Ung's personal account of the Cambodian Genocide.
In 2015, four UWC alumni joined forces to address the historical underrepresentation of Asian filmmakers in the Hollywood film industry's awards season. The result was the creation of the Asian World Film Festival (AWFF), an annual event in Los Angeles that showcases films submitted to the Academy Awards and other competitions by Asian filmmakers, representing countries from Turkey to Siberia, across South East Asia, South Asia and parts of the Middle East. The festival publicizes Asian filmmakers' work to Hollywood decision-makers and public audiences to increase their chances of winning Oscars and Golden Globes. The foundational purpose for the AWFF, according to Richard Chamberlain (UWC Atlantic College, 1974-76 and AWFF's Director of Business Liaison) is to "give a voice to people and their stories from parts of the world which may often get overlooked" - and in doing so, share UWC's value of celebrating diversity.
"Very rarely did a film from Asia win the Oscar, maybe in only 10 or 15% of the years; yet the 52 Asian countries represented by the Asian World Film Festival represent over 60% of the world's non-English speaking populations. Asian films should be getting a lot more recognition," Richard adds.
In 2017, the AWFF screened Angelina Jolie's First They Killed My Father, a memoir of Loung Ung's experience as a child soldier during the Cambodian Genocide. The AWFF also displayed the first-ever official Oscar submission from Syria: Little Gandhi, directed by Sam Kadi, is a documentary about the Syrian peace activist Ghiyath Matar who was tortured and killed for his nonviolent activism.
Georges Chamchoum (UWC Atlantic College, 1964-66) is the Executive and Program Director of the AWFF. Born in Niger and of Lebanese origin, he has directed and produced over 50 feature films in Europe, Africa, the Middle East, Canada and the USA. He was also named one of the 100 most influential Lebanese people in the world in 2017.
Georges recruited several UWC alumni to support the AWFF including Richard Chamberlain, Sarah Mason (UWC Pearson College, 2001-03) and Mboni Maumba (UWC-USA, 2012-14). Sarah is the AWFF's Managing Producer and is currently working on a TFI Sloan Grantee film in Jordan. Mboni is an AWFF Festival Associate and is also a Production Designer for the 2018 feature City of Fallen Angels. The AWFF relies heavily on volunteers to run the nine-day festival each year, and many UWC alumni have lent their support since the inaugural event in 2015.
Georges states that he was inspired to contribute to the AWFF by the "spirit" he discovered at UWC Atlantic College during his time as a student. "UWC taught me one of the great lessons in life – it taught me a sense of belonging, belonging to one world, one nation, one brotherhood/sisterhood. No matter the colour, religion or creed - we are one on God's green Earth. This shaped me for life - and whatever I venture in my professional or private life, this has been my bedrock!"
The 2018 Asian World Film Festival will take place in Culver City (Los Angeles Area) from 24 October - 1 November. To learn more, or to volunteer, visit www.asianworldfilmfest.org.