The Power of Storytelling
22 June 2022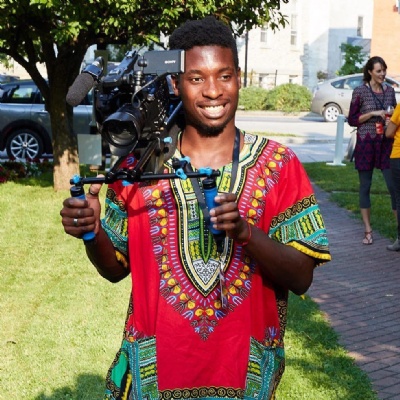 Munya Ra Munyati (Zimbabwe, Li Po Chun UWC, 2013-2015)
Freelance journalist Mara Dolan (UWC Costa Rica, 2013-1015) met fellow UWCer Munya Ra Munyati (Zimbabwe, Li Po Chun UWC, 2013-2015) at a New York City based alumni event, where they discovered their overlap in experiences in media and journalism. Mara recently interviewed Munya and was interested to find out where his commitment to storytelling stems from and how his storytelling practice has been shaped.
Munya Ra Munyati (Zimbabwe, Li Po Chun UWC, 2013-2015) has been committed to using film, storytelling and visual media as his toolbox for change since his time at UWC, during his gap year with Global Citizen Year, through Middlebury College, and now as a producer at VICE Media.
Munya's media and film work have always focused on uplifting those underrepresented in media, by finding and telling stories honouring the subjects they seek to illuminate. From his professional experiences as a Videographer at the Middlebury New Filmmakers Festival, promoting and supporting new and emerging filmmakers, to his work as the Head of Production for Umwe Africa's "Pandemic: COVID-19 in Africa," highlighting the impacts of the COVID-19 pandemic on the lives of people across the continent, Munya has strived to centre people and their own stories in all his work. In his current work as a producer at VICE Media, one of the most prominent media outlets in the world, Munya has continued to hold these storytelling lessons close.
When did you realise you were first interested in telling stories?
I always have been. I have early memories of when I was seven years old or so, my parents getting me a Digital Blue camcorder. I remember getting it and instantly trying to direct a movie between my friend Tutu and brother Mudiwa, with lightsabers in my driveway. I just remember always wanting to make films because it was something that brought me joy, that lit me up. There was a time when I knew that I loved telling stories, but I wasn't totally sure yet how. I used to love to write prose and poetry, in addition to holding my camera, and I found all of it invigorating in different ways. I didn't want to interrupt anyone or get in the way, but I wanted to document what was happening. I just wanted to be there and witness.
You went to Li Po Chun UWC of Hong Kong - how did your time there change how you told stories?
It's hard to separate how UWC changed me as a person and how it changed me as a creator. I know I was exposed to different perspectives that expanded my creativity, my visions, and what seemed possible in my work. I went into UWC thinking I wasn't creative because I didn't fit the rules of what I had been taught a 'creator' was: someone who paints, who sculpts, who is a traditional artist. I wasn't any of these things. At UWC I got to explore what else it could be. That meant videography, theatre, spoken word, creating art that tells stories in a multitude of ways. I took my camera on walks with friends around Hong Kong, I learned new forms of dance, and I performed spoken word for the first time.
I was also affirmed in my feeling that the stories from Zimbabwe I wanted to see represented in media were not being shown and told as they should be. Being at UWC, I met so many other young people who had that same desire: the desire to have someone somewhere see a movie or a clip or something and say, 'I relate to that, I see myself represented, someone cares about the life I lead, the culture I have, the things I care about'. Being at UWC instilled in me that there are so many of us who want to find stories that make us feel seen.
You went on to take a gap year with Global Citizen Year - how did that experience help shape your work?
I was selected to be a Media Fellow during my Global Citizen Year, where I was placed in Puyo, Ecuador. This was really the first time I was able to share people's stories in an official capacity, and had some support in doing so. I wrote an article about my host mom and her experience with "Machismo" in Ecuador, after many conversations and an extensive interview. She trusted me with her story, and told me she had an outlet to talk about something that she didn't get to talk about that much. It felt like an immense responsibility and gift.
My role as a Media Fellow was to document things that were going on around me. I spent a lot of time alone - especially compared to the hectic social life of UWC - but this also allowed me to focus on things around me, to focus on learning and observing. This was not my home, so I didn't get to make the narratives of this place. I only got to share them. I really got to put this into practice.
What are the things most important to your storytelling practice?
The two most important driving things to my work are authenticity and respect of the subject, without a doubt. When you're in the position of being a storyteller, being trusted with other people's stories, there's a responsibility to tell the story the right way – or tell the right story, to put it in a better way. I want to honour the weight and meaning of the story to the person who is telling it, not just think about how to shape it to best fit success for some assumed audience.
When I'm making a story - take for example, a profile I did recently at VICE Media - I wasn't thinking to myself "this will be a story that does really well with the audience, this may be successful." I was thinking, this is a guy who has been thrown into the public eye due to one moment of public virality on the internet, and no one knows anything about him. How can I help that story? Throughout that whole process, I felt like I owed that to the person I was profiling, to tell a story that was authentic to his experience.
Do you see a connection between storytelling, and your work in film and media, with the UWC mission?
I've always wanted to be in film, but UWC helped me understand and clarify that I want to be sharing stories. I was exposed to different people, perspectives, cultures, and stories, the vast majority of us feeling like we weren't necessarily feeling seen in the stories we saw on television and in the media. Knowing this was something other people experienced, that other people felt, made me so sure of what I wanted to do, and only added more meaning to it.
If you're interested in learning more about Munya's work, check out just some of his recent projects on environmental justice in Louisiana, profiling a "local legend" in the Coney Island community, and a food tour with renowned chefs in New York City. You can also follow his film and media social media page at @munya_ra_films on Instagram, where upcoming projects at VICE and beyond will be shared.