Meet Dechen, A Third-Generation Tibetan Refugee Turned UWC Atlantic Scholar
29 January 2021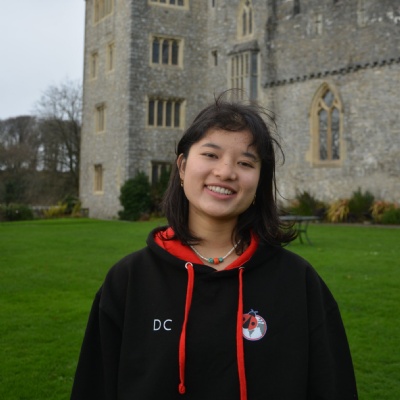 I am a third-generation Tibetan refugee born and raised in North India. My grandparents fled from Tibet as teenagers and settled in the northeastern Himalayas of India where me and my two siblings were eventually born. Both of our parents passed away when we were very young, as a result of illness which I believe could have been cured if they would have had access to the right medical help. This lack of medical expertise and infrastructure has been my tragedy that fuelled my desire to pursue my passion for medicine and eventually be able to use science to contribute to societal improvement, particularly in remote areas in India like the one I call home.
It was when I saw some older students at my school in India applying desperately to UWC that I asked my school counsellor for details about it. Totally fascinated about the UWC movement, the mission, the education system and its diverse culture, I filled out the application form as soon as I was old enough to apply. The moment I heard the news that I got into UWC Atlantic on a scholarship with the Pestalozzi International Foundation, I was full of the joys of spring. I couldn't have been more excited to have been selected. I didn't ever imagine I would be able to study in a school like this and I am forever grateful for the opportunity.
I've been a student here for over a year now. My experience at UWC Atlantic has so far opened me up to a wider view of the world and allowed me to look at life from many different angles. It has been so challenging and so rewarding at the same time. Everyday, it pushes me to challenge my views and understanding of the world around me and provides me with the opportunity to grow as a whole person and be the best possible version of myself.
The experience has of course also been testing at times: the sudden switch to online learning this year due to COVID-19 was demanding and, due to the hours we spent online, exhausting. However, the lockdown period definitely made me feel appreciative of home and grateful for what I have. It also further expanded my horizons: as I was not able to safely return home over the Summer due to the pandemic, I stayed with a host family in England. There, I experienced an authentic English lifestyle - an experience I would not have necessarily encountered amidst the varied environment and diverse cultures of UWC Atlantic! I also thoroughly enjoyed sharing my Tibetan culture with them.
Once I graduate from UWC Atlantic I hope to study biomedicine at University - although my experience as leader of the Wellbeing Council at UWC Atlantic has intrigued me into maybe also exploring a career in psychology in the future. I am looking forward to applying all that I have learned and gained at UWC to finally pursue my dream of improving health outcomes in rural areas like the one I come from, to help families like my own live a long and healthy life.