Empowering Women at UWC
At UWC, we believe that women are crucial drivers to making a more peaceful, equitable and sustainable future a reality.
In our Empowering Women at UWC brochure, we dive into why education is so crucial in order to reach gender equality and empower women to become catalysts for change, we explore how UWC aims to help lift the barriers standing in the way of achieving gender parity in education across the world and we share the stories of some of our female changemakers.
Consistently making up more than 55% of our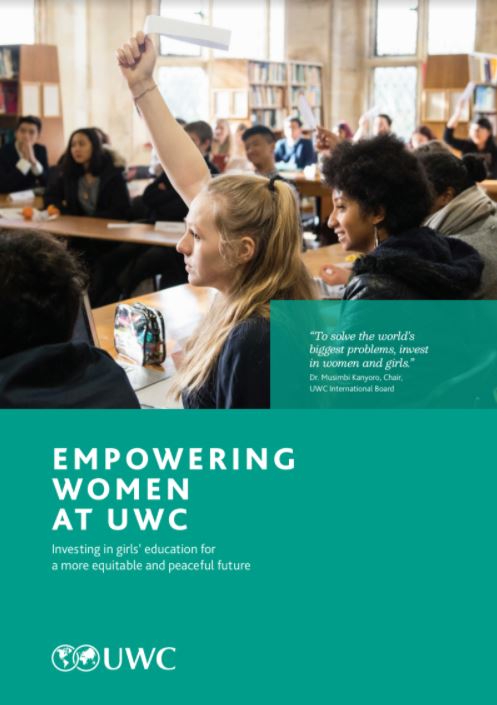 student population, you will learn how the girls and women who are part of the UWC movement are a force that empower and help the next generation of women climb higher - whether that's through the NGOs that many go on to establish, through student projects that work with local women in the UWC school communities or simply through the inspiration that they provide to both women and men once they return to their home communities.
An education which prioritises ethical leadership, active community service and exploring intercultural and inter-societal differences - including between men and women - is critical to each of these women's journeys.
This is the kind of education that we provide at UWC to any young woman or man, irrespective of background, who shows the drive and potential to positively impact their communities and the wider world. With over 75% of UWC students receiving full or partial financial aid to attend UWC, we are proud to be supporting young women from all backgrounds as they go on to become the leaders and changemakers that our world so desperately needs.
You can also listen to four incredible women - Dr. Musimbi Kanyoro, Chair of the UWC International Board and former President and CEO of the Global Fund for Women; Mary Robinson, Adjunct Professor for Climate Justice in Trinity College Dublin, Chair of The Elders, and former President of Ireland; Dr. Victoria Mora, President of UWC-USA; and Bertha Tobias, recent UWC Changshu China graduate and International Relations and Economics student at Claremont McKenna College - talk about the importance of education in empowering women changemakers during a UWC event held on 9 March 2021 to continue International Women's Day celebrations.