Working on Humanitarian Crisis 
5 July 2017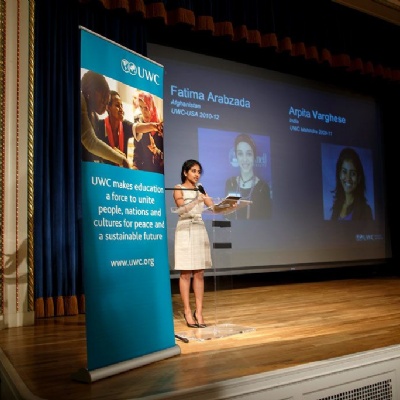 The UWC Refugee Initiative gala event held in New York City last month saw many inspiring speakers come together to talk about their experience as or with refugees, the role of education in tackling the refugee crisis and how we can collectively contribute to find sustainable solutions to it. One of the speakers was Arpita Varghese, a UWC Mahindra College alumna from India (2009-2011). In her speech, she talked about her work at UN Women and her experience meeting refugees as classmates at UWC.
"Good evening everyone,
I am so honored to be here today: of course, to have the opportunity to address such an esteemed audience but also to be able to speak to you on behalf of the UWC, as a very proud alumna of the Mahindra United World College of India.
I truly witnessed and experienced the power of education during my two years at UWC. I grew up in Kerala​, a beautiful southern state in India. After attending UWC-India​, I moved to the US for my undergraduate degree at Duke University (again with the support of a UWC scholarship), then moved to the UK for my Master's at the University of Oxford, and moved back here to work with the United Nations Agency for Gender Equality and Women's Empowerment. At UN Women, I help ensure that women and girls affected by humanitarian crises, including the refugee crisis, are protected and empowered. Having classmates such as Farah, Fatima, and Marwan was critical in instilling in me this passion to follow this line of work.
My two years at the UWC gave me a strong sense of purpose that drives me even today in my personal and professional life. I attribute this primarily to two factors​. The first was the realization that people were investing in me​: I had the wholehearted support of my parents and at the same time, I had the generous support of donors who had invested in giving the opportunity of a UWC education to students from all socio-economic backgrounds. This recognition played a big role in pushing me to give it my all and beyond​. Second, the experience of living in close quarters with classmates from around the world sharing everything as mundane as food to talking about seemingly intractable problems such as why the nation or community you call yours has been at war or has demonized that of your friends. This experience inculcated in us an ability to recognize a shared humanity in others, however different they might seem to you.
Together, this sense of shared humanity, energized by this deep-seated drive, urged us to see our life's purpose as one that was intrinsically and intricately tied to the well-being of those around us​, be it our next-door neighbor or someone half-way across the world.
A UWC experience is life-changing​. My two years at the UWC were the most challenging years of my life, but they were also the most formative: ​it was the most significant turning point of my life. At a time when magnifying differences is the go-to strategy adopted by many of our leaders, there is no better response than to invest in the young people most impacted by this crisis. As someone who has benefitted greatly from a UWC education and as someone who works on humanitarian crisis, it is with utmost conviction I say, giving young refugees the opportunity to receive a UWC education where they will be cherished, challenged, and inspired enabling them to emerge as tomorrow's leaders who will lead with​ empathy​ will undeniably be one of the most impactful investment you can make."
Photo Credit: Carlos Andres Varela