What a 30 Year Career in the UN Taught Me About Female Leadership
23 February 2021
"In my experience, the participation of women in drafting, preparing and implementing public policy in developing countries as well as in OECD countries is that you basically get better policies. You get policies that cast a broader eye to social groups, and which approach the problem differently."
Susan McDade's (Pearson College UWC, 1981-1983) experience stems from an almost 30 year long career in the United Nations, culminating in her position as Assistant Secretary General and Director of the Bureau for Management Services at the United Nations Development Programme (UNDP) - with oversight of the UNDP's operations in 130 countries. With a particular focus on gender and development, Susan has also led advocacy campaigns against domestic violence, and has supported women in development throughout her career. Her international movements came to an end last year when she moved back to her hometown in New Brunswick, Canada to spend more time with her children. Today, she has taken on a coaching role that is largely focused on supporting other women in the UN to navigate leadership positions and balance such a full-on career with other life choices.
"When I joined the UN in the early 1990s, around six of the senior most country level positions out of 140 were filled by women. The leadership was almost exclusively male and almost exclusively from the global North. On many occasions I led male-only teams, and there were many tough times where men would speak down to me and overtly demonstrate that they were not prepared to accept female leadership. So in this climate, I was extremely lucky to have access to senior women who mentored me through my career and who were pushing with me for there to be greater gender equality at the highest levels of leadership. So, just as these senior women helped me, it's my turn to give back as someone who reached those top levels."
Today, the overall picture at the UN is quite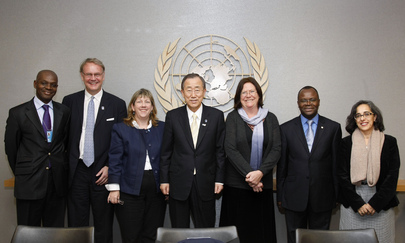 different, with policies in place to prevent such displays of overt sexism. Nonetheless, Susan says that today women have to face new challenges: "The issue is now to tackle the sexist behaviours which have gone underground since they became officially unacceptable. It's like racism, it doesn't just go away overnight. So it's our job to continue to watch out for those more subtle behaviours and to speak up when we see them."
When it comes to the limiting effect that a high-powered international career like Susan's has on life choices, such as starting a family, the situation still leaves much to be desired: "I was raised as part of the generation where we believed we could have it all, the fulfilling career and a family life. But it's just not true. There are trade-offs and you have to be aware of them before you launch into such a career. As a single working mother, I needed a lot of support along the way - everybody does, and young women in particular need to understand that early on so that they can make informed choices."
Coming to the impact of her UWC education on her life trajectory Susan shares, "At Pearson I just found it all so interesting - all these different people from all these different places. It was hugely motivating for me and fuelled my desire to see the world and its people. And that core UWC belief that in order to get along, people need to need to know each other has stayed with me throughout my career. I still believe that one of the reasons I was successful in my field assignments was because of this foundational belief that everybody is valuable and everybody deserves respect. It meant that I knew every driver, I knew the cleaner and if I had a social event they would be invited alongside the programme officers. I'm a true 'Pearsonite' in that sense.
My UWC experience also ended up being hugely influential in ways I had never expected: coming from monolingual New Brunswick I took the unusual decision to take higher level Spanish, simply because my roommate from Uruguay told me that 'if I was interested in the world, why not take Spanish - many more people speak it than French'. And that was it, my life trajectory changed and launched me into an international career that would take me to Uruguay, Guatemala and Cuba - all because of that comment my roommate made when I was 16."
Returning to the topic of women's empowerment, Susan left us with this thought: "Women's rights and the women's movement cannot be seen as the prerogative of women. It has to be the prerogative of society, because if you just talk about the importance of bringing women along, you're missing the point - it's about bringing the whole of society along. I for one could not have had my success without a male nanny who supported me for 11 years. So if there's one lesson in that - it's that if we want to follow the ample global evidence that shows you get better functioning institutions, better design policies and better working environments by having both men and women in leadership positions - then we need to be prepared to support each other to that end. Nobody can do it alone."