UWC Annual Review 2017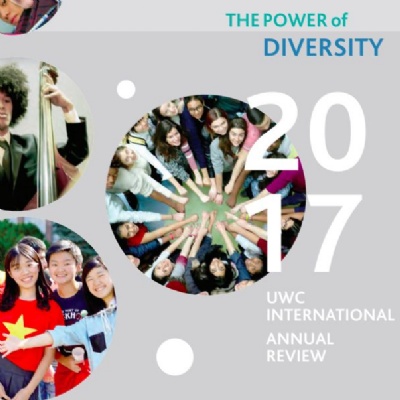 We are pleased to announce the release of a new publication from UWC International - our first-ever Annual Review! The UWC Annual Review (available below) outlines the state of the UWC movement in 2017, and shares the theme of UWC Day 2017: "The Power of Diversity." Through the lens of celebrating difference (one of UWC's core values), the Annual Review also includes features on just a few of the many UWC initiatives, students and alumni who work towards equality, justice and intercultural understanding.
A few highlights:
Initiative for Peace at UWC SEA
E. Tendayi Achiume, UWC alumna and U.N. Special Rapporteur
UWC Belgium Short Course
UWC Impact Study (with The Good Project at the Harvard Graduate School of Education)
Emiliano Valdés, UWC alumnus and Chief Curator at the Medellin Museum of Modern Art
Interview with UWC's Executive Director Jens Waltermann
The UWC philanthropy of Shelby Davis
Be sure to take a look at the 2017 Annual Review below, and stay tuned for the 2018 edition coming soon!