Young Aurora launches for 2023-2024!
6 September 2023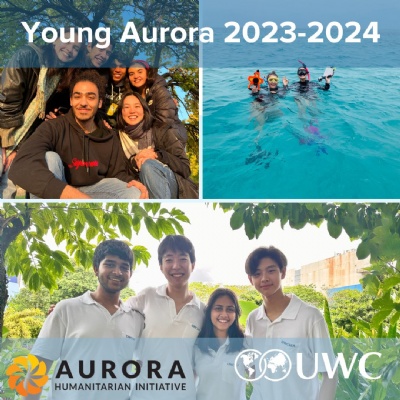 Working in partnership with the Aurora Humanitarian Initiative, Teach for All and the African Leadership Academy, UWC is proud to announce the launch of the seventh cycle of Young Aurora. This prestigious award offers student teams from UWC schools and the African Leadership Academy the chance to enter project proposals, which are designed to tackle a pressing humanitarian issue within their school community.
Running since 2017, the USD 4,000 grant has already helped many students create a positive impact. For example, last year's winners from UWC Dilijan were able to use the funding to develop their innovative Combili project that turns biowaste, which contributes to toxic gas emissions, into fertile soil using modern composters. The team impressed the judges with their research and well-thought-out project plan:
"This project can be replicated anywhere. It's a model that brings three key elements together: education, the tumblers, and the community garden. When all these three elements are put together, we can make a real change tackling this problem, because you can put these composters and tumblers everywhere, but no one will use them unless they are educated. That's why it's so important to educate people first."
The students' proposals are evaluated according to their level of creativity, sustainability, quality of research and potential for impact. A pre-selection panel then chooses three finalists who go before a panel of highly accomplished humanitarians, entrepreneurs and world leaders for the chance to win the USD 4,000 grant. Regardless of whether they make it to the final, all participating teams benefit from personalised feedback and support to help refine and develop their project plans.
You can find out more about previous years' winners here. They include students from Waterford Kamhlaba UWC of Southern Africa, who won the award in 2021 with their Seed of Hope, which is designed to empower young people at Malindza refugee camp eSwatini through the creation of a 'youth hub' education centre and social space.
Historically, the Young Aurora event was held in Armenia, but since 2020 it has been held online as part of the Aurora Dialogues Online.