Young Aurora 2021: The Winning Team
15 October 2021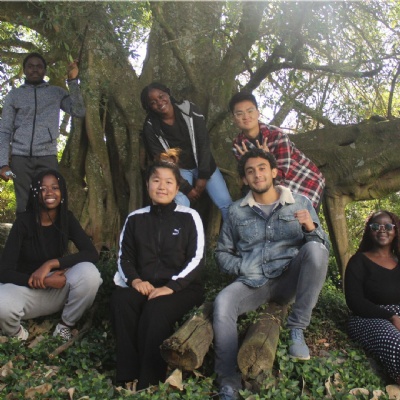 The fifth year of Young Aurora has come to an end and after a close and eye-opening final involving teams from UWC Atlantic, UWC East Africa and Waterford Kamhlaba UWCSA (WK UWCSA), we are delighted to reveal that the Seed of Hope Project Team are the winning team for 2021.
In an exciting twist to the final, Veronika Zonabend, impact investor and social entrepreneur, co-founder of RVVZ Family Foundation and Founding Partner and Chair of the Board of Governors of UWC Dilijan College in Armenia, announced that the team would receive a generous grant of USD 5,000 – even higher than the USD 4,000 originally intended for Young Aurora 2021. "One of the purposes of Young Aurora is to encourage young people and to create new role models for the young generation. [Aurora] discovers and also rewards the real heroes of our world who do something very important for other people, despite very difficult circumstances and despite the atrocities happening around them, and they continue to do what they started, and they believe that they can win and that the good things they do for others will make a positive impact," said Veronika Zonabend.
Presented by the Aurora Humanitarian Initiative in partnership with UWC International, Teach For All and the African Leadership Academy, Young Aurora was launched in 2017 to encourage, support and showcase student-driven projects which address concrete humanitarian issues with innovative and sustainable solutions. It was wonderful to see in this fifth year how strongly this mission is being carried forward by the students presenting their projects and the many audience members from across the world who came out to support them, from leading thinkers in the world of education and social entrepreneurship, to the classmates and teachers of the presenting teams.
Hosted online for the second year running due to ongoing COVID-19 travel restrictions, the event began with an emotional and inspiring look back at the last five years of Young Aurora, featuring many familiar faces from past finalist teams who came together once more to wish Young Aurora a very happy fifth birthday.
The humanitarian issues the students chose to tackle this year covered three areas that are currently at the forefront of many of our minds: mental health, the environment, and education & refugee support. UWC Atlantic proposed a solution to tackle the first issue with their plans to expand the peer listening network that has proven to be a success at their school to neighbouring schools in their local area. For UWC East Africa, the focus was on tackling the issue of soil erosion and deforestation in their local school area through the distribution of seed bombs and the provision of a rainwater collecting system. Last but not least, the WK UWCSA team presented their solution to empower young people at Malindza refugee camp by creating a youth hub that serves as an online education centre and social space.
Considering the breadth and importance of these issues, we were fortunate to rely on a distinguished Selection Jury to choose the final winner. This jury included:
Mirza Dinnayi, Yazidi Activist, Co-Founder and Director of Air Bridge Iraq and 2019 Aurora Prize Laureate;
Syeda Ghulam Fatima, Human and Labor Rights Activist, General Secretary of Bonded Labor Liberation Front Pakistan (BLLF) and 2016 Aurora Prize Humanitarian;
Maria Ines Kavamura, UWC International Board member;
John Prendergast, Human Rights Activist, Co-Founder of The Sentry and Aurora Prize Selection Committee Member;
Alice Petrossian, UWC Dilijan Full Board Member and Education Consultant.
The jury carefully considered each project, asked follow up questions to each of the teams and then had time to themselves to make the difficult but important decision of which team should become the winner of Young Aurora 2021.
While the jury deliberated over their final decision, the rest of the audience took part in a participatory panel discussion on the theme for this year's event: Why We Need All Kinds of Minds. The conversation started with a question that resonated with many in the diverse and global audience that came to join the event:
"How do we address and deal with other people who do not view the world like us? How much diversity is too much diversity? What empowers us to communicate and collaborate with people unlike you?"
To help us explore this topic was Jaime Nieman, Global Politics Teacher and passionate educator who was joined by panelists Dr Musimbi Kanyoro, Chair of the UWC International Board and Zac Merida, 2021 UWC Dilijan alumnus and Dare to Dream scholar.
Closing the event on a note of optimism and gratitude, we bid farewell in the hope that next year we would be able to meet again in Yerevan to celebrate the sixth annual Young Aurora Prize.
For now, let us congratulate once more the Seed of Hope team. As the team shared themselves, it has been a particularly challenging time for them in eSwatini with the ongoing civil unrest. In the words of team member, Prince, who himself was forced to flee the Democratic Republic of Congo as a refugee in 2017:
"I'm speechless about this great news. We put so much work into this project. This gives us the hope that we can be changemakers and that our voices can be heard. I'm super excited. Thank you so much to the Aurora Humanitarian Initiative helping us to be changemakers. Thank you and congratulations to the other teams, you are all changemakers. The world is out there for you and for us to change."
We cannot wait to see the Seed of Hope project grow and develop, and to see the impact it will go on to have at Malindza refugee camp.