What is it like to be a parent of an international school student?
11 September 2018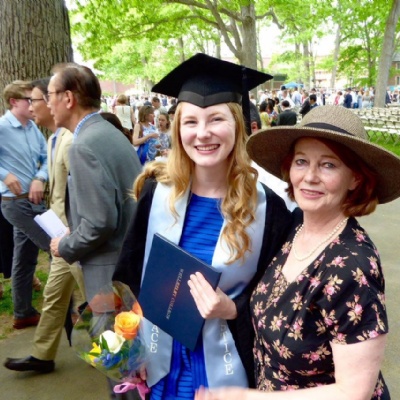 So your child wants to attend a global international school. You have lots of questions and a few concerns. What will put your mind at ease?
You will read the school's brochure and look through the website. You will talk to the school. But what you really want is the chance to hear first-hand from another parent.
Why did they agree with their child's decision to chose a UWC school or college? What was the experience like? What difference do they think it made to their teenager?
We asked Roseanna Redmond, whose daughter Amelia attended Pearson College UWC in Canada, to share her story.
So how did your family chose UWC?
Our family first heard about UWC many years ago - Anna, my eldest daughter, had a friend who attended Pearson College UWC.
This young man said that UWC launched him into a whole new world of adventure and that it was the best thing he had ever done.
When my younger daughter Amelia was the age when she could apply, the idea came from us and I did a lot of research, but she really took hold of that process. She had many talents and energies which weren't being used. She wanted to stretch her wings but felt there wasn't the leeway for her to do that in her school in Kingston.
At 17, she was looking for a greater meaning in her life and decided she would try for UWC.
What was the application process like for your family?
The process was extensive and was a learning experience in itself. I think it took from November to May.
Amelia put a lot into this because the more she read about UWC, the more she wanted to go.
Self-doubt is what pulls so many people back at a tender age, and Amelia is her own worst critic.
I remember as she was writing her application she said: "Oh, this is no good."
"You've done a great job and you have everything that the college requires and all you need is the confidence to follow through," I told her. "You have a true commitment to world peace and to sustainability. You have as much right as anyone else to go to this school."
Then she got on to the shortlist, so she went to Toronto for her interview and I guess she wowed them. She told me some of the other kids looked like mini-professors with leather briefcases.
"Mum, I'm not sure I can relate to these people," she said. "I don't stand a chance."
Then we waited. The interview was Saturday, and we got a call on the following Thursday from someone on the committee.
She went into her room and said "I want to be alone for this." Then I heard a scream. She got in.
Was the cost of attending a UWC an issue for your family?
Amelia received a full scholarship. I don't think she would have been able to go without that. It would have been beyond our means at that point.
After she graduated from Pearson College UWC she was accepted to Wellesley College in the United States. As a UWC graduate, she received a scholarship from the Davis United World College Scholars Program for all four years of university, which allowed her this opportunity none of us had ever expected.
How important was the IB Diploma in your decision?
I appreciated the IB's balance of community service, outdoor education and arts.
It's a way of getting your child an education that's a little more enriched. When you go to an IB school you are with like-minded students with intellectual rigour.
The small ratio of students to professors and the individual attention she got was hugely beneficial for her.
I'm sure it had a bearing on her acceptance to an elite university. It's a credential that's respected throughout the world.
How did you handle your child leaving home at such a young age?
She was just 17 and a few months. Our last baby. She came from a small town beside a lake in Ontario.
We had always been present for her. She's a sensitive soul, very hard working, not a party person. So this communal living thing was a bit of a concern for us.
We didn't visit her at Pearson College UWC. She didn't want us to. We took her out there, which helped relieve some of our fears, and we were in touch regularly.
She came home after each semester, and we could clearly see she was having a great experience.
How connected did you feel to the UWC community?
The staff, especially the house parents (in Amelia's case, two wonderful house mothers) kept us informed in a way I'm not sure you would get from other schools. We would email or phone them if I had any concerns.
They let me know it was no problem to call them at any time which was very reassuring.
She had an accident while she was sailing, and she got hit by the mast and suffered a concussion. They were so good about keeping us informed and luckily it wasn't bad.
The headquarters for UWC Canada is in Toronto, and at least yearly we had luncheons or receptions with speakers where you could talk to people from the UWC organisation. We met with alumni and talked to other parents to get their unbiased reports. They were all ecstatic about their children's development.
It's hard to give up your child, and it's a wild world out there, so talking to people with direct experience helped lessen our anxiety.
Did your child get what they hoped for from attending a UWC school?
She pushed herself physically and mentally and made friends she will have for a lifetime. Without risk you don't achieve anything. I'm astounded that she's not afraid to do anything. So much of this was formed at Pearson College UWC.
She studied peace and justice studies at Wellesley. She has a passion for mediation which grew out of her time at UWC.
They become citizens of the world when they go to UWC, not just citizens of their own country.
How did your child's international school experience change your family?
UWC opened up new horizons for us. People can get stuck in a rut. She arrived when we were in our 40s. We had been focused on our work, on our organic garden (which is like a full-time job), and on our microcosm on our little lake. Our daughter attending a UWC school opened up our worldview.
As she travelled the world pursuing different opportunities, we have visited her, seeing places I'm not sure we would have without her experience at Pearson College UWC.
It changed her life and changed our lives for the better.
What would you say to a parent who is unsure about sending their child to UWC?
The way the colleges present themselves is very accurate. What you see in the promotional material is what you get.
Establish a relationship with the house parents. It will give you the confidence to leave your child with strangers. They knew my daughter, they knew who we are as people, and that was very comforting.
More of our citizens should become citizens of the world. UWC is the most amazing opportunity for a young person that I can think of.
You will not regret this. It's an incredible experience.