UWC Global Selection Programme (GSP)
The UWC Global Selection Programme is an application route for the International Baccalaureate Diploma Programme (IBDP) for a limited number of places at some UWCs. Currently, you can apply to 16 of the 18 UWC international schools and colleges via this route.
The Global Selection Programme (GSP) is designed for candidates who wish to forgo financial assistance. At most UWC schools and colleges, the academic year begins in August. The exception to this rule is Waterford Kamhlaba UWC of Southern Africa, where the academic year begins in January.

You can find information about our school fees here. If you need a scholarship to attend UWC, please have a look at the UWC national committee entry-route, as described in this section.

The Global Selection Programme is coordinated by UWC International in close cooperation with UWC schools, colleges and the UWC national committees. Selections are carried out by experienced UWC selection volunteers.
Global Selection Programme applications are shortlisted on an ongoing basis - the sooner you complete and submit your application, the sooner you will know whether you will be invited to the second round (online) interviews. We invite shortlisted applicants to online interviews within 5 days of receiving your application and places at schools are offered to successful students within two weeks of those interviews.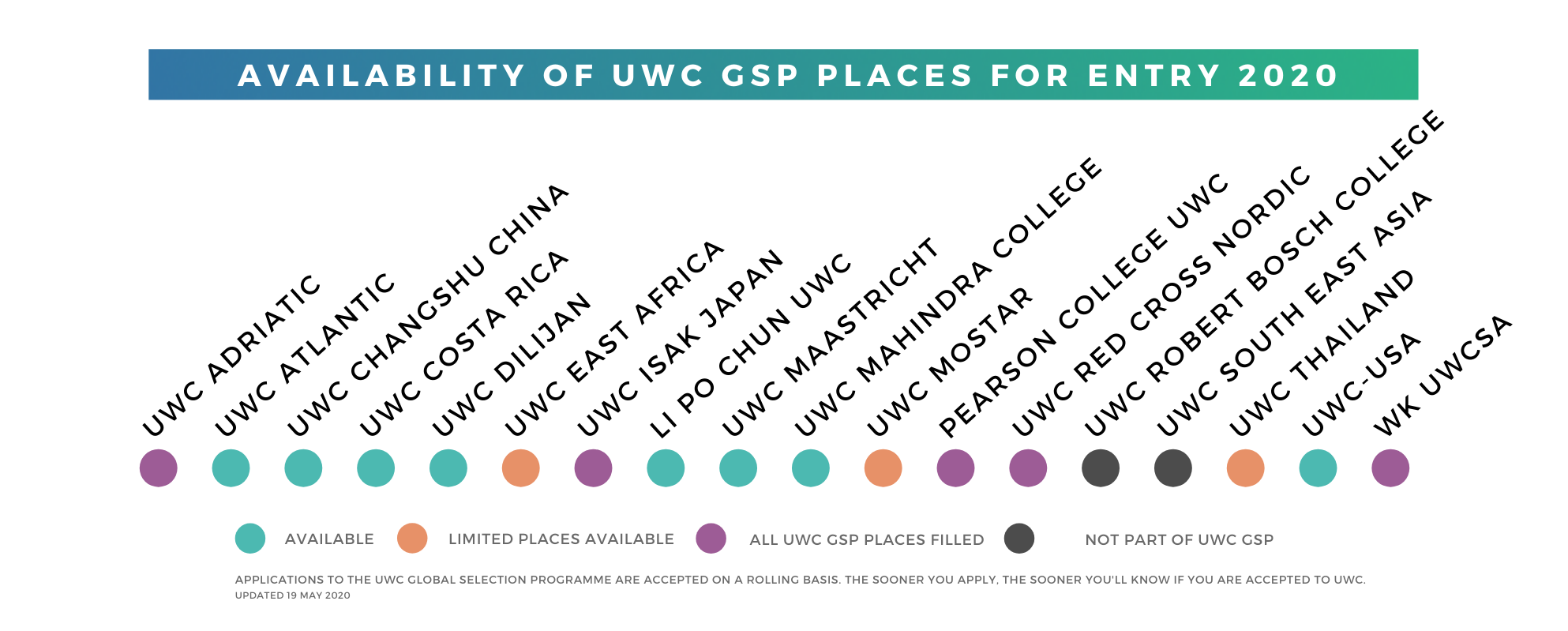 Stages of the Global Selection Programme application route
This stage is to determine whether you are eligible to submit an application via the Global Selection Programme. You will be expected to provide basic information such as your name, nationality/ies and contact information.
If eligible, you will receive a confirmation email with a link to begin your online application form.
Stage 2: Online Application
When completing the online application you will be expected to provide the following:
Your list of preferred schools (you can choose just one school - but typically applicants list 3 or 4) - please note school fees
An application form with 11 questions: six with a maximum of 300 words, and five with a maximum of 600 words
Contact details of two referees who can send a recommendation letter, one academic and one non-academic
Two most recent school reports
Explanation of the grading system that is used on your reports
A parent authorization form
The GSP application fee (£160 or $200)
You can submit your application while waiting for your references and parents' authorization to be submitted.
Your application will be reviewed as quickly as possible and we will notify you by email if you have been shortlisted to participate in online interviews.
Stage 3: Online interview and questionnaire
If shortlisted, you will be invited to participate in an online interview (e.g. over Skype) with three UWC selectors, followed by an emotional wellbeing questionnaire.
The interview lasts approximately 40 minutes and has two parts: first, you will present the Better World Project you have prepared (see here) and, second, the selectors will then ask you questions about your project and about your experience and motivation for UWC. The emotional wellbeing questionnaire takes approximately 25 minutes. We will share further details with you before the interview.
Commitment to diversity: UWC International is committed to the diversity in nationalities and backgrounds of all its students at UWC schools and colleges. In order to avoid overrepresentation of individual nationalities or backgrounds, UWC International reserves the right to close the UWC Global Selection Programme to applicants from a particular country or territory at any time. Should this occur, applicants in question will remain able to apply to UWC via the UWC national committee in the relevant country or territory.

You might also wish to explore the UWC national committee application route for the IBDP programme.
Questions?
If needed, please contact globalselections@uwcio.uwc.org.