Mansour
14 May 2019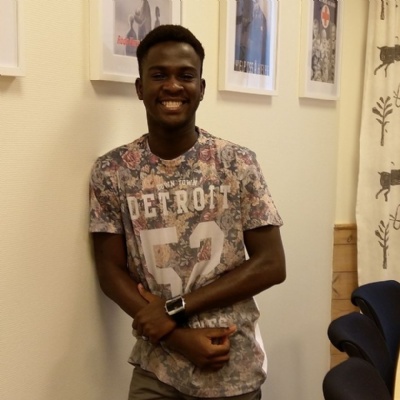 Niger, UWC Red Cross Nordic (2017-2019)
When he started at UWC Red Cross Nordic (UWC RCN) in 2017, Mansour expected to improve significantly from an academic point of view, but the last two years have given him so much more than that. "Before I came here, I used to think locally. UWC has opened my eyes regarding my understanding of the world" he says. "My thinking was limited to the situation of my country, with a focus on how things can change for the better and what contribution I could make. But coming to UWC has broadened my thinking about what is going on in the world and how that affects individual countries. I have become aware of the interconnectedness of issues. Now I think of them from a global perspective. I can assure the shift in my thinking comes from my experience at this College."
Mansour likes the saying "you never know your true capabilities until you face a challenge". Moving to Norway from Niger, a French speaking country in West Africa, and attending a College where English is the official language was one big challenge he took upon himself. "But with the preparatory summer language course that the College offered, I managed to do just fine", he says. Having French as his first language also had its positives, as it actually helped Mansour make friends: culture and knowledge sharing among students is one of the elements he sees as part of the "family life" at the College.
One of the things that is often on Mansour's mind is that he wants to bring about positive change into a world often affected by human sufferings arising from famine and drought, war and insecurity, lack of peace and human rights violations. "I ask myself: are we living as humans are supposed to live? I want to see things change and everybody happy, all of us coming together as one family without hurting each other. I am passionate about sharing positive feelings with others, the air to be filled with happiness. I believe I can contribute to make the world a better place to live in."
His experience at UWC has also made an impact on Mansour's ability to think strategically, providing him with tools and resources he wouldn't have had access to otherwise.
"Now I have a solution-oriented thinking. Before coming to UWC RCN, I used to focus only on the problem, and at the end of the day that would make me feel helpless, sad or angry. But now I have learnt how to focus on the solution and come up with ideas that would help solve the problem"
Getting up every morning and attend classes or outdoor activities is to Mansour a way to take more and more steps towards achieving his goal of making the world a better place for everyone. This is what motivates him to be an ardent learner and, together with his faith, it is what keeps him going.