Making an Impact in Healthcare Design
8 March 2019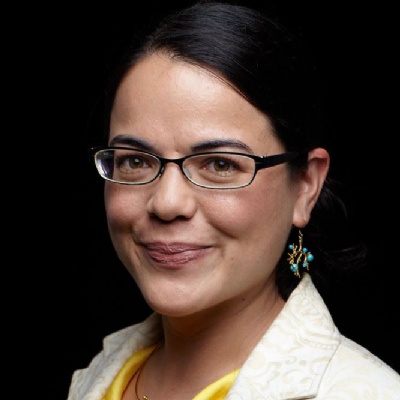 Lucie Richter (UWC Atlantic College 1995-1997) is a Senior Partner at Future Medical Systems - a healthcare design and development consultancy. In this role, Lucie (who is trained as an anthropologist) leads teams and leverages design thinking to solve challenging problems in the healthcare and life sciences space.
Having been exposed to cultural diversity from a young age, with a German father and a mother from Central Asia, Lucie says her time at UWC Atlantic College confirmed and strengthened her multi-lensed approach to looking at the world.
"UWC enabled me to learn from passionate and dedicated young people from all over the world who wanted to make a real difference. It was stimulating and mind-expanding, being with peers who have such strong opinions but simultaneously the unique ability to balance it with curiosity and an interest in listening to others."
Lucie also connects her passion for medical innovation to her time as a UWC student: "UWC taught me how to think of a problem in a systematic way and reinforced creative problem-solving approaches, laying a foundation of skills for my current position and life in general. We work with healthcare projects that are far from straightforward and oftentimes play out across multiple stakeholders," Lucie explains, "which is why it is necessary to acknowledge the complexity of the problems and tackle them from a new perspective. We go beyond the superficial and try to explore what the root of the problem actually is. It is a lot about having an open mind when it comes to paradigm shifts, something that UWC encourages in its educational model."
In order to discover opportunities for design in the healthcare space, Lucie and her colleagues go into patients' homes, follow nurses through their workday and shadow surgeons in operating rooms. Lucie credits the relationships she built at UWC with her capacity to connect with people, a skill which has proven to be very important in her line of work. "I think that many people distance themselves from others, but having gone to UWC, I learned to love the connections you can make with the people around you. Sitting on your co-years' beds and familiarising yourself with the context of their lives really levels you. It's a great skill to be approachable and to approach others with humbleness."
Through her medical design work, Lucie seeks to transform the ways doctors and healthcare professionals approach treatment and diagnosis - making a difference in the lives of providers and patients alike. Lucie, however, highlights that living the UWC mission means more for her than practising the UWC values of service, responsibility, compassion and respect in her career: "To me, it is important that I pass down the UWC values to my daughter and to the next generation of designers, enabling them to become changemakers in their own right."
---
The Future Medical Systems publication Discovery Design: Charting New Directions In Healthcare Improvement, co-authored with The Risk Authority Stanford, is now available as a paperback and as an e-book.