Saving Lives at Sea
23 November 2018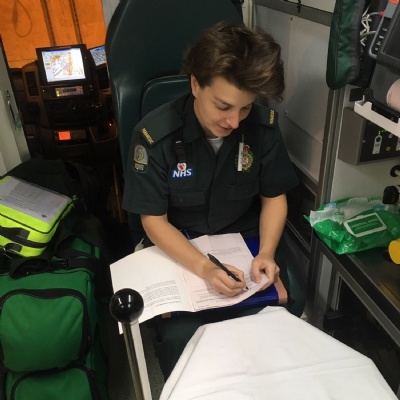 Eleuthera du Breuil (UWC Atlantic College, 2002-2004) came to work in medicine in what she calls a "fairly roundabout way." The alumna, who is half-British, half-French, credits her UWC experience with sparking her passion for emergency medicine and marine rescue - fields in which she still works today, helping people in their time of greatest need.
While at UWC Atlantic College (UWC AC), Eleuthera (known also as "Ella") was on the College's lifeboat crew, where she became the youngest woman ever at the time to qualify as a coxswain of an active lifeboat, and through which she completed an advanced first aid course. Upon graduating, Ella studied Marine Biology at university, acquiring an MSc in applied marine and fisheries ecology.
Ella returned to UWC AC for six summer seasons, working with groups of disadvantaged youth and disabled people in the College's summer programmes. "This helped me eventually decide that helping people, either directly or through youth development, along with expedition work, were the things I was most passionate about," she says.
After spending 14 months working on a scientific base in Antarctica as Senior Boating officer for the British Antarctic Survey, Ella decided she could be the most useful to her community and communities elsewhere by practising medicine. Since her time on the lifeboat crew at UWC AC and the accompanying first aid course, Ella says she has enjoyed the immediacy and variety of pre-hospital medicine.

This interest led her to pursue a degree in paramedic science, and she has been consolidating her medical skills and knowledge since by working as a paramedic with the London Ambulance Service. This work involves providing emergency care to a wide variety of people from all nations and backgrounds across the large metropolitan city. "While all ambulance crews treat everyone with respect," says Ella, "I have found that my time at UWC Atlantic College gives me a deeper insight into different cultures, which has helped me in gaining a rapport with my patients quicker than I might otherwise have been able to."
The value placed on service by the UWC movement has always been important to Ella (and to her family, two members of whom are also UWC Atlantic College alumni). After graduating from UWC AC, she continued to serve her community by volunteering as a lifeboat crew member on the Thames River in London.
After qualifying as a paramedic, Ella decided to expand her service by volunteering with Refugee Rescue, a charity in Greece that operates a lifeboat helping migrants crossing from Turkey who reach the waters of Lesbos. "While working with the London Ambulance Service, I thought I had already seen desperation," she says, "but it was nothing to what I saw in the eyes of migrant parents, one of whom literally threw her one-year-old child across the water separating our boat and their sinking one, into my arms."
"Seeing that desperation first hand, which most people can only read and hear about at a distance, and knowing that I can make a real impact not only with medicine but also with my skills as a lifeboat coxswain, has galvanised me into leaving full time paramedicine and concentrating on humanitarian and expedition medicine, where I can continue one of my passions of youth development."
Today, Ella continues to mobilise her medical and maritime skills helping refugees in the Aegean sea. However, she says that serving her local community is something that is too important to her to set aside: so she will also stay on as a part-time paramedic in her hometown of London.