Alum Co-Founder of Teach For Malaysia ​​​​​​​
12 December 2017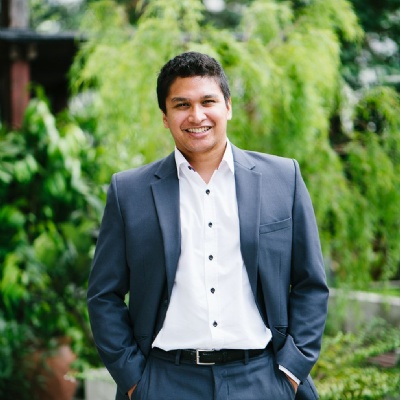 Since 2016, UWC and Teach For All have been working together toward increasing educational opportunities for young people worldwide. The two organisations share a number of existing links, with many UWC alumni having gone on to participate in and develop Teach For All network partner programmes, and students from schools with Teach For All partner teachers successfully gaining places at UWC schools and colleges to continue their education.
One of the UWC alumni working for one of Teach for All's 45 national partners is Dzameer Dzulkifli (Malaysia, UWC SEA 2001-2003), Co-Founder and current Managing Director of Teach For Malaysia. He wrote to us about his experiences as a student and as an educator, as well as the challenges of addressing education inequity:
"When I entered UWCSEA in 2001, I was initially extremely skeptical of the UWC mission statement and values. I didn't have a sense of purpose: aside from being full of teenage angst and wanting to rebel against the rules and the system, I didn't understand what I was doing at UWC. Having grown up in a wealthy family that was involved in the oil and gas industry, I was very aware of my privilege and thought it was unfair that I should have the opportunity to attend such a prestigious college without knowing what I wanted to do with that education. There were so many students at UWC that had such great clarity about how they wanted to change the world and I felt ashamed to be in the college with no clear purpose.
In 2010, there was a lightning-bolt moment when my UWC experience started to make sense to me. I realized that to solve some of our generation's most challenging problems, it is critical to empower students. I found myself wondering whether the cure for cancer might lie in the heart and mind of a young student growing up in an underprivileged family - and this made me want to take the UWC experience across Malaysia. The Teach For All approach, which consists of recruiting top graduates that may have never considered a career in education to be full-time teachers in high-need communities for two years, resonated deeply with me as a way to make this happen. The real power of the theory of change is when a critical mass of young leaders and students are empowered through the two-year leadership development experience to drive systemic reform from both inside and outside of the classroom to bring down all the barriers holding back communities from achieving their full potential.
I decided to co-found Teach for Malaysia, and we were lucky enough that the Malaysian Ministry of Education was exploring the idea at the same time. Since 2012, Teach For Malaysia has impacted a total of 73,000 students through 300 of Malaysia's most promising future leaders. In 2015, we were recognised as the Best Graduate Programme and were a finalist of the Prime Minister's Innovation Award. Our teaching alumni are widely recognised as young leaders in the field of education, and have accomplished such feats as: being the youngest state-level master-trainer in Maths and Science, driving whole school transformation to adopt 21st century pedagogy, starting a teacher-specific crowdfunding platform, launching a national English peer-to-peer mentoring programme, and assisting in the national roll-out of the new Computer Science Curriculum.
We also hear examples of our teachers empowering students to identify local challenges tied to the UN's Sustainable Development Goals - there have been recycling programmes, entrepreneurship camps, partnerships with local organic farmers, and many more - which many UWC alumni take for granted as part of our education. In addition, many students have been able to learn English, which has been an important goal especially in rural communities. More importantly, we hear stories of our students being the first in their family to pursue tertiary level education. I hope that these students will one day sign up to be participants in Teach for Malaysia, to inspire the next generation of students.
"I hope we can shift the education system to empower students to be leaders of their own learning, their future and, perhaps, of the future of Malaysia."
Given all these successes, there are probably just as many, if not more, accounts of failure and shortcoming. The challenges in addressing education inequity are incredibly complex. Students drop out of school due to boredom or having to work to support their family. Child abuse cases go unreported. In some rare cases, children lose their lives due to recklessly riding motorcycles without a license. The biggest failure of all? Children going through the system not picking up basic education skills that will prepare them for the 21st century, or even having the courage to dream about their passion or their future. My vision for schools in Malaysia are as follows: I hope that schools become less about memorising facts that "would be useful later," and more about applying knowledge to solve the challenges that students see and face on a daily basis. I hope we can get rid of subjects and learn across multiple themes through an experiential process. I hope we can shift the education system to empower students to be leaders of their own learning, their future and, perhaps, of the future of Malaysia.
The mission of UWC to use education as a force to unite different groups and cultures to create a more peaceful and sustainable future gives me goosebumps and I'm proud to be part of this global community. I hope one day, we can change the world."
Teach For Malaysia is part of the global Teach For All network of independent, locally-led partners in 45 countries with 15,000 participants and 55,000 alumni reaching 1 million students annually. Each network partner recruits and develops promising future leaders to teach in their nations' high-need schools and communities and, with this foundation, to work with others, inside and outside of education, to ensure all children are able to fulfill their potential.
In light of a shared vision to increasing access to education worldwide, UWC and Teach For All have formalised their working partnership with a view to collaborating and strengthening their respective missions through sharing opportunities and resources.
For more information about the partnership between UWC and Teach For All, please see this webpage or our partnership brochure.
For more information on Teach For Malaysia and Teach For All, please see teachforall.org and teachformalaysia.org.