"Classroom Collective" at UWC Dilijan
1 February 2019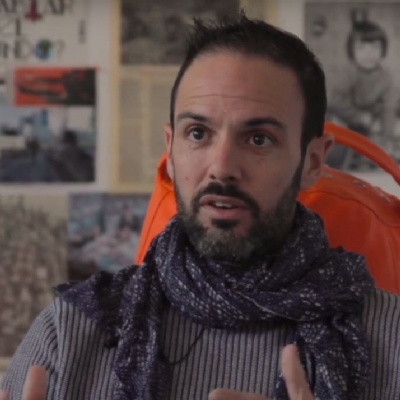 Jaime M. Nieman has been a teacher at UWC Dilijan since the College first opened in 2014. Prior to joining the team at UWC Dilijan in Armenia, Jaime taught international relations and history at the University of Alicante in Spain. Throughout the course of his teaching career, he also taught at an international school in Rome and a public school in Los Angeles, California.
The dream for every teacher, says Jaime, is 'PLE' - or personalised learning environment - which centres individuals in the learning experience. Jaime works towards this goal in his classroom at UWC Dilijan in a variety of ways, experimenting with different learning styles, activities and principles to make UWC education even more meaningful and transformative for students.
The first way in which Jaime majorly disrupts traditional classroom dynamics is by doing away with grades. Jaime's class became 'gradeless' three years ago because he realised that students were focusing too much on their numbered evaluation, and less on the learning itself. "I realised the grades themselves were inhibiting the students from seeing the potential and growth they had available to them," he says. "I wanted to put the learning in the front."
Another method Jaime uses to enhance his students' learning is inspired by a strategy used by Google to engage their employees: '20 percent time,' where employees dedicate 20 percent of their work time to passion projects of their choosing. In Global Politics class at UWC Dilijan, this translates to inviting students to produce and develop month-long passion projects. Jaime also says that he doesn't want his classroom to necessarily feel like a classroom - which is part of why he incorporates Tai Chi into the students' learning. To help with cognitive overload, the practice of Tai Chi and mindfulness acts as a physical reset for students, enabling them to focus better on the learning at hand.
"My class is not only about global politics," says Jaime, "it's about self-cultivation. And it is about openness and experimentation and how the learner [...] puts their own personal political paradigm in the centre of their experience and their learning journey… [Students] are only with me for two years, but I am trying to create and plant a certain culture, a certain way of understanding yourself in your environment. A certain way of thinking about yourself in relation to the world. And all the values that we harness and care about in the UWC movement. I call my class not a class, but a collective."
For more on how Jaime is innovating in the classroom at UWC Dilijan, check out UWC International's interview with Jaime and some of his students below: