Inspiring Change
16 September 2018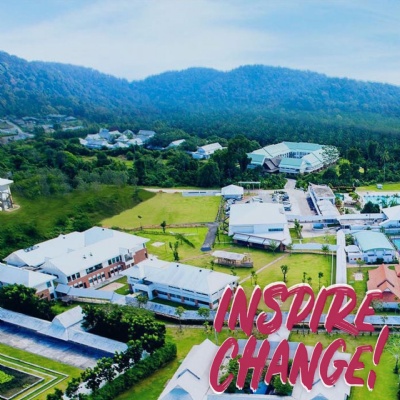 By Jason McBride, Head of UWC Thailand
"Everyone thinks of changing the world, but no one thinks of changing [themself]" ~ Leo Tolstoy
For more than 50 years, our aspirational mission statement has helped encourage more than 63,000 alumni to pursue a future that is more peaceful and sustainable, a noble goal to be sure, but one that can be left short of proper interpretation if not properly framed. Although we hope to continue helping young people become the next person who develops clean water technology or fights for gender equality where it is yet to exist, focussing on external successes misses much of the point of a UWC education.
The phrase "Inspiring Change" might naturally lend itself to provoking thoughts of what can I do, who can I serve, or what can I make to help those around me. These would indeed be wonderful and welcome responses to this year's UWC Day theme. That being said, a UWC education goes beyond just serving others and concurrently aims to embed values that change who we are ourselves at our very core. The question then becomes not simply "what can I do?", but "how can I be?"
It is natural for the young people in our care to interpret the mission and this year's theme as a call to external action, but our collective goal is to concurrently inspire change on the inside by indelibly weaving the UWC values into the fabric of who we are. If our students head out into the world without having a sense that in diversity there is strength, that in compassion there is power, and that in action there is the potential for a better future, then as a Head of School I would have missed my mark.
As we celebrate UWC Day as a collective around the world, I ask you to take a moment to pause and reflect on whether when you think of "Inspiring Change", your mind jumps to the external actions we can take, the internal change we can seek to embody, or some combination of the two? If we all help build houses on a week-long trip or work with rescue animals for a few hours, the world will be a slightly better place. If we committed to a longer-term relationship to help those in need locally with the goal to give and receive in equal measure from the experience, the world would be even better. But what if we all did our very best to embody and consistently act upon the values that we aspire to uphold? Then I would say that we stand a fighting chance of bringing our mission to life.

A little bit about UWC Thailand
Social and Emotional Learning (SEL) and Mindfulness
While nearly all schools aim to develop the intellectual and physical growth of the students in their care, an equally critical facet of childhood development - one that is all too often overlooked - is the inner well-being of the child. Since our inception, UWC Thailand's founding motto of "good heart, healthy body and balanced mind" has guided the programme's development and it's that final element of a balanced mind that shapes our commitment to developing effective social/emotional and mindfulness skills in our students. We believe, and the research indicates, that the development of these areas reaps important benefits for students including fewer behavioural issues, enhanced physical and emotional well-being, greater academic success and improved peer and family relationships.
With the support of our Mindfulness Mentor, counsellors, teachers and leaders, UWCT integrates key SEL and mindfulness-based practices into everyday teaching in order to establish a supportive and positive classroom climate. With mindfulness, students and adults alike learn to give themselves the breathing room they require attend to what is happening in and around them, see it more clearly through a curious and positive lens, and then choose to react with more intention.
Ultimately, we aspire to cultivate a learning environment where our entire community is supported in their positive emotional development, critical thinking, resilience, and overall well-being. UWCT incorporates SEL and mindfulness into the school day in a variety of ways including:
The UWCT Wellness Wheel: This tool, designed by UWCT, helps to explicitly develop emotional intelligence and a mindful way of being by using the Learner Profile as a lens for goal setting and self-reflection for students, parents and teachers.
Time-In: Daily quiet time for students and teachers to engage in secularized mindfulness practices. This is an opportunity for students and staff to calm and ground their minds and bodies shifting out of "thinking mode" into a "sensing mode" of mind—establishing balance between "doing" and "being." This sensing mode of inquiry helps to ground us, enhancing our ability to then engage with a calmer, clearer perspective of what's happening within, to,
and around us.
Shared Approach to Conflict Resolution: Explicit skill development in emotional literacy, self-regulation, peer relations, and problem solving are included in our programme.
Active Listening/Council: Students engage in the community building practice of Council, a structured process where students and teachers take turns sharing and listening based on a variety of prompts. This structured process encourages meaningful and honest communication in a group.