The Davis-UWC IMPACT Challenge is Complete and the Full USD $17 Million Unlocked
7 April 2021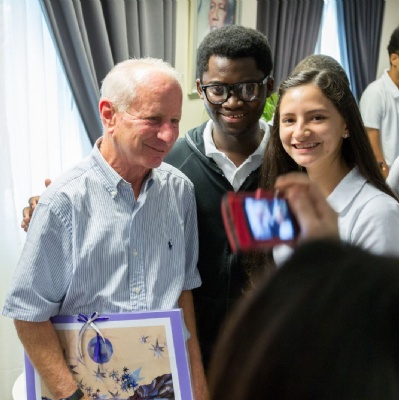 UWC is delighted to announce that the Davis-UWC IMPACT Challenge, one of UWC Patron Shelby Davis' extraordinary initiatives, is now complete, with UWC schools having unlocked the full USD $17 million in match-funding between 2015 and 2020. UWC Mahindra College and UWC Red Cross Nordic were the last ones to unlock their respective USD $1 million, contributing to a total of USD $34 million that the UWC movement raised in new donations and match-funding.
"We cannot thank Shelby Davis enough for his generous and unwavering support to UWC and the transformative power of a UWC education. Through this initiative, he and Phil Geier challenged us to do better, while setting the stable frame of a philanthropic plan. We are beyond grateful that, while the Davis-UWC IMPACT Challenge has been completed, Shelby's support continues with the Dare to Dream scholarship program - now in its third year. His generosity continues to help us make the UWC experience possible for talented and motivated young people around the world irrespective of their means, empowering them to become agents of positive change in these challenging times" said Jens Waltermann, Executive Director, UWC International.
The Davis-UWC IMPACT Challenge was designed to increase new donations from UWC alumni, parents and other friends of UWC, and encourage them to become regular supporters. To that end, Mr Davis offered USD $1m in matched funding to each of the participating UWC schools, which could claim the sum once they had increased the number of individual donors year on year. Originally launched to fifteen UWC schools, the Challenge was generously extended to seventeen of them in 2017, reflecting the growth of the UWC movement with the addition of UWC ISAK Japan and UWC Thailand.
The incredible donation resulting from the Challenge has been used to increase UWC's scholarship provisions in line with our vision of providing a UWC education independent of a student's socio-economic means. The Davis-UWC IMPACT Challenge has helped philanthropy grow at our schools worldwide and put giving forward at the heart of UWC.
Please join us by saying "Thanks a Million" to UWC's Patron Shelby Davis, who continues to support, challenge and inspire us with his love for UWC and his commitment to improving the world by empowering one change-maker at a time. Our most sincere thanks equally go to all of our supporters, who helped us reach this massive achievement.
To learn more about the different ways Shelby Davis has been supporting the UWC movement throughout the years, read here.

To read a recent interview with UWC Patron, Shelby Davis, and Executive Director of the Davis-UWC Scholars Program, Phil Geier, go here.