Shelby M.C. Davis
10 June 2019
ACTIVE PROGRAMMES
---

The Davis-UWC Dare to Dream Program was launched in early 2018 through a pledge by Shelby Davis of over USD 100 million towards the UWC movement's scholarship fund. For three years, from 2018 to 2020, the donation has provided funding for 100 additional scholarships per year for students selected through UWC national committees to attend one of the 18 UWC schools worldwide for their final two years of secondary education.
In 2021, Shelby Davis has challenged us to dream even bigger by doubling his support to the Davis-UWC Dare to Dream Scholarship Program: he pledged a further USD 5 million as a match-fund for each scholarship raised by the UWC schools, national committees and UWC International's newly constituted International Philanthropy Committee.
This sums up to a total of USD 15 million through the Davis-UWC Dare to Dream Program: as a result, Shelby Davis' extraordinary generosity will allow UWC to reach us a total of up to 300 Dare to Dream scholarships per year.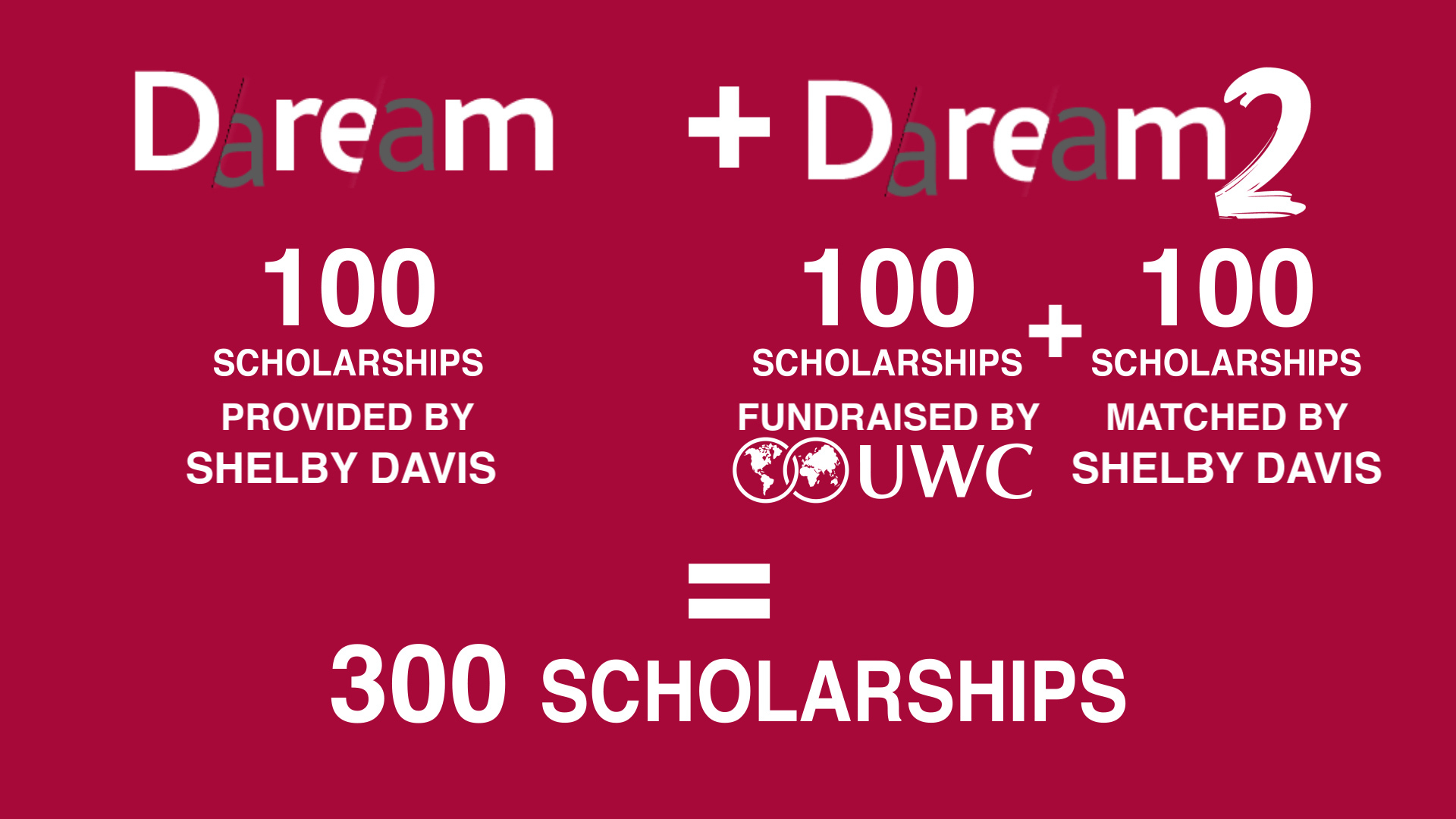 ---

The Davis-UWC Scholars Program provides scholarship support to UWC graduates to study at 99 selected partner US colleges and universities.
Launched in 2000 with five pilot universities - Princeton University, Colby College, College of the Atlantic, Middlebury College and Wellesley College - needs-based scholarships are awarded to every UWC graduate who has gained acceptance and matriculated at one of the participating universities and colleges. Shelby Davis, a long time UWC patron and former UWC-USA Head - Philip Geier - created the Davis-UWC Scholars Program to advance international and cross-cultural understanding on US college campuses and ultimately throughout the world. Since its inception, the program has provided scholarships to 12,446 scholars from over 160 countries and is the largest international scholarship program for undergraduates in the world.
"I would never have had the openness, the courage or the ability to transcend so many boundaries if not for my time at UWC and Middlebury. I am humbled and inspired by Shelby Davis' legacy, and hope to do more in the future to pay it forward."
Shen Pui Yoong (Malaysia, UWC-USA 2004- 2006)
FINISHED PROGRAMMES
---

The Davis-UWC IMPACT Challenge was an exceptional match-funding initiative by UWC Patron Shelby M C Davis that was launched in 2015 and was completed in 2020, when UWC schools managed to unlock a total of USD $17million in matched funding.
The Challenge was designed to encourage and increase donations from new UWC alumni, parents and other UWC supporters. To that end, Mr Davis offered USD $1m in matched funding to each of the seventeen participating UWC schools, which could claim the sum once they had increased the number of individual donors year on year. In 2020, UWC Mahindra College and UWC Red Cross Nordic were the last two schools to unlock their full USD $1m match funding and complete the Challenge, for a total of USD $17million in matched funding across all participating schools.
"The world needs extraordinary leadership to navigate today's complex challenges, tensions and conflicts, as well as to make the most of new opportunities. The UWC movement is ideally suited to provide such leaders and we are privileged to support it"
Shelby Davis, UWC Patron
---
Davis-Mahindra Scholarship Award
Launched in 2014 as a renewal and extension of the then in place Davis International Scholarships, the Davis-Mahindra Scholarship Award was created by Shelby Davis and UWC Mahindra College's Governor and Chairman of India's Mahindra Group, Anand Mahindra. It was a joint initiative that awarded outstanding UWC students for their exceptional contributions to their respective UWC school or college community. With this programme, Mr Davis funded each UWC school with an annual contribution of USD $40,000 to support their development and their philanthropic activities.
Programme's highlights in recent years include:
"Fuel for the Future" - In 2018, UWC Li Po Chun used its Davis-Mahindra Scholars Award funding to develop a solar panel project that will improve the school's sustainability practice in what will be the largest school-based solar panel project in Hong Kong, generating approximately HK$1.9m per year.
"Decolonising our Education & Giving Back" - In 2017, Pearson College UWC's initiative on indigenous reconciliation has involved re-developing the school curriculum and how to recruit and fundraise for indigenous student scholarships.
"Targeting Diversity within the region" - In 2016 UWC Changshu China focused on scholarships fundraising and nomination of minority ethnic groups in China.
The impact of the Davis-Mahindra Scholarship Award, which came to an end in 2019 to leave space to the wider Davis-UWC Dare to Dream Programme, went far beyond the projects or the UWC schools that it funded. It has inspired a culture of giving towards the UWC movement as a whole, and the true extent of its impact is yet to come.