UWC Maastricht
21 September 2022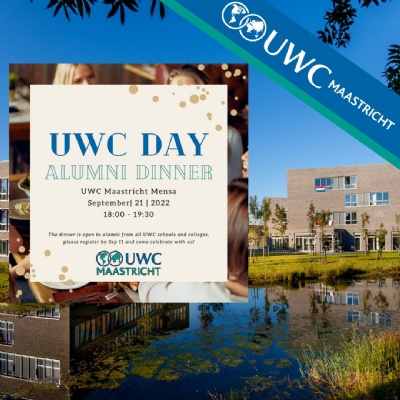 There's lots going on at UWC Maastricth for UWC Day 2022 including:
Student Workshops & Activities
UWC Maastricht Year 13 students and staff will be running a series of workshops and activities under the themes of:
"Peace Begins with Us"
Getting to Know "Us''
Creating Community and Securing Peace
In the morning there will be a whole school collaborative art project (specific and personal wishes for peace in our school community) painted or written in feathers that will be inserted into a Peace dove in one of the walls of the College's atrium.
International Fair

In the afternoon, the Parent Association, with support from many students and staff, will organise an International Fair (performances, food stands, arts & crafts workshops and traditional games) to join in the celebration and welcome the new families and students at UWC Maastricht.
Alumni Dinner
In the evening, UWC Maastricht is looking forward to welcoming UWC alumni from all UWC schools and colleges for their UWC Day Alumni Dinner on 21 September from 18:00-19:30. The dinner will take place at the College's canteen, and pre-registration is required by 11 September. For more information and registration, please click here.