UWC Day - UWC Spain Alumni Association (ACMU)
21 September 2021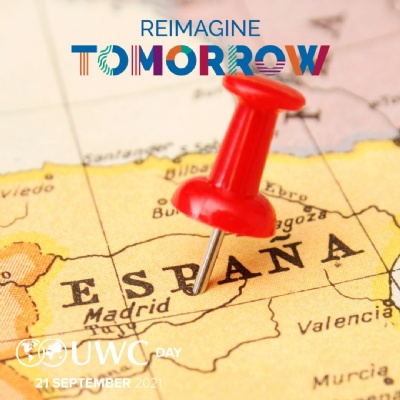 21 September, 7pm CEST, Barcelona and Madrid
Dinner and discussion on the challenges of UWC in Spain and design thinking exercise to come up with solutions.
Find out more on the ACMU Instagram page.
---
Esperamos que hayáis pasado buen verano y que estéis empezando septiembre con mucha energía. Un año más, desde la Fundación y ACMU os animamos a juntarnos todos para celebrar el UWC Day 2021.
Por ello proponemos dos encuentros-cena el martes 21 de septiembre en Madrid y Barcelona. Antes de la cena haremos un repaso de las conclusiones del ejercicio de "design thinking" que hicimos en el UWC Day 2020. En ese ejercicio identificamos soluciones a retos que tienen tanto la fundación como el movimiento en España. De esta devolución tendremos varios pequeños proyectos en los que involucrarse más en UWC España, por lo que es vuestra oportunidad si estáis buscando colaborar más y no sabéis cómo.
Los dos encuentros tendrán lugar a las 19:00hs.
Dadas las limitaciones de aforo es IMPRESCINDIBLE confirmar asistencia, respondiendo por DM o a través de un correo a junta@acmu.es indicándolo y en qué ciudad.
Esperamos poder contar con vuestra asistencia!!
Adrián, Álvaro, Camilo, Enrique, Sara y Urba
Junta Directiva