UWC Day - UWC Maastricht
20 September 2023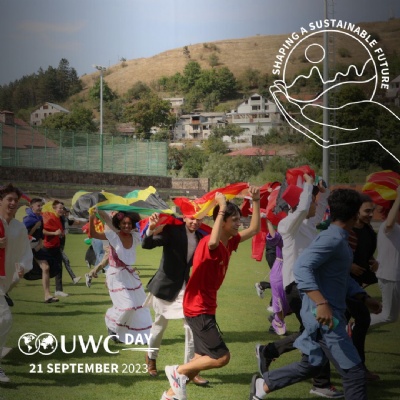 21 September 2023 - 18:00 CEST
UWC Maastricht school celebration
On Wednesday, 20 September the first Eco-Team meeting of the year will take place, followed by a Swap Shop event for Secondary students.
Then on UWC Day itself, Primary and Secondary students will follow an early release day where each class period will be dedicated to a different aspect of sustainability. Our school is participating in the Climate Change Theatre Action 2023 festival, so all Secondary students will have the opportunity to read a short play by one of the collaborating playwrights and discuss the issues raised. From undertaking an Eco-scan of the school to learn or be reminded again of how to separate waste, go litter picking around the school grounds, assess the role of art in climate action, or set sustainable goals using ATL skills, students and their teachers will be engaged in meaningful sustainability-related conversations all day.

In the afternoon, the whole community (students, staff and their parents) will celebrate UWC Day at the annual International Fair organised by the Parent Association, with a vibrant display of food and culture from our many represented countries and communities. Attention to minimising waste on that day and separate it properly is one of our priorities!
Alumni Dinner
In the evening, a UWC alumni event will bring together current high school students and UWC alumni in Maastricht to engage about sustainability practices.
UWC alumni from all UWC schools and colleges are invited to join current UWC Maastricht students at the College's mensa (cafeteria) for this annual UWC Maastricht's Alumni Dinner on 21 September 18:00 - 19:30 (UTC +2).
Pre-registration is required. This is always a wonderful evening, providing a fantastic chance to network and connect with fellow UWCers.