UWC Day - UWC Great Britain
21 September 2021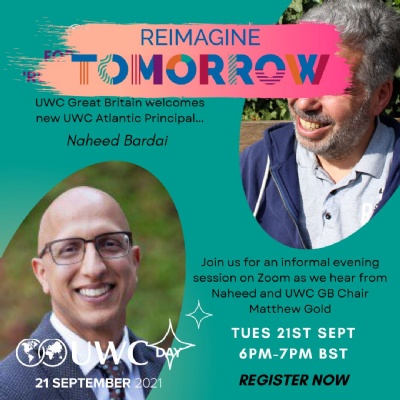 21 September, 6pm-7pm BST
UWC Great Britain Welcomes Naheed Bardai, UWC Atlantic's New Principal!
In this informal online Zoom session to celebrate UWC Day 2021, join us in welcoming Naheed Bardai who will be just 3 weeks into his new role as Principal of UWC Atlantic. In the session Naheed with share with us what attracted him to the role of Principal of UWC Atlantic, his thoughts on the relevance of UWC in today's world, and the main challenges and opportunities facing UWC Atlantic over the coming years. His vision for Atlantic will hopefully inspire our community to re imagine their own tomorrows and how we can each deliver on the UWC mission and values in a changing world.
We'll also be joined by Matthew Gold, Chair of UWC Great Britain, who will provide a brief introduction and overview to the work of UWC Great Britain, how selections work in Great Britain and the range of volunteer activities and opportunities that our NC coordinates.
Join UWC GB and celebrate UWC Day 2021 with Naheed and Matthew!
Zoom details will be provided shortly before the event. The session is open to all.

Find out more on the Event Page.