UWC raises more than one third of necessary funds to offer scholarships to 20 Afghan students.
19 October 2021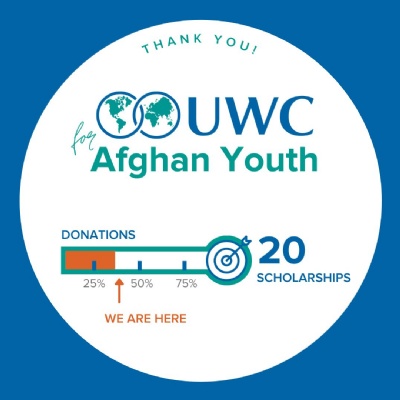 In August, as the dramatic events in Afghanistan unfolded, the UWC community came together to make a commitment to fundraise for up to 20 additional places for Afghan students to study at UWC.
Since the launch of the "UWC for Afghan Youth" appeal, we have witnessed incredible acts of generosity from so many members and friends of the UWC community, who contributed in many different ways.
So far, more than 700 people from all over the world made personal donations, and two UWC alumni even donated to the appeal in lieu of their wedding gifts. Many UWC students have been fundraising as part of their CAS projects, and several of our UWC schools have made individual fundraising commitments towards the appeal. Many people have also dedicated their time and resources working relentlessly to help evacuate fellow UWC students and alumni from Afghanistan.
The response to the appeal over the past month means that, as a movement, we are more than one third of the way towards reaching our overall target: raising funds for 20 additional scholarships for Afghan youth. Our fundraising efforts continue as we aim to surpass the halfway point in the coming weeks.
The fact that we are in this position after only one month shows the generosity of a community that steps up in the hour of need and that believes that access to education can change lives. But the continuing deterioration of the situation in Afghanistan - particularly for young women - urges us to do more.
We invite all UWC community members, UWC friends and anyone who believes in the power of education to continue to donate today and help us fund these scholarships. All contributions will bring us one step closer to offering a life-changing opportunity to young people.
Can you help us reach our target?
If you are you able, please consider making a donation in the following ways:
You can also donate directly to the individual appeal pages that some of our schools have created to receive donations contributing to this appeal.