UWC Refugee Initiative

Lack of access to education is a major issue affecting young refugees, internally displaced and persecuted people. They are five times more likely to be out of school than more fortunate young people. Refugee communities need future leaders with strong abilities, social consciousness and drive for peace and reconciliation.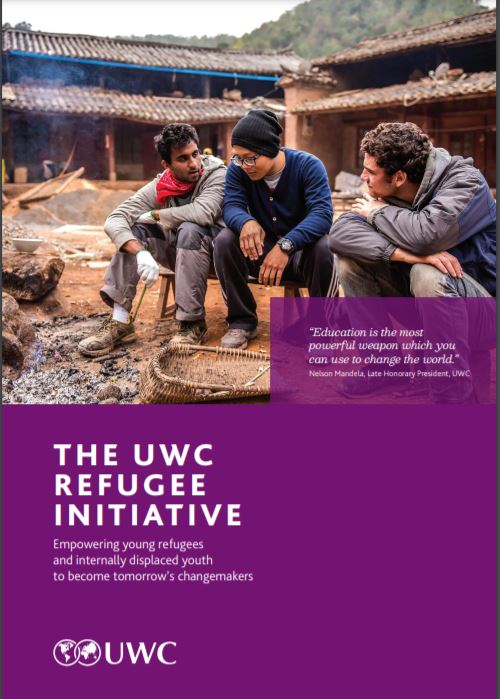 For many years UWC has educated refugees from conflict hotspots like Syria, Palestine, Yemen, Western Sahara, Sudan, South Sudan, Somalia, Afghanistan, Iraq, Pakistan, Tibet, Colombia and Guatemala. On average around 5% of our students in the IB Diploma years come from a refugee, displaced or persecuted background and benefit from full scholarship provision at one of the 18 UWC schools and colleges.
In light of the dramatic escalation in the number of young displaced people fleeing conflict, persecution or environmental disaster, combined with the need for future post-conflict leadership, there is an urgent need to further increase the number of refugee students being granted access to a world-class school education at a UWC school or college.
This is why UWC launched the UWC Refugee Initiative, which aims to raise the funds for an additional 100 scholarships per year for refugee students since 2016.
To achieve this, we need to raise $7.5 million which will go entirely towards all-inclusive scholarships, covering the full education program, board and lodging, travel, co-curricular activities, educational materials and student welfare during two years.
The UWC Refugee Initiative is supported by UNHCR, the UN Refugee Agency via a cooperation agreement between UWC and UNHCR. UNHCR is supporting UWC by providing authoritative guidance on refugee policy, technical advice and helping to promote the scholarship program among refugee communities and relevant stakeholders.