Student Journalists at UWC Maastricht
6 January 2020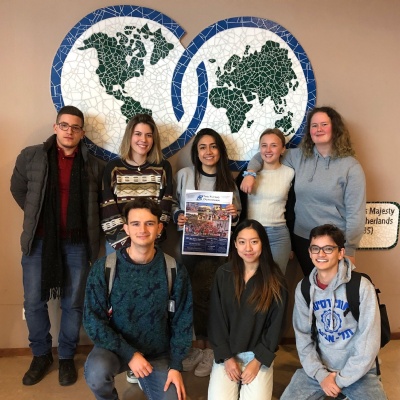 An Interview with The Flying Dutchman Student Newspaper
The Flying Dutchman was launched in 2017 to address the need for a UWC movement wide discussion platform that could spark engagement with the question of what UWC is and what it represents for its members. The Flying Dutchman's editorial stance is to represent, defend and further the UWC values and principles by allowing any member of the UWC movement to submit articles, illustrations, poems, and even songs for their monthly mix tape. Although the publication is administered by students at UWC Maastricht, they have received submissions from UWC community members around the world.
What drives your passion for the Flying Dutchman?
What makes us as a team passionate about journalism and The Flying Dutchman is our drive to offer a debate platform where we are not afraid to probe contentious issues, where multiple events, experiences, narratives and ideas come together monthly to be shared with and by our readers. We have seen first-hand how collaboration creates synesthesia, triggering further content worth-reading but most importantly, ideas worth-discussing.
How do you develop your skills as budding journalists?
We train ourselves in the field of journalism by writing two articles for our monthly issue, staying tuned with the world's occurrences and constantly reading and discussing articles, reports, and chronicles with our peers.
If you could choose any mentor in the field of journalism and any interviewee to talk to, who would you choose?
As a team we admire and look up to journalists such as Bob Woodward, Hu Shuli and Robert Fisk, we admire their courage and passion to seek and uncover the truth regardless of the implications and consequences that could arise. Thinking about someone we would like to interview, we would be very interested to interview the current president of UWC, Queen Noor of Jordan. She is a great figure in the movement and we as a diverse team would be intrigued to learn how she views the movement and education as a force to change the world.
What are your aspirations for the future of The Flying Dutchman and for your own careers?
What we want to achieve out of The Flying Dutchman throughout our two years at UWC Maastricht is to keep building on what our previous peers created, spreading the presence and philosophy of The Flying Dutchman to other Colleges in order to improve the content of the newspaper, covering events where UWC participates across the globe, addressing issues that concern everyone in the movement, and most importantly, incite members to participate, both by submitting content and by discussing what is read in the pages of The Flying Dutchman.
We do not all plan on becoming journalists in the future. Some of us see journalism as a passion rather than a profession, like Bleron who wants to be an engineer or Ece who wants to focus more on the field of International Law. Indeed our only team members who want to be journalists in the future are Cesar and Sandra.
What are the main challenges you have faced?
The challenges that we have faced as The Flying Dutchman are plenty, from time-management to discussions about what to publish and what to leave out. We as a team have faced situations where an article that was submitted by a community member shows an evident bias due to a conflict of interest or a clash between ideologies, for example. We have faced one-sided perspectives, polemic declarations, and assumptions that appear in articles. We as a team have to then discuss these issues and make a call on what to do. Particularly in a community like the UWC one, where tolerance and respect are core values that should be shared and endorsed, it can sometimes be quite complicated to decide on what should be published.
And finally, how has UWC impacted you so far?
Trying to measure the extent of the impact that UWC has had on our lives is almost impossible: we all agree that UWC has taken us out of our comfort zone. We have faced situations where our values and beliefs have been questioned for the first time. It has made us understand ourselves better and the way we relate to family, friends and new people in our lives. We feel more engaged and committed to the things we do, the initiatives that we launch and the projects we take part in, because UWC has offered us a platform and space for us to unwrap our potential and stop fearing failure. Instead, we embrace the possibility of failing and aim towards succeeding and making things happen.
We also now know that learning about ourselves is a process that never ends, and even when we think we have learned something new about ourselves we later realise that it has to be further complemented by new discoveries. We think that UWC has helped us see the curiosity and creativity in ourselves, and has helped us to develop those skills and boost our thinking processes in order to start forging our problem-solving abilities.