How UWC helped me deliver trusted news at Reuters
21 August 2019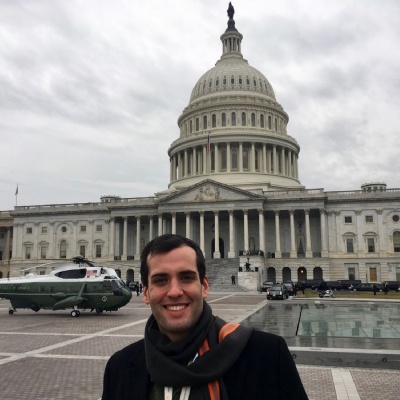 Gavino Garay's journey from UWC Adriatic to your morning news bulletin.
"When I was interviewed by CNN United Nations Correspondent Richard Roth in his New York office for my first position in the news industry as an intern, I had to look over an enormous stack of newspapers just to see his face. He flipped through a newspaper as he interviewed me. It was a level of multitasking I had never seen before. I was intrigued. I remember being sent to take notes during press conferences with then Secretary General Ban Ki-moon and former U.S. Secretary of State Hillary Clinton at the UN. It was an adrenaline rush I had never experienced before. I was hooked."
Gavino Garay (UWC Adriatic, 2006-2008) is a Colombian-born, American citizen of Peruvian descent, and is currently based in Washington, D.C. He produces video and audio reports on major world news, from politics to lifestyle, for a range of clients, from the Washington Post to Yahoo. You could even stumble across his work when asking Amazon Alexa for your morning news briefing.
In this role, Gavino has witnessed first hand the unfolding of world-altering events, as well as watching how the news media evolved alongside them:
"Going to Guam to cover the North Korea missile threat in August of 2017 was a big decision both personally and professionally. It was an incredible opportunity to be at the center of a news event and to grow as a journalist. Reuters started out in 1851, sending information via carrier pigeons across Europe. So, to be halfway around the world at that historic moment in 2017, transmitting live signals with new digital technology and delivering the news in real time on a global story, was not only a highlight of my career, but made me feel like I was witnessing the evolution of news media at the same time."
It is the unbiased approach with which Reuters tackles world news that particularly appeals to Gavino: "Being part of a longstanding organization that puts zero spin on a story and lets the news consumer decide what judgements to make is something I am very proud of." This statement rings particularly true in the current political climate of 'fake news', in which Gavino cites the "negative rhetoric" launched at journalists as one of the key challenges he is faced with in his field. His solution? "Cutting through the noise by focusing on my job and practicing mindfulness in order to be more resilient both in the newsroom and in the field".
While it is the neutrality that Reuters strives for which initially drew Gavino to their newsroom, it is his experience at UWC which, in turn, made him a "good fit" for Reuters. It was at UWC Adriatic, for example, that Gavino was able to start building up his repertoire of languages (which now includes 5!), allowing him to translate soundbites for readers, viewers and listeners from across the world. However, most importantly, UWC Adriatic pushed him to extend his knowledge and understanding of the different geopolitical, cultural and socioeconomic perspectives that are crucial to allow Gavino to report news through Reuters' lens of impartiality.:
"The connections I made at a young age with peers from all around the world of all socioeconomic and cultural backgrounds exposed me to different ways of thinking. This experience allowed me to approach issues with an open, neutral mind without judgement, and for that I am grateful."
You can follow Gavino on Twitter @GavinoGaray