Climbing High for UWC Scholarships
29 April 2019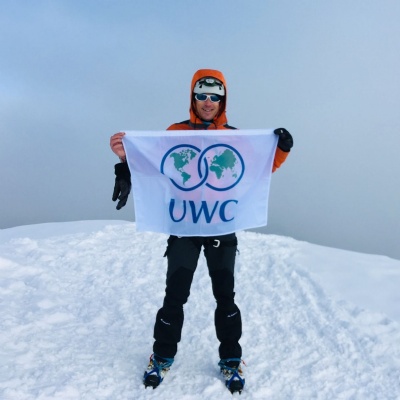 In August of 2018, Mikael Morn (UWC South East Asia, 1992) embarked on a mission to climb three of the world's most remote peaks. Over the course of two weeks, Mikael summited Mount Damavand (in Iran), Mount Demirkazik (in Turkey) and Mount Elbrus (in Russia), all the while battling extreme weather conditions at altitude. The mission was a huge test of stamina, endurance and mind over matter in support of a cause close to Mikael's heart: the UWC South East Asia (UWCSEA) Scholarship Programme. Mikael's Three Peak Challenge raised funds from all corners of the globe to bring a scholar from an Internally Displaced background to UWCSEA in the fall of 2019.
A Finnish national, Mikael attended UWCSEA for seven years, graduating with Economics, History and Swedish higher level subjects in the International Baccalaureate Diploma Programme. The time he was able to spend immersed in the programmes and philosophy of the UWC movement was a crucial factor in developing his outlook on life and comfort with a global mentality and lifestyle - and since his graduation, he has lived, studied and worked in seven countries on four continents. Mikael first moved to Singapore as a result of his father's posting to the island state by the Finnish airline Finnair, and he maintains a close bond with his home country through frequent visits to the autonomous Åland province.
Mikael's passion for mountaineering began with an ascent of Mount Kinabalu (4,101m) in Sabah, Borneo at the age of 13, and continued with climbs such as White Mountain (in California) and Dufourspitze (in Switzerland) during his working career. In addition, his mother's adventures in the Himalayas - including reaching Everest Base Camp while Mikael was at UWCSEA - was a major inspiration for his love of the outdoors and mountaineering challenges.
This coming August (2019) Mikael will, together with current UWCSEA scholar Luuk Karmarker, attempt a 7,134m ascent of Pik Lenin in Kyrgyzstan. It will be a significant test for both mountaineers, with recent successful ascents such as Cotopaxi and Stok Kangri more than 1,000m lower in altitude. Mikael will again use this challenge to raise funds for a UWCSEA scholarship - this time for a student from Kyrgyzstan or Tajikistan - and he welcomes support on his mountaineering blog which he updates frequently.