In the Fight for Trans Rights, Stories are Powerful
3 April 2019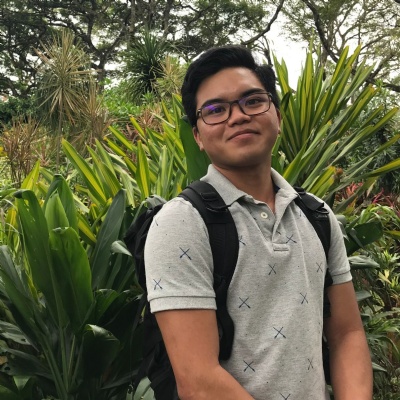 Gabbie Santos (Pearson College UWC, 2011-2013) hails from the Philippines and currently works as an Analyst at a financial services firm in Singapore. On the topic of gender, Gabbie recently shared with UWC some reflections on his transition and how his time at UWC is helping shape the impact he hopes to make.
"One thing that struck me almost immediately after my arrival at Pearson was the fact that adults in the community who identified as LGBTQ were visible, prominent, and held positions of responsibility throughout campus. This was certainly a breath of fresh air in stark contrast to the environment I had come from. I considered it a strong signal of acceptance, trust, and equality.
At the same time, I was living on the girls' floor while at UWC, and in certain ways, this experience called back questions about my identity that I thought had been quieted. I hadn't kept up with some of the language employed in discussions on gender and sexuality, so I couldn't quite articulate this feeling that I did not in fact, identify as female. Fortunately, my biggest takeaway from UWC was to cultivate an open-mindedness that wasn't just concerned with other people, but perhaps equally importantly, an open-mindedness that also pointed inward. The exhilarating experience of witnessing others live authentically would subsequently lead me to question whether I did too. I don't think I ever told the adults on campus how much their example impacted me, but I can definitely say it continues to guide me in terms of how I live my own life today.
After UWC, a series of life decisions regarding my transition ensued and continues to unfold. As a senior in college, I had the opportunity to present a TEDx talk in which I hoped to share my own stories about coming to terms with my transgender identity and "playing the game" when it comes to gender norms, masculinity, and heteronormativity. I recognised that I was not a beginner at navigating societies where gender is performance, and so I hoped to challenge the audience, as well as myself, to think critically about the consequences of "winning".
Today, I certainly feel like I am navigating and experiencing the world anew. I once came across a TIME magazine article on how "transgender men see sexism from both sides", and I can attest to aspects of the piece. To most people I meet, I am probably "just a guy" and attached to that would be a myriad of assumptions and expectations. I've been asked, "Isn't that the goal?" For some trans individuals it might be, especially for their own safety or well-being. For me, I have the privilege of being open and visible at home and in my workplace without experiencing adverse consequences. Because of this, I feel a great sense of responsibility to leverage my networks and platforms to encourage dialogue and to raise awareness and support for trans identities and the issues that our community faces. I always wish I could do much more today, particularly in pushing for transgender health care back home, considering most of my transition to date has been facilitated by community health centres that offer safe, gender-affirming spaces, and provide accessible, quality health services.

For now, I think the title of this section - Impact Stories - sums up what I think my contribution has been thus far. Throughout my transition, I have been reminded of the power that exists in the narrative. Whether it's about engaging people in conversations on gender, sexuality, societal norms and expectations, whether such conversations take place at home, at work, at a bar, or in church, or whether it's about sharing my personal experiences with people who have asked to be put in touch through a common friend as they navigate questions about their own gender identity, I hope that in offering my own truth, people can begin to see the world a little differently and that we can support each other in our efforts to live authentically."