Change-Making Through Theatre
20 March 2019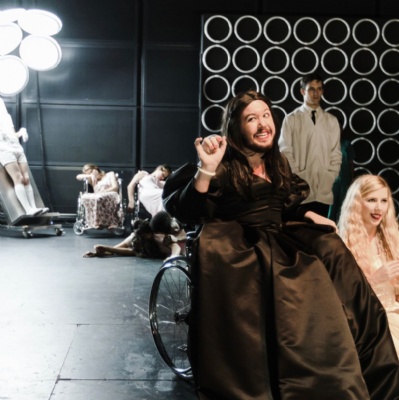 Lucas Olscamp (Pearson College UWC, 2011-2013) is a settler-born Canadian from Prince Edward Island. After graduating from UWC, Lucas attended New York University Abu Dhabi to study Theatre, and is currently pursuing his Masters of Sustainable Design at York University in Toronto, Canada. He identifies as a hybrid designer/director/dramaturg with an interest in cultivating "monstrous ecologies" through the performing arts.
Before attending Pearson College UWC, Lucas never intended to pursue theatre arts professionally. Initially interested in working in international politics and anthropology, his decision to enrol in the IB theatre course at the College changed the path of both his life and his career.
Theatre at UWC schools and colleges presents unequalled opportunities for collaboration, creativity and complexity. Lucas recalls the demands (organisational, mental, emotional and spiritual) of theatre-making with a group of students from around the world, coming together with different perspectives, different languages and different interests - and celebrates this diversity. "Our performances were infused with contradictory truths and experiences of reality. Our diversity complicated and deepened our attempts to establish unity in performance but we never saw this as a weakness. Our work thrived in the complex nature of instability and ever-fluxing exploration of truth and experience, a quality which I cherished and still seek to establish in my work today."
Lucas believes in making art that challenges the artist, the audience, and the form itself. He also believes in the power of theatre to make an impact on the "real" world: "I seek to make worlds on stage that seep into our realities, mutate our experiences, and inevitably transform our interpretations of what is real and what is imaginary. Ephemeral experiences can (and do) transform long term realities." Lucas' experience at Pearson College UWC taught him that "whether championing stories of personal strength and resilience or strategically resisting institutional powers and oppressive systems, theatre holds the power to bring people together." Making theatre at Pearson College UWC, he says, was always about something more than the theatre's small stage could ever hold: "it was about the infinite possibility of change."
Attending UWC meant Lucas leaving his small town life and propelling himself into the unknown - a feat he says he could never have accomplished without the welcoming arms of the community who was there waiting for him. The community at Pearson College, both students and staff, taught Lucas that the people you surround yourself with have a powerful influence on the person you become. Since graduating from Pearson College UWC, he says, "I have made myself hyper aware of both my presence and absence in a given community and how I can actively integrate the work I am doing with the work of others around me."
Another lesson Lucas took away from his UWC experience is "the ferocity of acting on your impulses and following your gut. Life is too short to wait for the opportunities to arise and instead it is up to us to manifest our dreams into realities." Last year, Lucas and one of his close friends and collaborators, Allanah Avalon, decided to make one of their dreams a reality and founded Tooth n' Fang, an arts collective (of which Samantha Jenkins, also Pearson College UWC 2011-2013, is also a member).
Tooth n' Fang, much like UWC, is made up of artists from around the world each with unique, dissonant, and diverse approaches to art making. The collective is devoted to "unearthing and unleashing the raw and sharp", or telling stories which expose vulnerable yet piercing truths on our contemporary realities. Blending dramaturgy, experimental design, and multidisciplinary art making, the collective produces work that is both poetic and brutal.
When asked about what inspires him to continue with his work, Lucas is clear: art. "When you are given a stage to speak, you must take it. The experience of sharing art with an audience who is willing to listen is an honour not unlike the experience of attending UWC. For a brief period of time you are part of a community who is not only willing but yearning to listen. I do not take this experience, or its impact, for granted. Beyond listening to the stories we had to share, the UWC community I was privileged to be a part of sought action and change because of them. This influence of art on audience, and inevitably community, is what inspires me to keep going. Without art, I do not know how to process the world around me, let alone attempt to change it."