Paving the Way for African Women
28 February 2019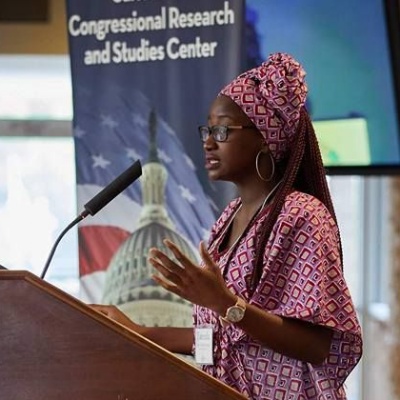 Tatenda N.C. Dzvimbo (UWC Mostar 2015-2017) was raised in Zimbabwe by a single mother, who "bent over backwards" just for Tatenda and her siblings to have a better life. There were nights when resources were scarce, says Tatenda, but the hard work, love and determination of a single mother changed the narrative of her life. "I was not going to be the definition of poverty and misfortune - I was going to be the definition of success, and the reward of the hardworking hands of my mother, a true African Queen."

In 2014, Tatenda earned top marks in her national examinations - but it was also the year that her mother, the family's sole breadwinner, lost her job. "They were dire times," says Tatenda, and had it not been for the generosity of a donor, Tatenda would not have been able to begin high school in Harare, where she first saw a poster advertising UWC selections.

"My mother encouraged me to apply [to UWC]", says Tatenda, "but with my background I never expected being considered." Despite her doubts, Tatenda was accepted as the first Zimbabwean to attend UWC Mostar in Bosnia-Herzegovina, joining the class of 2017. "From the prospects of a bleak future defined by poverty to a transformation of endless opportunities: for me this was a dream come true." Tatenda took this opportunity to stand for what she believes in, to take pride in her cultural heritage and in her identity as an African woman.

Upon graduating from UWC, Tatenda accepted a place at the University of Oklahoma in the United States. As a first year student, she took a step back to observe whether and how other women of colour, and specifically African women, were represented on campus. She looked around for student organisations where she felt she could belong, and where she would have a platform to represent and express her culture and identity.

Unfortunately, there were none. "I sat and wondered: what I can do to make a difference? What can I do to make us feel like we belong? What can I do to protect and preserve the riches of our heritage and tradition, passed down from generation to generation?"

Founding African Women's League (AWL) was the answer. AWL is an organisation at the University of Oklahoma which seeks to empower African women at the University and beyond, something which Tatenda believes is an important goal. "For the longest time the African girl child has been undermined and oppressed by the patriarchy", she says. "AWL aims to change that rhetoric by representing what an African woman truly is and giving her the opportunity to nurture herself into the leader she is destined to be. We aim to bridge the gaps of inequality, bring an understanding of who we are, where we come from and what we represent. We uphold and ascribe to the principles of humanity that we wish to share with the world. We are a people that has a voice - and we belong."

Apart from encouraging cultural pride, understanding and nurturing leadership skills among African women students, another primary goal of AWL is to promote self-care, because "if we take care of ourselves, we can take care of others."

Reflecting on her life and her educational career until this point, Tatenda says she has realised that while it is not a choice to be born into unfortunate circumstances, it is always a choice to turn a blind eye to those less fortunate when you are in a position to enact change. "I have attained privilege during my lifetime," says Tatenda, "and it is from this place of privilege that I have sworn to give back, to serve my community the best way I can." Founding African Women's League with Grace Olaleye, a graduate student also at the University of Oklahoma, is one way she has found to do so.
"I share my story because I need the world to understand where my need for representation came from. There is so much that we as women, and as African women, can achieve, but that much of society has overlooked and undermined. Being at UWC made me realise that representing my culture, tradition and heritage was not an option - it's an obligation."