Refugee Alum Making Change Through Engineering
3 December 2018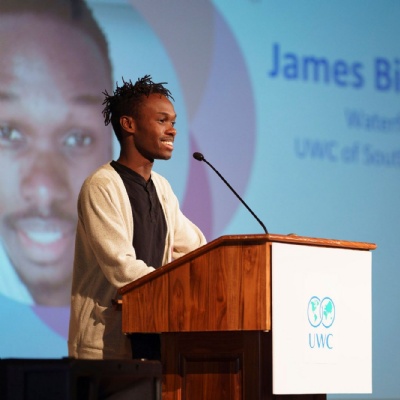 James Bicamumpaka (Waterford Kamhlaba UWCSA 2011-2016) grew up as a refugee in Eswatini after his family was forced to flee the Rwandan Genocide. He is currently studying Civil Engineering at Stanford University, with a speciality in Structures and Construction. In November of 2018, James delivered the following speech to a room full of friends and supporters of the UWC movement at the second annual UWC Fundraising Gala in New York City.
I did my primary school education at an all-boys Christian school called Salesian Primary School, with financial assistance from a Roman Catholic aid organisation called Caritas. By the time I completed my primary education, I was the fourth best performing student in the country and had been awarded first place in a National Math Olympiad. This gave me the confidence to apply to Waterford Kamhlaba UWC of Southern Africa, which was (and is still) considered a dream school for many students in the Kingdom of Eswatini. Unfortunately, I tested poorly in my entrance tests and did not get in - so I resorted to my plan B, a government school called Ka-Boyce High School. Although under-resourced, this school had some of the most brilliant students I have met to this day. I did well academically at this school and made many good friends, however, my heart and mind still resided on top of the hill where the UWC campus was located. With the superpower of resilience, I applied again, retook the entrance tests, and in 2011, I was accepted with a scholarship into Grade 9 at Waterford Kamhlaba UWC of Southern Africa (WK UWCSA).

My six years at UWC largely transformed my perspective of the world. It was here that I met a society of students and educators passionate and dedicated to making the world a better place. I met the most wholesome people, who were very welcoming and never marginalized me despite my unprivileged financial background. In times when people settle for defeat, UWC taught me to never lose hope and to always fight for equal opportunity for all, respect for diversity and care for the environment. During my time at WK UWCSA, I volunteered at schools, clinics, soup kitchens, orphanages, a refugee camp and nature reserves: and it was emotionally moving and enriching to take actions to make the world better. It was at UWC that I fell in love with environmental sustainability and I partnered with my friend, Michael Lowry, and my favourite high school teacher, Ben Green, to submit a proposal to the Zayed Future Energy Prize (ZFEP) on how we would make our campus greener. In January 2015, we won first place for the ZFEP African Global Schools category and were awarded $100,000 which we used to implement solar, wind and bioenergy on campus. We also started an environmental group which gave educational tours around campus aimed at inspiring our country's youth (future leaders) on the potential of renewable energy for the Kingdom of Eswatini.
The teachers at WK UWCSA were extraordinary; they did not only give me information, but also answered the 'why' - giving me the wisdom to see how this knowledge could be used as a tool for the future. One of the most beautiful ideas I learned during my UWC years was from my Grade 10 math teacher, Iain Pearson. His philosophy was that he did not want his students to be aiming for 100 percent, or perfection, in his subject, but wanted us to aim for our individual 100 percent in what we loved. Although one could have found this philosophy discouraging, it motivated me. It brought me inner peace and changed my life because from that moment on, James would no longer be trying to get validation from the world, but simply be in competition with himself.
After I graduated from WK UWCSA in 2016, I spent a semester at the University of Cape Town in 2017 as an Allan Gray Orbis Foundation Fellow, before coming to Stanford University. To this day, I still use the tools and ideas I learned from my friends and educators during my memorable UWC years. I chose to pursue a degree in Civil Engineering because of the UWC-planted-seed of wanting to positively impact different global communities, and also because I grew up a refugee, and still do not have a building I can call home. I aspire to use my degree to build healthcare centres, schools, orphanages, reservoirs, water treatment plants and transport infrastructure to help make people's lives easier. I will build these structures using sustainable building materials and hold community meetings with local people during the project design phase, in order to learn about the design elements which will make the community members feel ownership of these structures built to serve them. I plan on constructing buildings which make people feel at home because that is where people tend to be the happiest.