Zayed Future Energy Prize
29 March 2017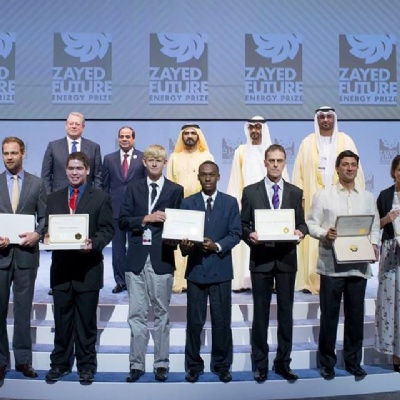 In 2015, a student-led renewable energy project at Waterford Kamhlaba UWCSA was awarded a grant of US$100,000 for winning the 7th Zayed Future Energy Prize in the Global High Schools category for the Africa region. Ben Green, Waterford Kamhlaba Head of Experimental Sciences, said: "We recognise our responsibility to make the best use of energy resources and will work very hard to make sure that Waterford Kamhlaba uses the prize to both generate and save energy."
UWC WK's project is designed to help the school become carbon neutral by 2025 by producing energy of its own. By far the project is well underway. A wind turbine was installed last year outside the IT centre and it is harvesting energy on every windy day. A bio-digester which produces methane gas has been commissioned to heat water in the school's cafeteria. At the classroom block, 26 KW solar PV to harvest power are being installed on the roof of the laboratories. In Emhlabeni hostel 16 solar geysers are being installed and 5 are being installed at Elangeni hostel. Moreover there are 80 geyser timers that are being installed as well to manage heating of water thus reducing power consumption. The school will also be replacing the current lights with LED lights. "Producing our own energy here at Waterford is vital to sustainability." said Mike Doyle, the Eco Estate Manager at WK.
Read more about UWC WK's projects here
Read more about Zayed Future Energy Prize here
See the video of the project below.