Inspired Alumna Runs for Office in New Mexico
12 October 2018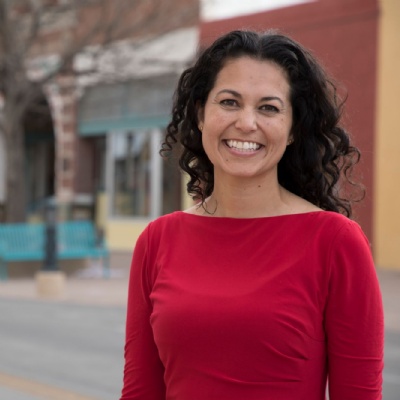 7 November 2018 Update: It was announced today that Xochitl Torres Small won her seat! She will serve as the Congressperson for New Mexico's 2nd Congressional District, and is officially the first woman to hold that seat in the U.S. House of Representatives.
---
Xochitl Torres Small (USA, Waterford Kamhlaba UWC of Southern Africa, 2001-03) is the Democratic nominee for the U.S. House of Representatives in New Mexico's 2nd Congressional District. She is, to the best of our knowledge, the first UWC alumna to run for U.S. Congress.
New Mexico's 2nd Congressional District is the nation's largest district that isn't an entire state, sprawling over 71,739 square miles of land with only 9.6 people per square mile. The District covers the southernmost two-thirds of New Mexico (NM), and stretches from Albuquerque's southern suburbs down to Las Cruces (near the U.S.-Mexico border). The median annual income in the NM 2nd Congressional District is US$37,000, and, like many of the most rural parts of the Mountain West, the District has historically been Republican-leaning. If elected, Xochitl will be the second Democrat since 1980, and the first-ever woman, to serve as the District's Congressperson.
Xochitl grew up in Las Cruces, New Mexico. Except for her time at UWC in Eswatini (then Swaziland), her undergraduate years at Georgetown University in Washington D.C. and her time in law school at the University of New Mexico, she has lived in Las Cruces her entire life.
When she left home for the first time at age 16 to study at Waterford Kamhlaba UWCSA, Xochitl had never travelled outside North America. However, Eswatini soon became a home away from home. Despite the distance and a completely different history, the beauty of the country, richness of the culture and kindness of the people in Eswatini reminded Xochitl of New Mexico. In addition to learning about Eswatini culture, Xochitl's time with her dear friends from countries like Sweden, Venezuela, South Africa and the UK enabled her to see the world through a new lens. "While it was a short period of time in the scheme of things, my experience in [then-]Swaziland is indelibly woven into who I am. UWC opened my eyes to the world beyond New Mexico and has informed not only my career, but also my decision to run for Congress."
After graduating from Georgetown University, Xochitl returned home and began working as a field organiser in 2008. Later, she worked as a field representative for U.S. Senator Tom Udall, where she helped to set up his southern New Mexico district office, which was responsible for serving much of the current NM 2nd Congressional District. Xochitl worked on issues ranging from water conservation and infrastructure development to education and healthcare accessibility. Inspired by her work with Senator Udall, Xochitl went on to the University of New Mexico School of Law and a undertook a federal clerkship before dedicating herself to water and natural resources issues as an attorney in Las Cruces.
Xochitl also volunteered as a member of the U.S. UWC Selection Committee, responsible for selecting at least 52 students annually to receive UWC scholarships. Eventually, she was selected as Chair of the Selection Committee, a testament to her commitment to UWC and to her ability to bring people together. During this time, she played a critical role in bringing generations of diverse Americans from New Mexico and across the country to UWC, changing the lives of hundreds of young people.
Since even before her time at Waterford Kamhlaba UWCSA, Xochitl felt like she wasn't being represented in Washington. When the longtime Republican Congressman from the NM 2nd Congressional District decided to vacate his seat, Xochitl joined local Democrats in their search to identify and recruit a great candidate who would fight for common sense solutions for all New Mexicans. Soon though, it became clear to all involved that Xochitl herself was the best candidate!
She announced her candidacy on January 17, 2018 and won the Democratic primary on June 5, 2018 with over 70% of the vote. In the general election on November 6, Xochitl will face Republican Yvette Herrell, a New Mexico state legislator.
Xochitl is running on a platform that emphasises bipartisanship and reaching across the aisle. She believes that "good ideas don't come with a party label" and will work with anyone who wants to deliver for New Mexico. These are values she learned in southern New Mexico, but also at UWC – coming into contact with tremendous diversity at UWC makes it hard to be dogmatic. Like in many communities across the U.S., key issues in the District centre around the economy, healthcare and education. New Mexicans also care deeply about protecting their public lands and water, border trade and security, and immigration.
As the first UWC alum to be nominated for Congress, Xochitl credits her UWC experience for setting her on her current path. Leaving southern New Mexico gave her perspective, helped her better understand her home and cemented her desire to serve her community.