CAS Activity Spreads Love of Science in Changshu
18 September 2018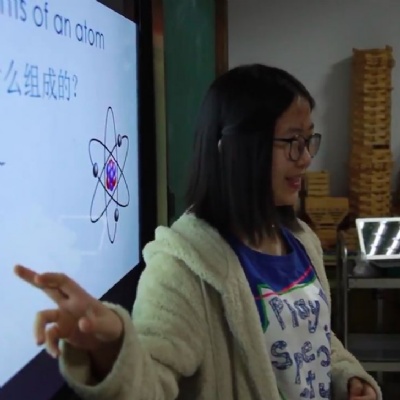 ULAB is a student-led service CAS (Creativity, Activity and Service) activity at UWC Changshu China founded by students Jia, Wutt, Elena and Arona in January 2017. By providing hands-on, experiential science and technology training in local schools, this team of students and educators seeks to alleviate educational inequality and encourage a love for science and learning among underserved students.
For more about ULAB, their vision and the service they provide to the community, watch the following video and read more from Elena (Georgia, UWC Changshu China 2016-2018) below.
In the very beginning, ULAB was a way for us to share our passion for natural sciences with children. We wanted to spark students' interest in the natural sciences by engaging in practical science experiments, allowing them to explore different scientific concepts. As our project developed and grew, we realised that ULAB could also help to solve the big problem of educational disparity in China.
From our personal teaching experiences in local schools, we could see that educational disparity in China is caused in part by a lack of training in 21st century skills (otherwise known as the "Four Cs": collaboration, communication, critical thinking and creativity) in schools in underserved areas. These days, 21st century skills are identified to be the most important skills for young people to learn, and their teaching is supported by national, educational and political leaders including former U.S. President Barack Obama. We realised that experimental science could be one of the best platforms for us to inculcate those Four Cs in children. Thus, we decided to focus more on cultivating 21st century skills in children when planning ULAB classes.
At this point, ULAB is organised into two groups: physics and biochemistry. Both groups take turns to visit local schools in the city of Changshu with classes oriented to teach concepts from respective sciences. UWC Changshu China has formed a stable partnership with two primary schools in the area, Dongnan and Yucai (a school for children of immigrants) and are planning to extend our scope of impact.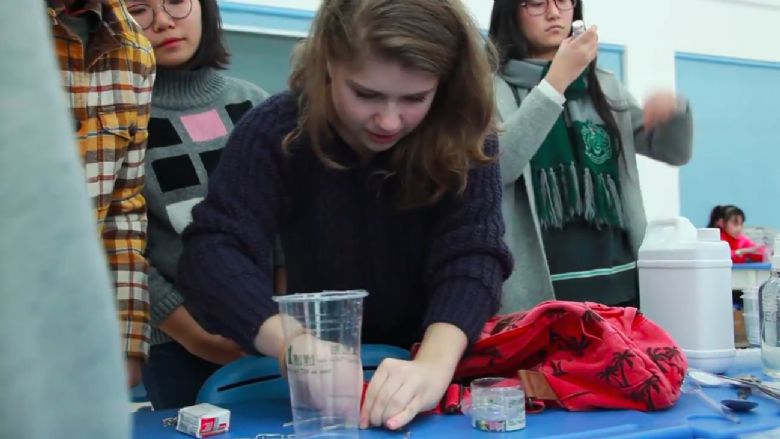 So far, we have designed and delivered several classes to introduce various scientific concepts to students in grades 5 and 6. We do not limit ourselves to the frames of Biology, Chemistry and Physics, but also introduce children to devices such as telescopes and 3D printers. One of the most memorable ULAB classes that the Physics group delivered to children was an experiment on the properties of light, and an exploration of electrostatics including experiments with a Van de Graaff generator. The Biochemistry group has introduced the concept of pH levels in the human body to students through experiments which used red cabbage juice as an indicator. Another memorable experiment by the Biochemistry group allowed children to get familiar with the concept of polymers by creating slime on their own using school glue.
To ensure a focus on 21st century skills during every session, we allow students to work in small teams to carry out the experiments using the materials provided by us. For example, one activity that we organised was a competition aiming to construct a mechanism in 25 minutes that would prevent an egg from being broken when dropped from a height of four floors. This activity stretched the students' collaborative and communication skills during the planning stages, and their critical thinking and creative skills as they worked on their designs.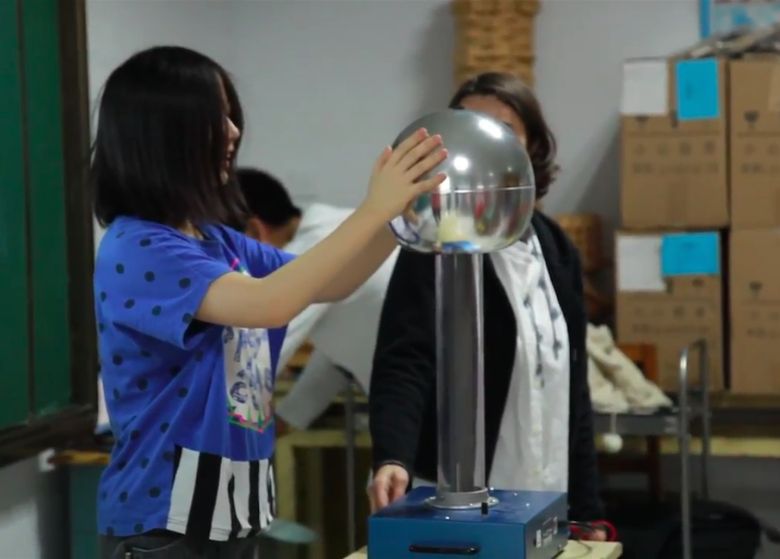 Even after a very short period of time working with children, we can see how practical experiences they are exposed to have improved their Four Cs. At the same time, the way we deliver the classes to them is very engaging and interactive, thus allowing children to enjoy the learning process.
ULAB at UWC Changshu China has united us, people who are passionate about the sciences, for a purpose: to solve the problem of educational disparity in China, and if possible on a larger scale, through teaching of 21st century skills to underserved elementary school students.
Learn more about ULAB at their Facebook page.